Award season is upon us, dear readers, and I am fascinated by the outcomes, aren't you? The INSPY and Christy Award finalists were announced today and they are listed below. Nominations for the two awards are very different and I imagine that significantly impacts the results. For the Christys, publishers (and now independent authors whose books compy with specific criteria) submit nominations with each submission considered as a finalist by Christys judges, from which the finalists and winners are determined.
This year, the INSPY longlists were determined by popular vote by readers, bloggers, publishers, and publicists (authors are excluded from nominating their own works). The top 15 books in each category (those who received the most votes) made the longlists and the shortlists determined by the INSPYs Advisory Board. Those winners will now be determined by three reader/blogger judges in each category.
The results are completely fascinating to me. How about you? Any surprises? Any books not in the final lists that you anticipated? I'd love to know your thoughts, friends!
INSPY AWARD SHORTLISTS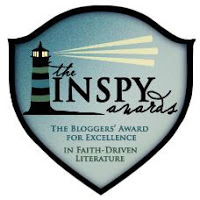 CONTEMPORARY ROMANCE/ROMANTIC SUSPENSE

London Tides (David C. Cook) by Carla Laureano
The Dandelion Field (Zondervan) by Kathryn Springer
Crazy Little Thing Called Love (Howard) by Beth K. Vogt
A Love Like Ours (Bethany House) by Becky Wade
The Wonder of You (Tyndale House) by Susan May Warren
DEBUT FICTION

The Thorn Bearer (Vinspire Publishing) by Pepper D. Basham
Jaded (David C. Cook) by Varina Denman
A Noble Masquerade (Bethany House) by Kristi Ann Hunter
Love's Rescue (Revell) by Christine Johnson
Irish Meadows (Bethany House) by Susan Anne Mason
GENERAL FICTION

A Cup of Dust (Kregel) by Susie Finkbeiner
The Art of Losing Yourself (Waterbrook Press) by Katie Ganshert
Secrets She Kept (Tyndale House) by Cathy Gohlke
Water From My Heart (Center Street) by Charles Martin
The Brontë Plot (Thomas Nelson) by Katherine Reay
HISTORICAL ROMANCE

The Wood's Edge (WaterBrook) by Lori Benton
Not by Sight (Bethany House) by Kate Breslin
The Mistress of Tall Acre (Revell) by Laura Frantz
Luther and Katharina (Waterbrook Press) by Jody Hedlund
Through Waters Deep (Revell) by Sarah Sundin
MYSTERY AND THRILLER

The Last Con (Thomas Nelson) by Zachary Bartels
A.D. 33 (Center Street) by Ted Dekker
Vendetta (Revell) by Lisa Harris
Falcon (Shiloh Run Press) by Ronie Kendig
The Bones Will Speak (Thomas Nelson) by Carrie Stuart Parks
LITERATURE FOR YOUNG ADULTS

Season of Fire (Blink) by Lisa T. Bergren
Shades of Doon (Blink) by Carey Corp and Lorie Langdon
The Choosing (Tyndale House) by Rachelle Dekker
An Uncertain Choice (Zondervan) by Jody Hedlund
Siren's Fury (Thomas Nelson) by Mary Weber
SPECULATIVE FICTION

The Methuselah Project (Kregel) by Rick Barry
Heir of Hope (Enclave Publishing) by Morgan L. Busse
The Shock of Night (Bethany House) by Patrick W. Carr
The Curse of Crow Hollow (Thomas Nelson) by Billy Coffey
Embers (Enclave Publishing) by Ronie Kendig
CHRISTY AWARD FINALISTS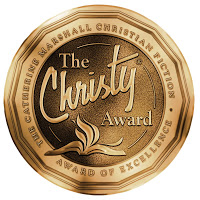 CONTEMPORARY
▪ The Art of Losing Yourself by Katie Ganshert (WaterBrook Press)
▪ As Waters Gone By by Cynthia Ruchti (Abingdon Press)
▪ The Sea Keeper's Daughters by Lisa Wingate (Tyndale House Publishers)
CONTEMPORARY ROMANCE/SUSPENSE
▪ Falling Like Snowflakes by Denise Hunter (Thomas Nelson, a division of HarperCollins Christian Publishing)
▪ Sabotaged by Dani Pettrey (Bethany House Publishers, a division of Baker Publishing Group)
▪ The Wedding Chapel by Rachel Hauck (Zondervan, a division of HarperCollins Christian Publishing)
CONTEMPORARY SERIES
▪ Anna's Healing by Vannetta Chapman (Harvest House Publishers)
▪ Come Rain or Come Shine by Jan Karon (G.P. Putnam's Sons)
▪ Crazy Little Thing Called Love by Beth K. Vogt (Howard Books)
FIRST NOVEL
▪ The Choosing by Rachelle Dekker (Tyndale House Publishers)
▪ Irish Meadows by Susan Anne Mason (Bethany House Publishers, a division of Baker Publishing Group)
▪ A Noble Masquerade by Kristi Ann Hunter (Bethany House Publishers, a division of Baker Publishing Group)
HISTORICAL
▪ The Girl from the Train by Irma Joubert (Thomas Nelson, a division of HarperCollins Christian Publishing)
▪ Secrets She Kept by Cathy Gohlke (Tyndale House Publishers)
▪ The Wood's Edge by Lori Benton (WaterBrook Press)
HISTORICAL ROMANCE
(Four finalists due to a tie in scoring)
▪ Beyond All Dreams by Elizabeth Camden (Bethany House Publishers, a division of Baker Publishing Group)
▪ The Lost Heiress by Roseanna M. White (Bethany House Publishers, a division of Baker Publishing Group)
▪ Luther and Katharina by Jody Hedlund (WaterBrook Press)
▪ To Win Her Favor by Tamera Alexander (Zondervan, a division of HarperCollins Christian Publishing)
SUSPENSE
▪ The Bones Will Speak by Carrie Stuart Parks (Thomas Nelson, a division of Harper Collins Christian Publishing)
▪ Twisted Innocence by Terri Blackstock (Zondervan, a division of HarperCollins Christian Publishing)
▪ Vendetta by Lisa Harris (Revell, a division of Baker Publishing Group)
VISIONARY
▪ The Five Times I Met Myself by James L. Rubart (Thomas Nelson, a division of HarperCollins Christian Publishing)
▪ A Time to Speak by Nadine Brandes (Enclave Publishing)
▪ Waking Beauty by Sarah E. Morin (Enclave Publishing)
YOUNG ADULT
▪ The Choosing by Rachelle Dekker (Tyndale House Publishers)
▪ Rebel by R.J. Anderson (Enclave Publishing)
▪ To Get to You by Joanne Bischof (Independently Published)