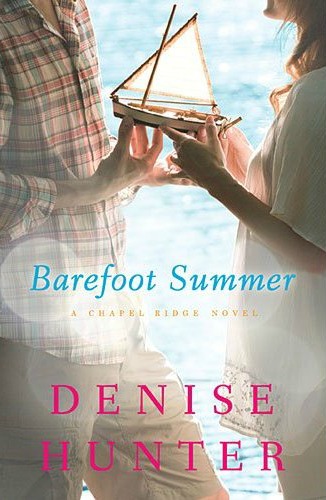 Haunted by the death of her beloved twin brother, Madison McKinley believes her healing lies in winning the town's annual yachting regatta, the very dream her brother pursued before his tragic drowning. Terrified of the water, Madison has no recourse but to seek the help of the town's expert sailor, a man she has detested since high school, Beckett O'Reilly.
Beckett struggles with his feelings for the unattainable Madison. Forever envious of her large and caring family, as the son of the town alcoholic Beckett has convinced himself, Madison will never be satisfied with him. With reluctance Beckett agrees to help Madison over her fear of the water and train her for the upcoming regatta, the very race he needs to win to be able to start his own business.
Time together begins to shed a different light on their feelings for each other but there is more than their disparate upbringings that could destroy their fledging romance.
Denise Hunter is a force to be reckoned with in the contemporary romance genre, and Barefoot Summer proves her delightful talent is far from waning. I adored this story, full of love, laughter, heartache, and healing. There were moments that were not perfect but they are of little consequence as Denise peels back the layers of Beckett and Madison, creating a beautiful love story that is in no way frivolous or sappy. There are plenty of sigh worthy moments for the romantic in all of us ~ most readers will fall a little in love with Beckett by story's end ~ but Denise imbues the storyline with authentic emotions that grip both heart and mind. To me, Denise's The Convenient Groom has been her stand our story but Barefoot Summer is giving it a decent nudge. A story to savour more than once, and with a whole family of McKinleys to write about in future novels. Dancing with Fireflies, Jade McKinley's story is already on the top of my must read list.
With thanks to Thomas Nelson and Litfuse for my review copy
Relz Reviewz Extras
Character spotlight on Dylan (The Trouble with Cowboys)
Reviews of The Trouble with Cowboys, A Cowboy's Touch, The Accidental Bride, Smitten, Driftwood Lane, Seaside Letters, Surrender Bay, The Convenient Groom and Sweetwater Gap
Character spotlight on Jake (Driftwood Lane)
Character spotlight on Sabrina & Tucker (Seaside Letters)
Interview with Denise
Visit Denise's website and blog
Buy Barefoot Summer at Amazon or Koorong