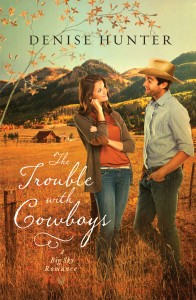 Meet memorable cowboy Dylan Taylor 
in Denise Hunter's
The Trouble with Cowboys
Thomas Nelson
The Story
Only one pair of boots—and the cowboy wearing them—can get Annie out of the mess she's in.
Annie Wilkerson is Moose Creek's premiere horse trainer and equine columnist for Montana Living. Money is tight as she tries to put her kid-sister through college and provide for her young nephew. When Annie's column is cancelled, she's given first shot at a new lovelorn column—and she can't afford to turn it down. Only problem is . . . Annie's never been in love.
Always resourceful, she reluctantly strikes a deal with the town's smooth-talking ladies' man Dylan Taylor: She'll work with his ailing horse, Braveheart, if he'll help her answer the reader letters.
Working closely with Dylan is harder than Annie imagined, and she quickly realizes she may have misjudged him. But her unwavering conviction that cowboys are nothing but trouble has kept her heart safe for years. And she can't risk getting hurt now.
The more Annie tries to control things, the more they fall apart. Her feelings are spinning out of control, and her sister's antics are making life increasingly more difficult. Annie knows she needs to turn the reins over to God, but surrender has never come easily.
When Dylan reveals his feelings for her, Annie doesn't know what to trust—her head or her heart. The trouble with this cowboy is that he might just be exactly what she needs.
Introducing Dylan Taylor!
Brief physical description
31 years old with dark hair, blue eyes, an impertinent grin (dimple included), a buff build (he is a cowboy) and a Texan drawl (Yes, I know that last one's not a physical description, but still important, right?)
Resembles….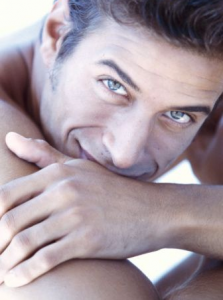 This guy ~ see pic!
Strengths and weaknesses
Playful and charismatic, Dylan is the owner of the Circle D Ranch and is a favorite of young and old alike. He could talk a squirrel from a tree, and his way with the ladies ensures he's booked every weekend, keeping him busy—just the way he likes it.
For all his smooth-talking ways, he's a loyal friend and a hard working cowboy. His financial security and stability have every mama in town pushing their single daughters at him, but it's his rugged good looks and charm that have the ladies lining up at his door. His elusiveness only seems to make him more desirable.
Others might think he's a careless heartbreaker, but Dylan is only making sure he never lets any one woman too close. Because, for all his success in the romance department, Dylan has only been in love once—and that was more than enough.
Your inspiration for the character
Dylan just kind of popped onto the page as Wade's best friend in "A Cowboy's Touch". Of all the characters I've written, he's probably the one who was the most fully developed from conception.
Background to the story
"A Cowboy's Touch" was supposed to be a stand-alone novel. But when Dylan wandered onto the page, I knew I had to find a woman to tame him. Annie Wilkerson was just the woman to put him in his place.
Relz Reviewz Extras
Reviews of A Cowboy's Touch, The Accidental Bride, Smitten, Driftwood Lane, Seaside Letters, Surrender Bay, The Convenient Groom and Sweetwater Gap
Character spotlight on Jake
Character spotlight on Sabrina & Tucker (Seaside Letters)
Interview with Denise
Visit Denise's website and blog
Buy The Trouble with Cowboys at Amazon or Koorong