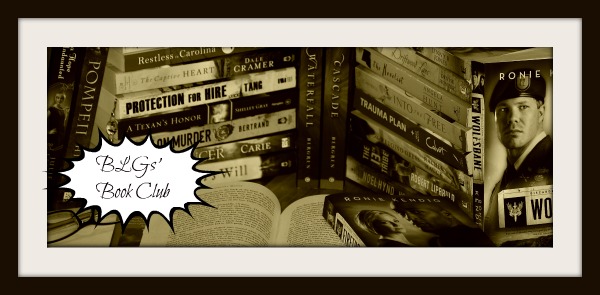 Enjoy part 2 of BLGs' Book Club's interview with Christy Award winner, Cathy Gohlke about life, literary loves and her book, Promise Me This. Be sure to grab yourself a copy and dive in ~ you will be glad you did!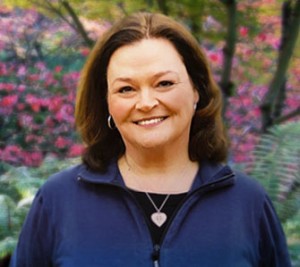 On a lighter note – what is your favourite genre of fiction? Any particular authors or books you would recommend?
Historical fiction is my favorite genre, though I love a good mystery. I love old and new books, and classics never die. There are so many wonderful books and authors—both in the CBA and ABA. Some I'm especially fond of (in no particular order)—Charles Dickens, Mark Twain, Jan Karon, Jane Austin, Lynn Austin, Tamera Alexander, Julie Lessman, Siri Mitchell, Julie Klassman, Patricia Hickman, Murray Pura, Jacqueline Winspear, and Agatha Christie. You'll see something of a pattern in the books of those authors—distinctive voice, memorable characters, strong settings—often against a particular event in history, warmth, poetry, wit, mystery, intrigue, a touch of romance (more or less).
What are you most proud of concerning this book?
That it is a picture of Christ's sacrificial love story to the world—and our response to that unmerited gift. To share His love is the most important thing I can do with my life. Writing this book is one way of doing that. For that reason I'm especially thrilled that it has been well received, and that it's being published in Dutch and will be published in Russian. My prayers go up for readers everywhere, that they will be drawn nearer our Lord—develop a greater hunger for Him—as they read.
You have quite a list of research sources in your Acknowledgements, and some of the scenes are very vividly described. Can you estimate what proportion of writing 'Promise Me This' was spent in research?
That's hard to estimate. Research was done early, but also continued through the writing of the book. Aside from the short story and early research for that, the research and writing of this book took two and a half years. It is my third book and my first one done in third person—quite a growing experience for me as a writer.
Did you have a particular inspiration from your research for Aunt Eleanor? Can you talk a bit about the decisions you made around her character development?
It was a fascinating time in history. The roles of women changed dramatically from the Victorian era, through the Edwardian years and even more through the Great War. I imagined it must have been very difficult for an older woman who'd resented her life's constraints and disappointments to rejoice in the happiness and/or new freedoms of others. Add to that a bitter bent, nurtured resentment and jealousy, mix in years of allowing wounds (real and imagined) to fester, add an overflowing dose of some of the mean natures I've known in real life, and it wasn't hard to envision Aunt Eleanor.
We all hope such villains are entirely the stuff of fiction. Sadly, they are not. I've received emails from several readers who have known "Aunt Eleanors" in their time. She was a self-absorbed woman who could not stand that others were happy when she wasn't. She was determined to control and manipulate, to play the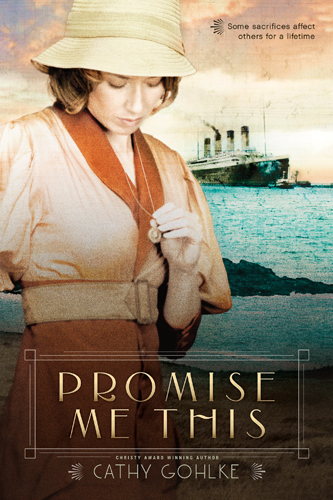 puppet master, and if she couldn't have her way, even played the destroyer. She took a perverse delight in her power to make others suffer. Those kinds of people make no sense to me, but, sadly, they exist. Thankfully, they're not common!
What do you hope readers take away from Promise Me This?
I hope readers see a picture of Christ's love for the world—His gift by grace that forever changed and made possible all that we are and hope to be—saving us from ourselves and our destruction, offering us hope, a family, a future, work that honors Him and helps those around us. I hope, through the story, they see a way they can begin to respond to Him and His love. All this, and Heaven, too! Promise Me This is a journey toward a fulfilled life.
All your books focus on tragedies in history – what got you interested in history?
My grandmother, who came from England a few years before Titanic sailed, taught me how to do many things "the old way" and passed down family stories from England and France. My grandfather told me Civil War stories of his grandfather, and my parents shared their stories of growing up during the Great Depression and WWII. We all valued family traditions and the stories and legends of other cultures. I love the mystery and romance of old attics, trunks, dusty books, historical places—lands and things that time forgot.
Interestingly, when I was born, my family lived in a very old farmhouse—leaking metal roof and all—in rural North Carolina. At the top of the house was a sealed room, which my great aunt believed had been used as a hiding place for escaping slaves before the Civil War. True or not, it made a great story and sparked the beginning of my lifelong fascination with the Underground Railroad and the need to break the chains that bind us—physically, emotionally and spiritually. So far, every story I've written has echoed that theme in some form.
What was it like to win your first Christy award?
For so long I'd doubted that God could really want me to do this thing I loved so much—this writing with my whole heart. Having my first book published seemed impossible—as if someone had made a mistake! But, when William Henry is a Fine Name was awarded the Christy it felt as if God affirmed this writing path. Frederick Buechner said, "The place God calls you to is where your deep gladness and the world's deep hunger meet." To be affirmed in that endeavor is freeing, and amazing grace.
Obviously writing is your passion, but what is your favourite part of being a writer that goes alongside that?
Research, especially when it involves travel—such a treasure hunt! I love learning new things and going new places—or old places—and playing detective. How wonderful we can call that "research!" : )
Your bio implies that you've travelled to research your books – what was your favourite place to visit?
There are so many wonderful places—I couldn't pick just one. I love England—especially the countryside. And I love France—especially the area between Nieul and Oradour sur Glane—beautiful, quaint, rustic, green countryside. I love the snowcapped, magnificent Alps in Bavaria, and the sea and mountains everywhere—dramatic landscapes. I remember standing in Galilee—the landscape awash in green, the sun just beginning to set in a sky swept in hues of pink and gray and lavendar, the sea spread out below—and thinking, how wonderful that our Lord, with all that he endured and suffered on earth, spent time in this lovely place. I was so glad! Beautiful vistas—wherever they are—lift our heart and drive us nearer Heaven.
What is your favourite thing to do when you're relaxing?
Read, and/or sit outside in a comfy lawn chair and stare up into the treetops. The lawn chair and treetops respite is something recently discovered.
Please share a little of your spiritual journey
Though I consecrated my life to Him at eleven years of age, I couldn't believe that God really loved me in more than a collective way. I felt too bad, too dirty, too much of a disappointment. I was 34 when God moved dramatically in my life (through a near death illness) that revealed to me in a way I could understand that He truly loved me, that I was precious to Him. That moment in time changed everything for me, and since then I have never doubted His love. I live everyday in thanksgiving. It is because of that journey that I write of breaking chains that bind—physical, mental, emotional, and spiritual. It is why it's so important to me to share the reality of His love with others. I know the anguish of not knowing.
What future books do you have in the works?
Band of Sisters—releasing September 2012–was born of a desire to end modern-day slavery, and most of all to ask, what can we do to help in a need so desperate.
New York City, 1910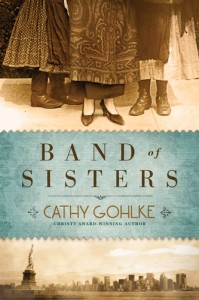 Driven by a shameful past and perilous future, Maureen O'Reilly and her sister flee Ireland in search of safety, liberty and opportunity. But after surviving the rigors of Ellis Island, Maureen learns that their benefactor has died, and his family–refusing to own his Civil War debt–casts her out. Alone, impoverished, and in danger of deportation, Maureen connives to find employment in a prominent Manhattan department store, only to discover the elegant facade hides a dangerous secret.
Despite her family's disapproval, Olivia Wakefield determines to honor her father's debt but can't find Maureen. Unexpected help comes from a local businessman, who Olivia dares hope will become more than an ally, even as she fears the secrets he's hiding.
As women begin disappearing from the store, Olivia rallies influential ladies in her circle to help Maureen stand against injustice and fight for the lives of their growing band of sisters. But will they be too late, and in the midst of a world gone mad can either woman open her heart to divine leading or the love it might bring?
Something new–I've just signed another contract with Tyndale House Publishers for a novel scheduled to release in 2013, set primarily in Germany, WWII. The title has not been finalized, but already my characters have written themselves deep into the Bavarian Alps.
Thank you so much, Cathy ~ it has been wonderful sharing with you in this way.
Cathy's Bio: 
Cathy Gohlke is the two-time Christy Award-winning author of William Henry is a Fine Name and I Have Seen Him in the Watchfires, which also won the American Christian Fiction Writers' Book of the Year Award and was listed by Library Journal as one of the Best Books of 2008.
Cathy has worked as a school librarian, drama director, and director of children's and education ministries. When not traipsing the hills and dales of historic sites, she, her husband, and their dog, Reilly, make their home on the banks of the Laurel Run in Maryland.
BLGs' Book Club ~ Book Loving Girls  meet at my home every six weeks to celebrate our love of story and to spend time pondering a selected book and chatting (via email, skype or telephone) with the author ~ I look forward to sharing with you some of the fun and encouragement we have over 2012 and beyond!
Relz Reviewz Extras
BLGs' Book Club interview ~ Part 1
Visit Cathy's website and journal
Buy Promise Me This at Amazon or Koorong