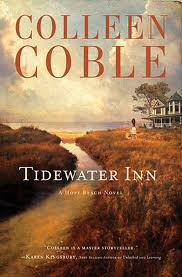 A Coast Guard and an historian feature
in Colleen Coble's
Tidewater Inn
Thomas Nelson
The Story
Inheriting a beautiful old hotel on the Outer Banks could be a dream come true for Libby. The inn cries out for her restorer's talent and love of history. She's delighted to learn of the family she never knew she had. And the handsome Coast Guard lieutenant she's met there on the island could definitely be the man of her dreams.
But Libby soon realizes that the only way she can afford the upkeep on the inn is to sell it to developers who are stalking the island. The father who willed her the inn has died before she could meet him, and her newfound brother and sister are convinced she's there to steal their birthright. Worst of all, her best friend and business partner has been kidnapped before her eyes, and Libby's under suspicion for the crime.
Libby's dream come true is becoming a nightmare. Her only option is to find her friend and prove her innocence, or lose everything on the shores of Hope Island.
Introducing Alec & Libby
Brief physical description
Alec Bourne, chief petty officer, Coast Guard, six-two, brown hair, blue eyes
Libby (Elizabeth) Holladay, light brown hair, amber-brown eyes, early 30s, archaeological historian
Actor/famous person 
Sofia Vergara
James Marsden
Quirk (if any)
Libby: loves reggae and hot food
Your inspiration for the character
I love historic preservation and thought it would be fun to write that into a character. And I'm fascinated with the Coast Guard, especially Coast Guard swimmers. So brave!
Background to the story
I was vacationing with my family in St. Croix and noticed a harbour cam near the boat we were about to board. I called my parents and told them to get on the computer and we would wave to them. Then I got to thinking—how would they react if something happened to me while they were thousands of miles away and unable to do a thing?
Relz Reviewz Extras
Reviews of The Lightkeeper's Ball, The Lightkeeper's Daughter & The Lightkeeper's Bride
Character spotlight on Lucy & Nate
Character spotlight on Addie & John
Visit Colleen's website and blog
Buy Tidewater Inn at Amazon or Koorong