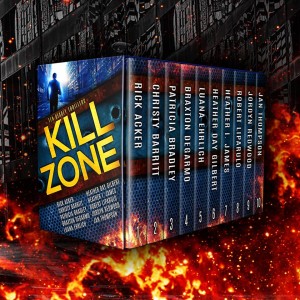 I can't tell you how excited I am about this book news! I'm recommending you pre-order and gear yourself up to dive into some fantastic reading and discover some new favourite authors.
KILL ZONE: Ten Deadly Thrillers is a thriller lover's delight with 10 brand NEW novellas penned by some very talented authors. Rick, Christy, Patricia, Heather Day Gilbert, and Jordyn are all authors I've read and loved, and I'd buy this set in heartbeat (I did, actually!) for them, but the best news for me is a new story from the epically talented Robert Liparulo! I own and have read each of his novels and I'm thrilled he's back in the game with FULL DRAW.
Grab this set while you can at the limited time, ridiculous price of only 99 cents!
Here are all the details:
SECRETS by Rick Acker
Everyone has secrets. Silicon Valley billionaire Scott Sherman's could forever change three women's lives—and possibly much, much more.
THE WRECKING by Christy Barritt
A car crash on a lonely road turns into a nightmare for Andie Meadows when she's abducted by a serial killer. When the killer begins his terror again years later, she's the only one who can help the FBI find him before he strikes again.
REVENGE by Patricia Bradley
Murder becomes a case of mistaken identity at a remote drug rehab. An old threat resurfaces, and Andi Hollister finds herself in the crosshairs of a killer.
TEN SECONDS TIL… by Braxton DeGarmo
An explosion kills three well-known thugs, and Detective Seamus O'Connor and the Major Case Squad are called in to assist with the investigation. When additional bombings target criminals who have escaped justice, the hunt begins for a vigilante. But as O'Connor begins to close in, the hunter becomes the prey.
ONE STEP BACK by Luana Ehrlich
When CIA intelligence officer Titus Ray attempts to recruit an Iranian nuclear scientist in Tehran, he puts himself in the crosshairs of the Iranian secret police and triggers a series of events leading to deadly consequences.
UNDERCUT by Heather Day Gilbert
When Marine sniper-turned-lumberjack Zane Boone finds himself in the crosshairs of vengeful terrorists, will he be able to protect Molly McClure and save his own heart in the process?
BURN TIME by Heather I. James
Charlotte finds herself at the end of a prison term for committing a felony against a man who deserved it. Upon her release, she finds that he is coming after her. Not for revenge but because he believes she has something of his, something that could put him away for life and topple a criminal enterprise.
FULL DRAW by Robert Liparulo
After a lifetime of obsession, a vast fortune, and countless murders, Anton Talisen is on the brink of unleashing a powerful, ancient secret against mankind. Hutch has three days to stop him.
MALICIOUS INTENT by Jordyn Redwood
Bestselling thriller author Lexie Sloan's life upends when people close to her wind up dead, mirroring the plots of her award-winning novels. Is she the killer? Or is someone out to frame her?
ZERO SUM by Jan Thompson
She opens a case she cannot close.
If he helps her solve it, he will die.
FBI Special Agent Stella Evans finds the last surviving computer consultant who holds the key to destroying a terrorist organization's global network, but Cayson Yang may not live long enough to dismantle the computer system.
On a side note, there's some brilliant covers in this set! Which of these authors have you read, or are looking forward to reading?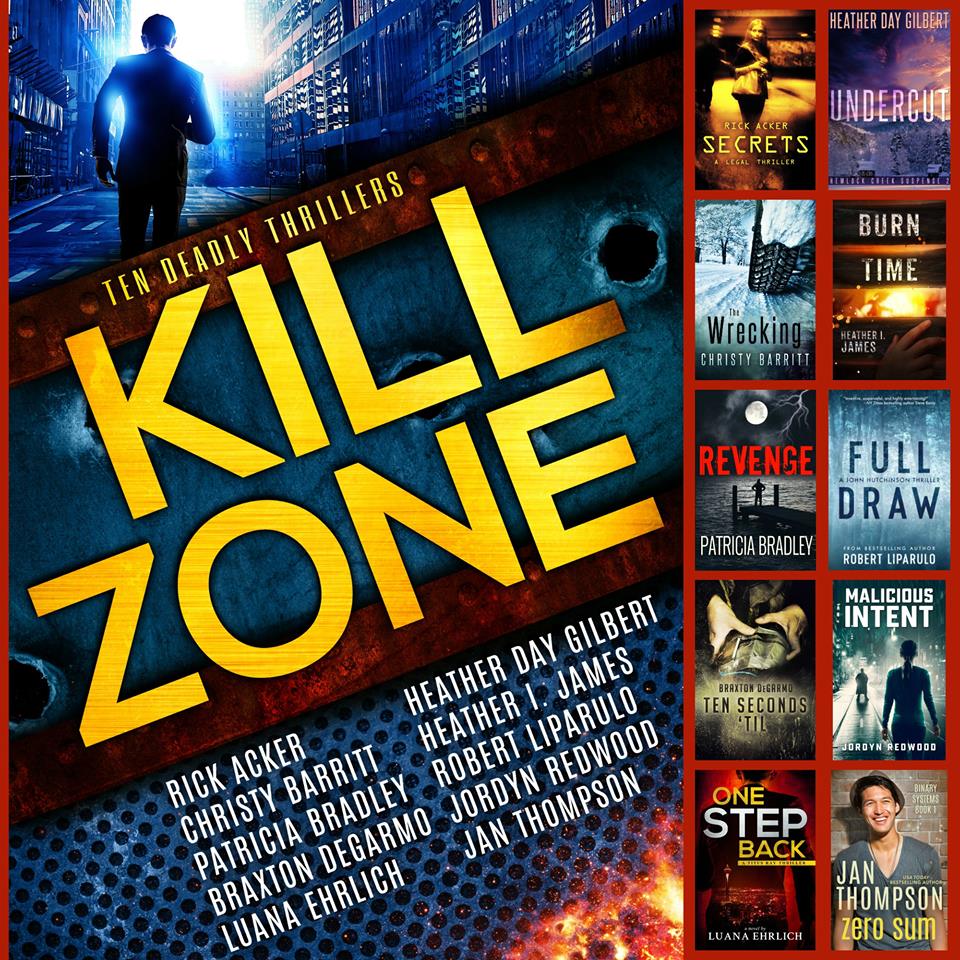 Limited time pre-order price ~ only 99 cents!
Amazon: Kill Zone
Nook: Kill Zone
Kobo: Kill Zone
iBooks: Kill Zone