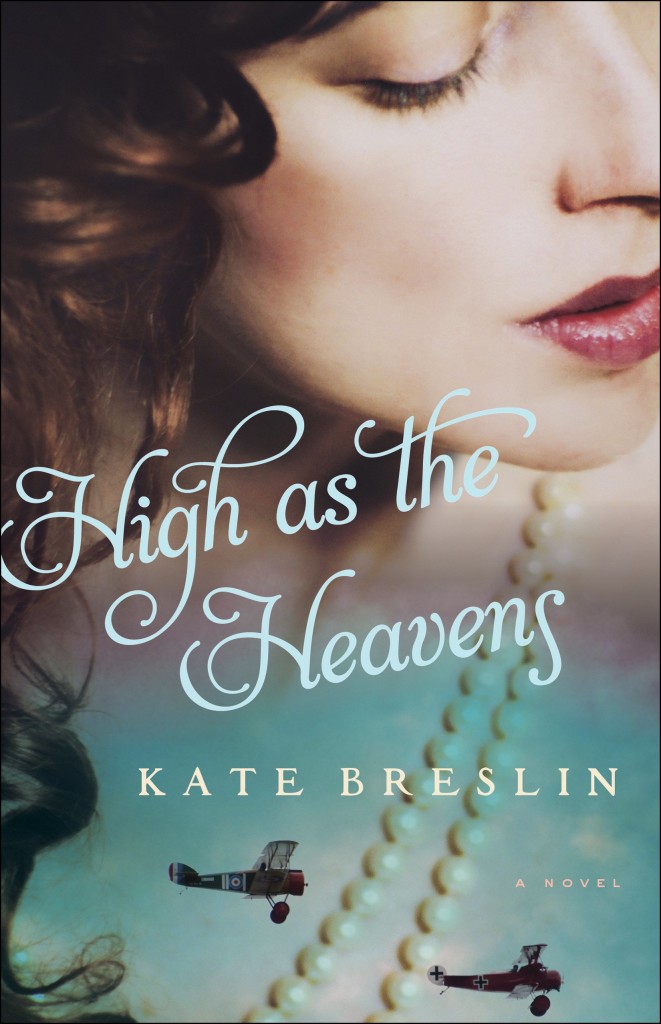 Meet a spy and a pilot in
Kate Breslin's
Historical Romance
High as the Heavens
Bethany House
*****
The Story

In 1917, Evelyn Marche is just one of many women who has been widowed by the war. A British nurse trapped in German-occupied Brussels, she spends her days working at a hospital and her nights as a waitress in her aunt and uncle's cafe. Eve also has a carefully guarded secret keeping her in constant danger: She's a spy working for a Belgian resistance group in league with the British Secret Service.

When a British plane crashes in Brussels Park, Eve is the first to reach the downed plane and is shocked to discover she recognizes the badly injured pilot. British RFC Captain Simon Forrester is now a prisoner of war, and Eve knows he could be shot as a spy at any time. She risks her own life to hide him from the Germans, but as the danger mounts and the secrets between them grow, their chance of survival looks grim. And even if they do make it out alive, the truth of what lies between them may be more than any love can overcome.
Brief physical description
Evelyn (Eve) Marche is 26 years old, tall and willowy, with jet black hair and large violet eyes.
Simon Forrester is 30 years old, tall and lean with rugged features, wavy copper locks and penetrating gray eyes.
Resembles…
British actress Kaya Scodelario-Davis reflects Eve's likeness, but Simon was tailored after the actor, James Norton. Both pictures can be found on my Pinterest board.
Strengths and weaknesses
Eve Marche is extremely resourceful. Her cleverness and daring in Belgium prove to be assets in aiding the Allies during the Great War. Eve also has secrets in her past that prevent her from trusting others, and she avoids getting close to anyone, especially the man she loves.
Simon Forrester is a WWI British pilot and knows much about bravery and hardship. When presented with a problem, he approaches a possible solution with single-minded persistence. He can become impatient, however, and his pre-conceived notions about women—in particular, Eve Marche—throw him completely off guard. He must shift his way of thinking in order to get close to her.
Quirk (if any)
None, really
Your inspiration for the character
My inspiration for Eve's character is a composite of several real-life Belgian heroines of the Great War: British nurse Edith Cavell, who helped a covert group smuggle Allied patients out of occupied Belgium; Gabrielle Petit, another heroine, started working with British Intelligence shortly after helping her fiancé, a soldier wounded in the war, to cross into the Netherlands to re-join his regiment. Perhaps the most influential for me was Marthe McKenna (nee Cnockaert) a Belgian nurse who worked alongside the Germans at their hospital while aiding the Allies in secret. Of the three women, only Cnockaert was saved from the firing squad. I felt compelled to share aspect these brave women's lives.
Simon Forrester's character was inspired by a real WWI British pilot, A. J. Evans, who wrote about his war exploits in his 1920s book, The Escaping Club.
Background to the story
Espionage and "spy mania" were rampant during the Great War, and after writing about Britain's enemy agents in my previous novel, Not By Sight, I chose to explore in High As The Heavens spy activity in other parts of Europe. I learned that German-occupied Brussels was teeming with spies from both sides during the war and thought it would be interesting if my hero, Simon, becomes convinced that Eve is an enemy agent, perhaps the one he's searching for. It was from that idea, the story was born. 
Thank you, Katie!