Anyone who is passionate about books will have space issues. Am I right? When you love books, buy books, and review books, they have a tendency to take over your home, especially when you first began collecting them at age 10 and then took up reviewing at age 37! My books impinge on every room in the house, with the exception of the smallest rooms in the house, and I have to say my family is very understanding 😉
As I operate my own little library and loan my books to others, I need them to be alphabetised for relatively easy access. So each of my 5 bookshelves, shelving in cupboards, and drawers, contain books alphabetised by author! I had become a little slack with returning books to their rightful place, in addition to having way too few shelves to accommodate my books. So the floors became additional stacking areas, in particular, our lounge room.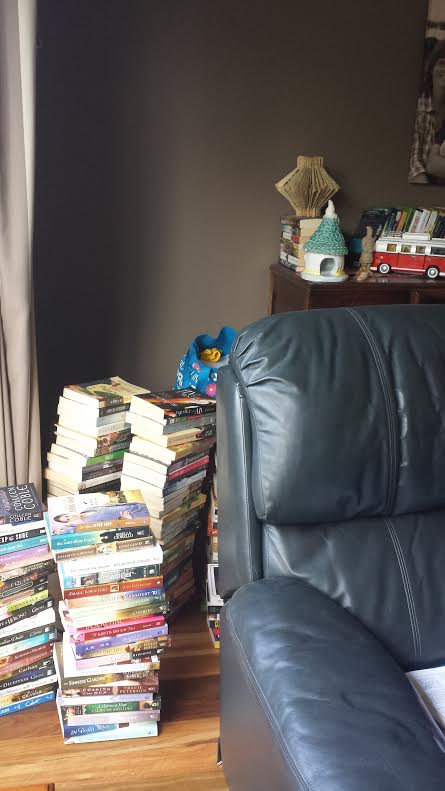 Exhibit A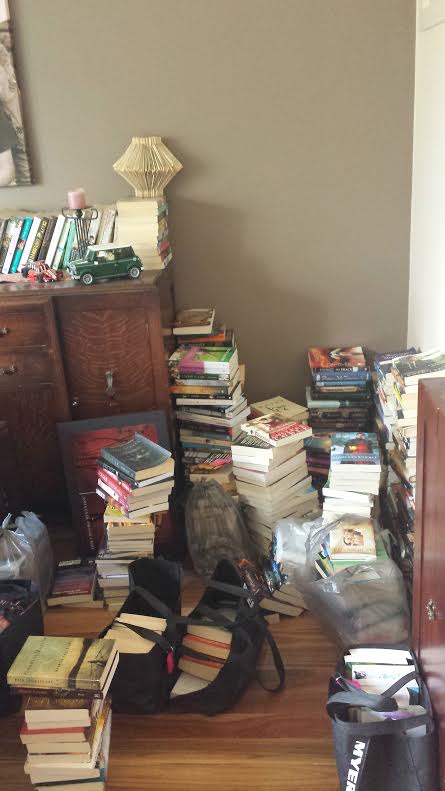 Exhibit B
I was bemoaning the fact of book creep to some very dear friends of ours and I asked A, a former chippie (carpenter/builder) what he could recommend as I wanted to do something with the back wall in our lounge room. A responded with a some thoughts and a 'leave it with me'. Roll on some months, the occasional update that the shelves were in train, additional book creep occurring, and I received a call to expect my handcrafted shelves to arrive in a couple of hours. Well, did that send me into a flurry of activity!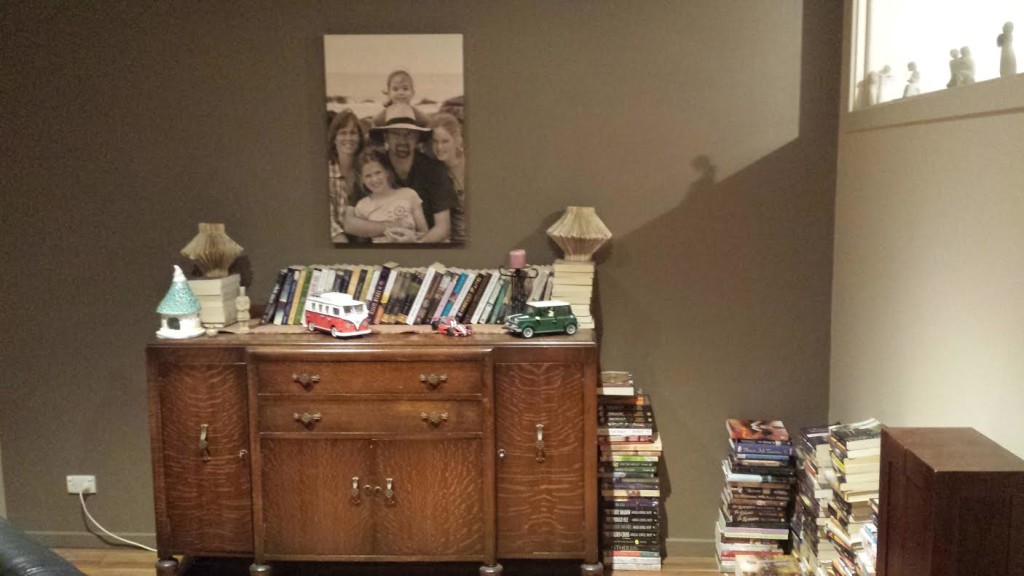 The room was cleared and the work began!
A and my husband did manly construction things and voila, the transformation began!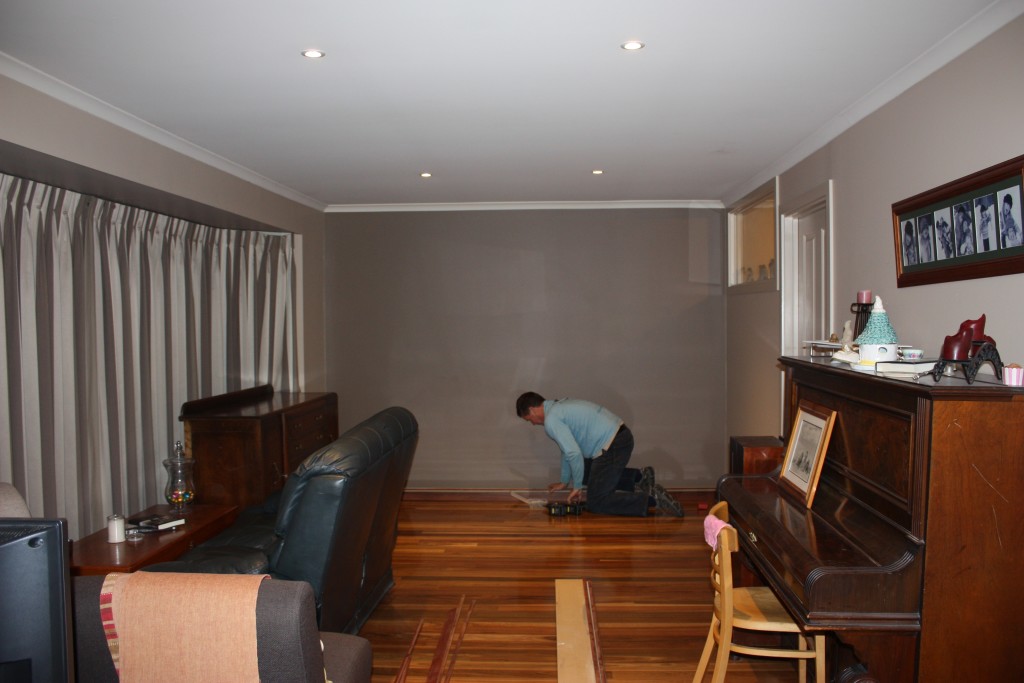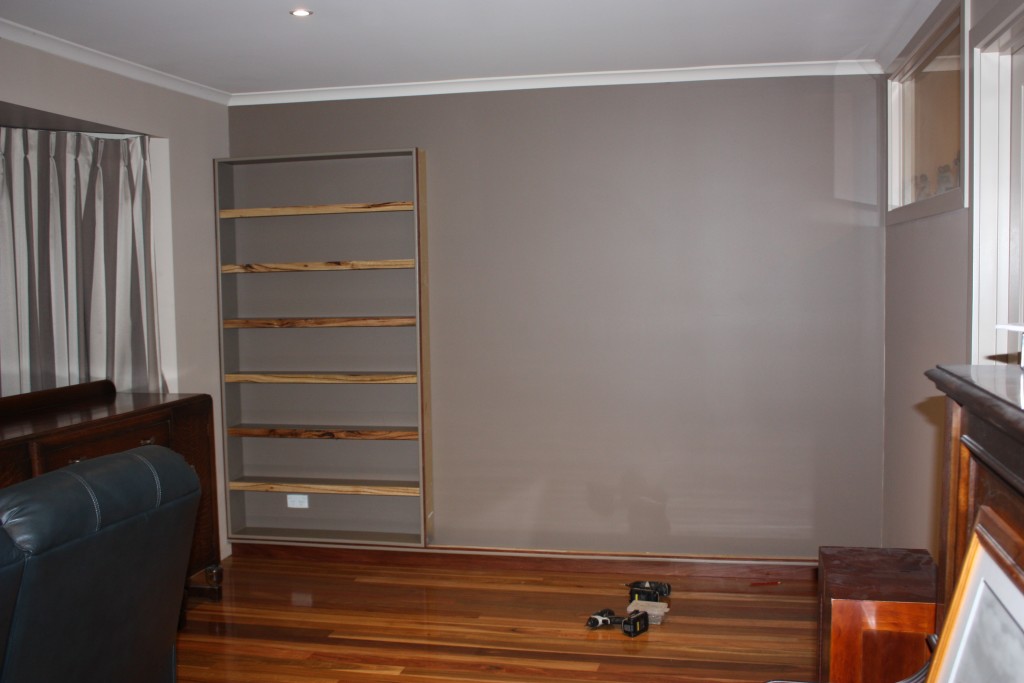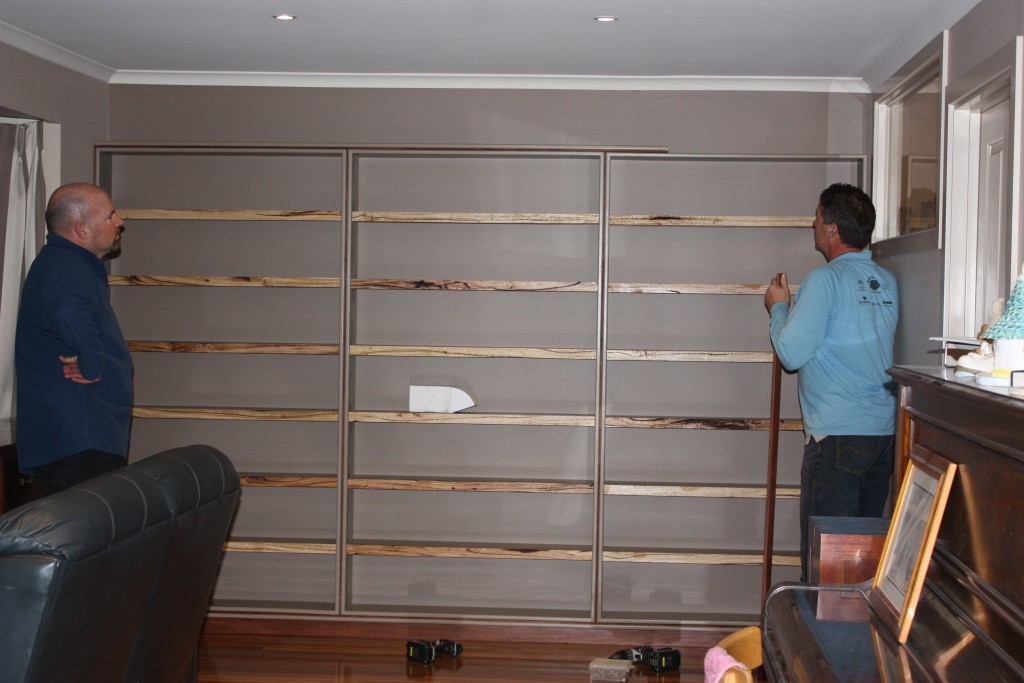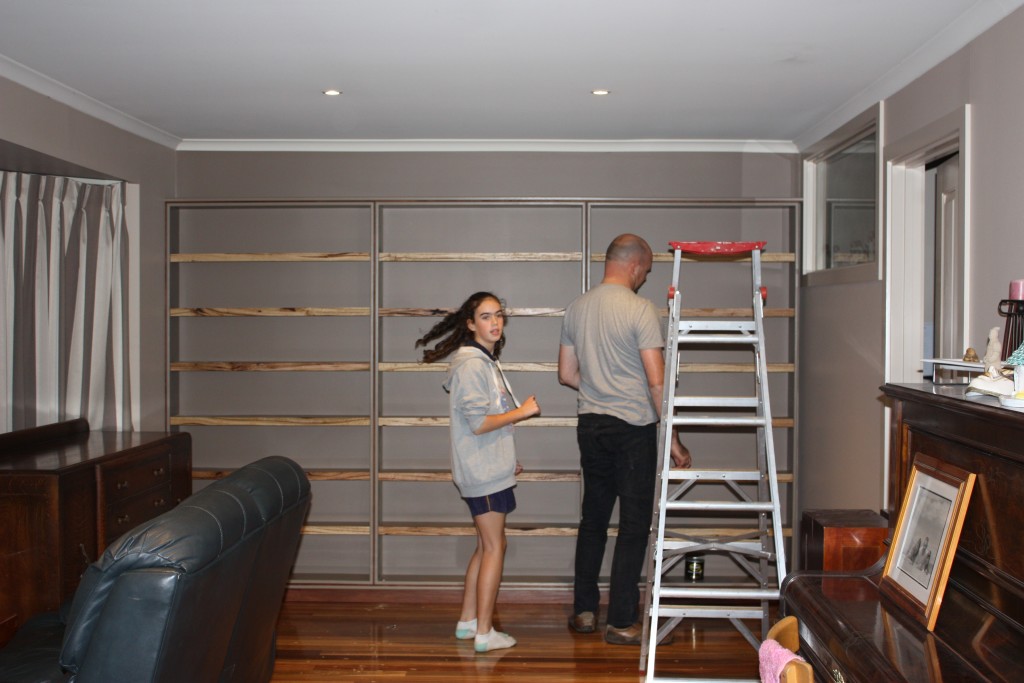 Dad's little helper!
Then came the MASSIVE task of reshelving my books. The piles lying around on floors  needed to be alphabetised and then merged with the already alphabetised books on existing shelves. I was up until 2am just getting through the 'A's and 'B's!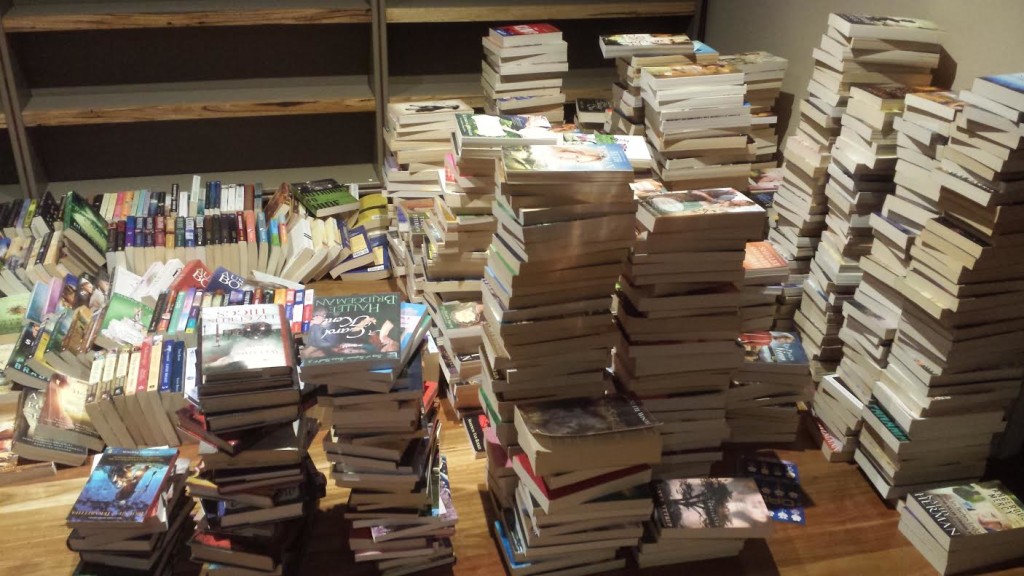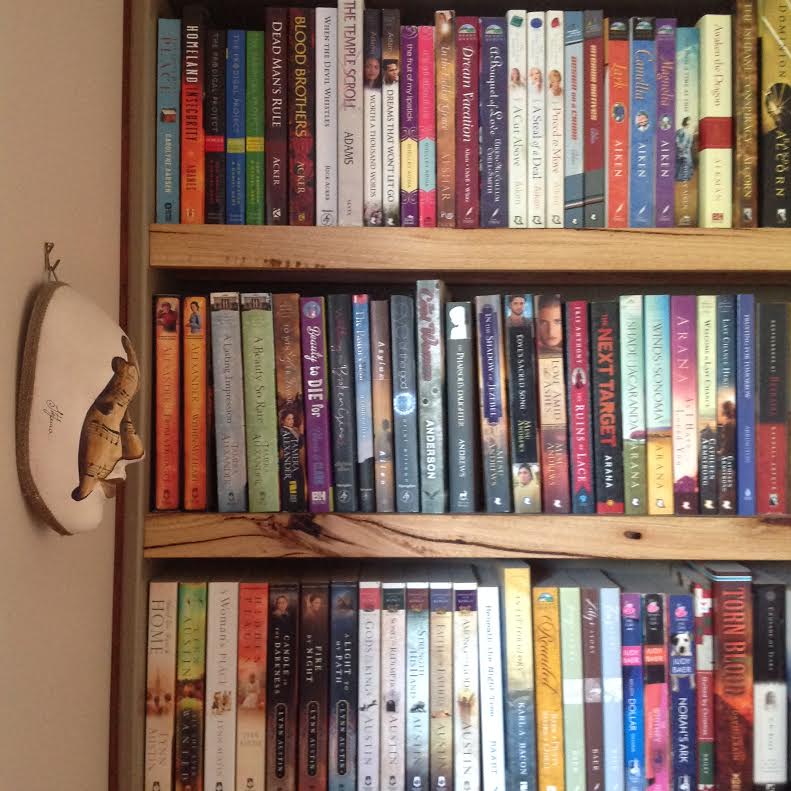 I walk on a Thursday with a dear book loving friend, Sam, but the night before I sent her a text saying "Feel like doing something other than walking tomorrow?" with a couple of shots of the empty shelves. She knew immediately what was going on and accepted. Without her help, I fear I'd still be sorting! Here she is hard at work.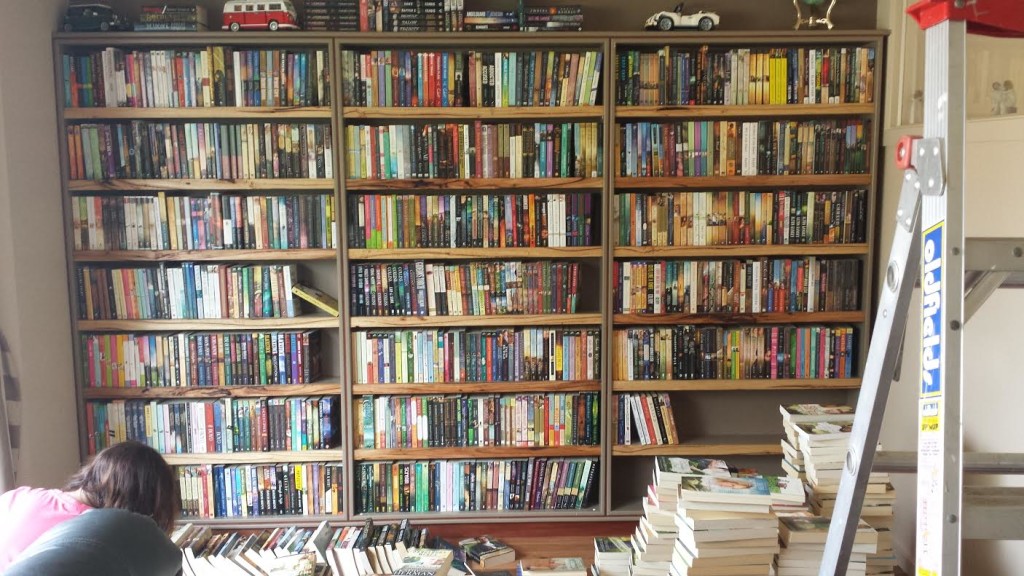 And adding some little touches ~ some of my Lego cars and extra special (signed books) novels on the top shelf from my most beloved authors!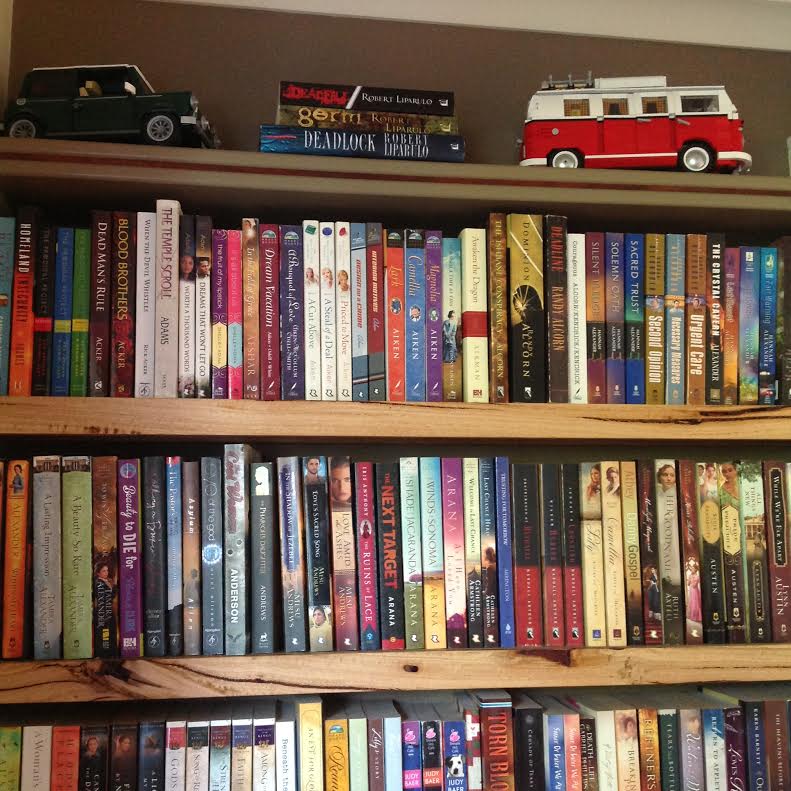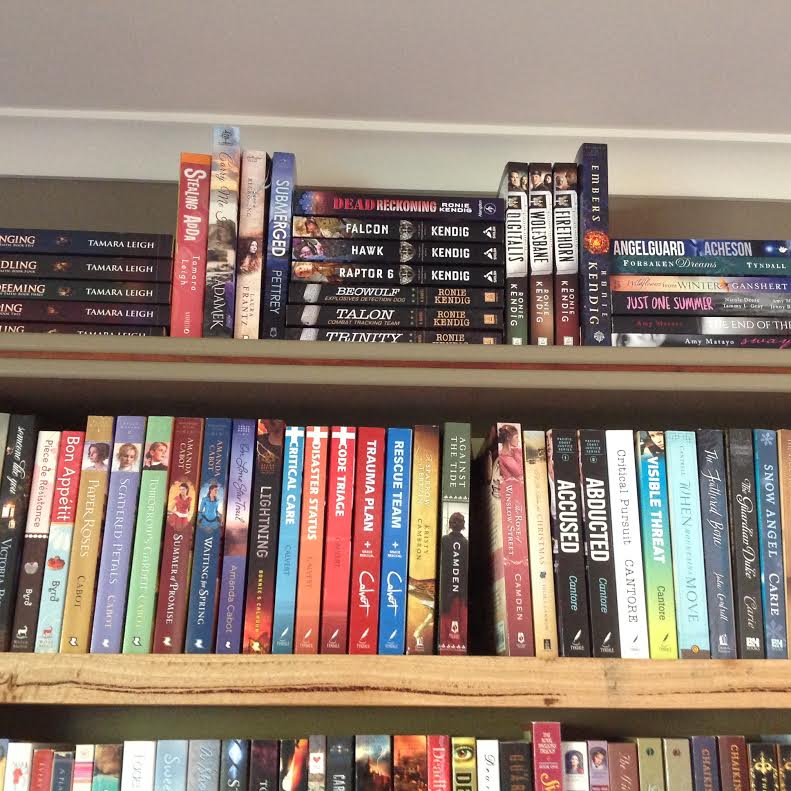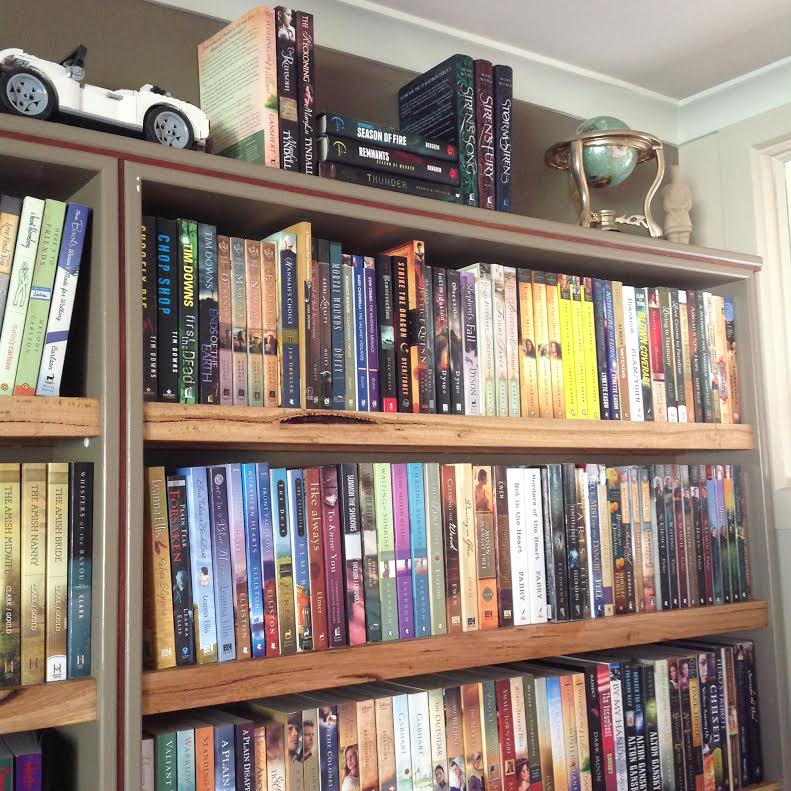 It's not hard to guess my favourite place to spend time with God is now, either 😉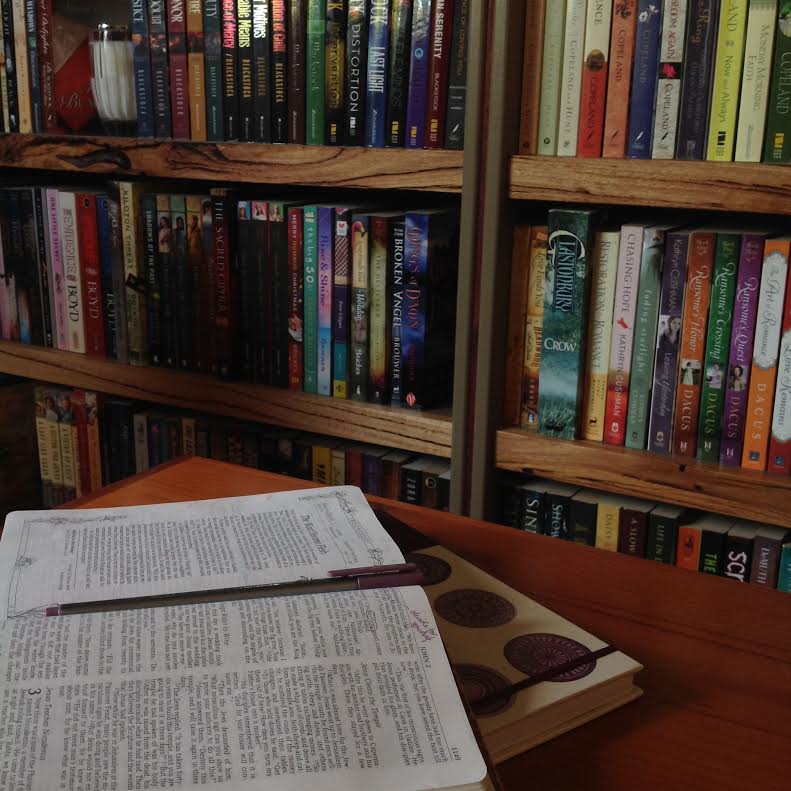 Or where my eldest likes to knit!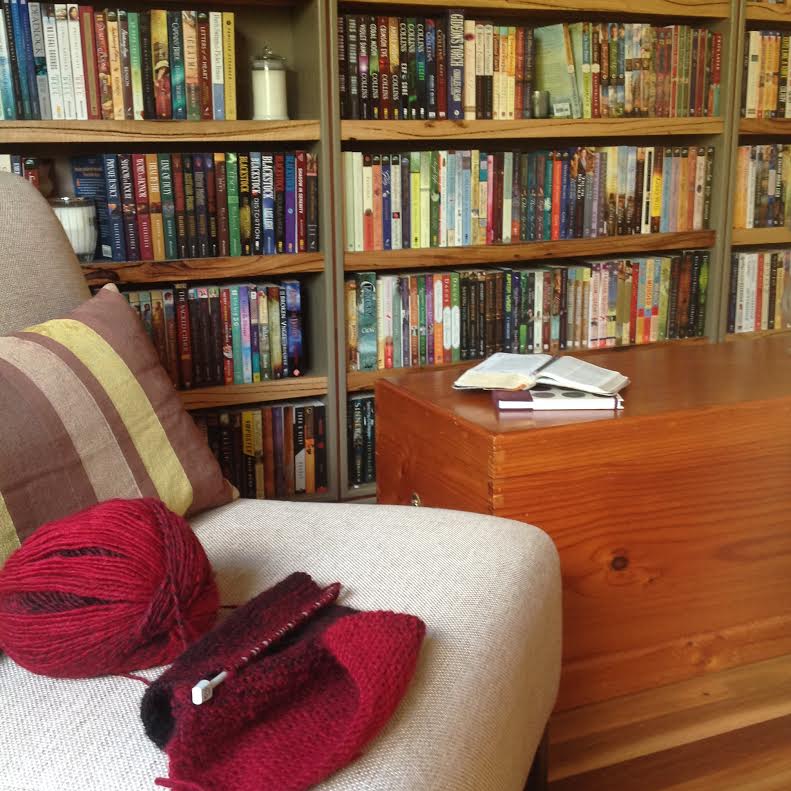 I'm sure you will recognise so many of these books, that now grace my shelves and not the floor!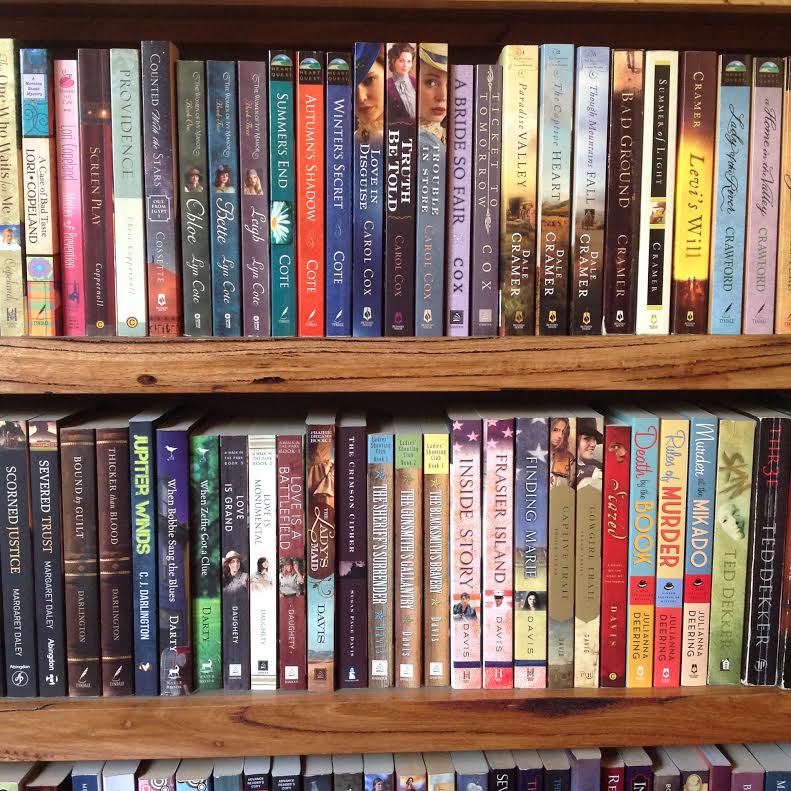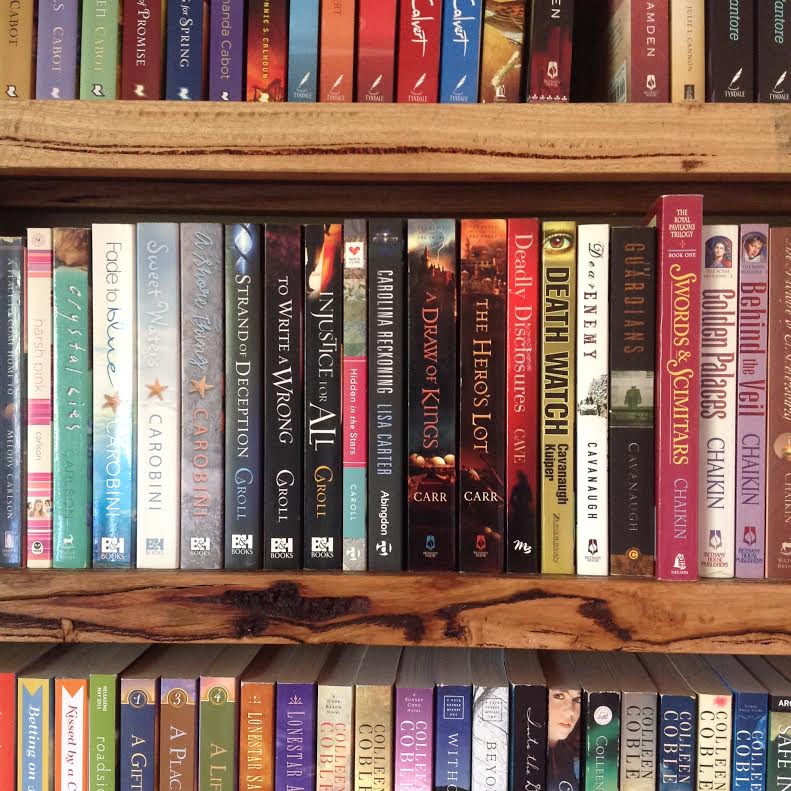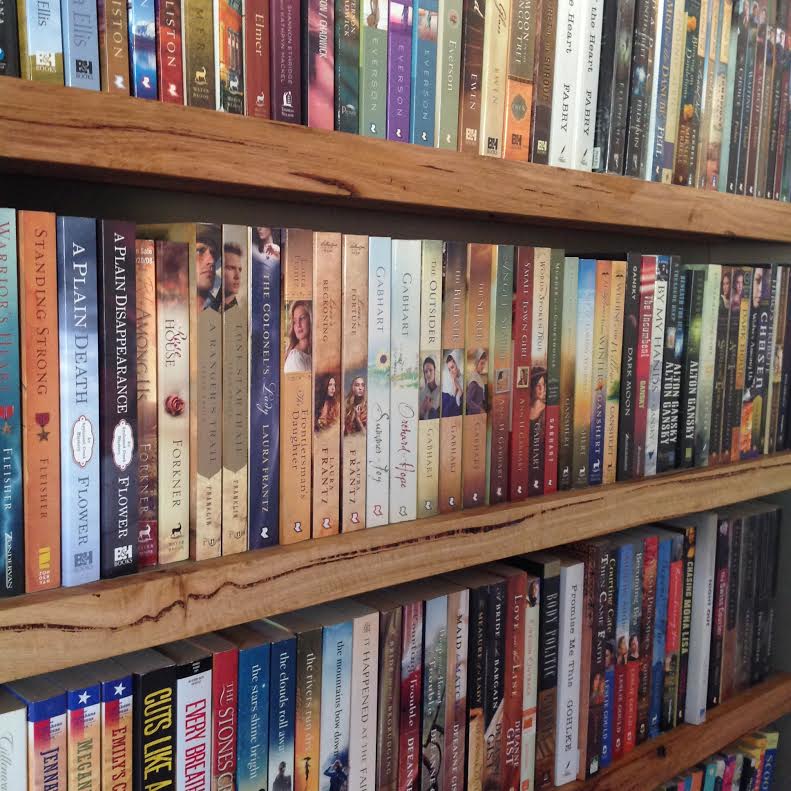 And the finished room…more than I could have hoped for!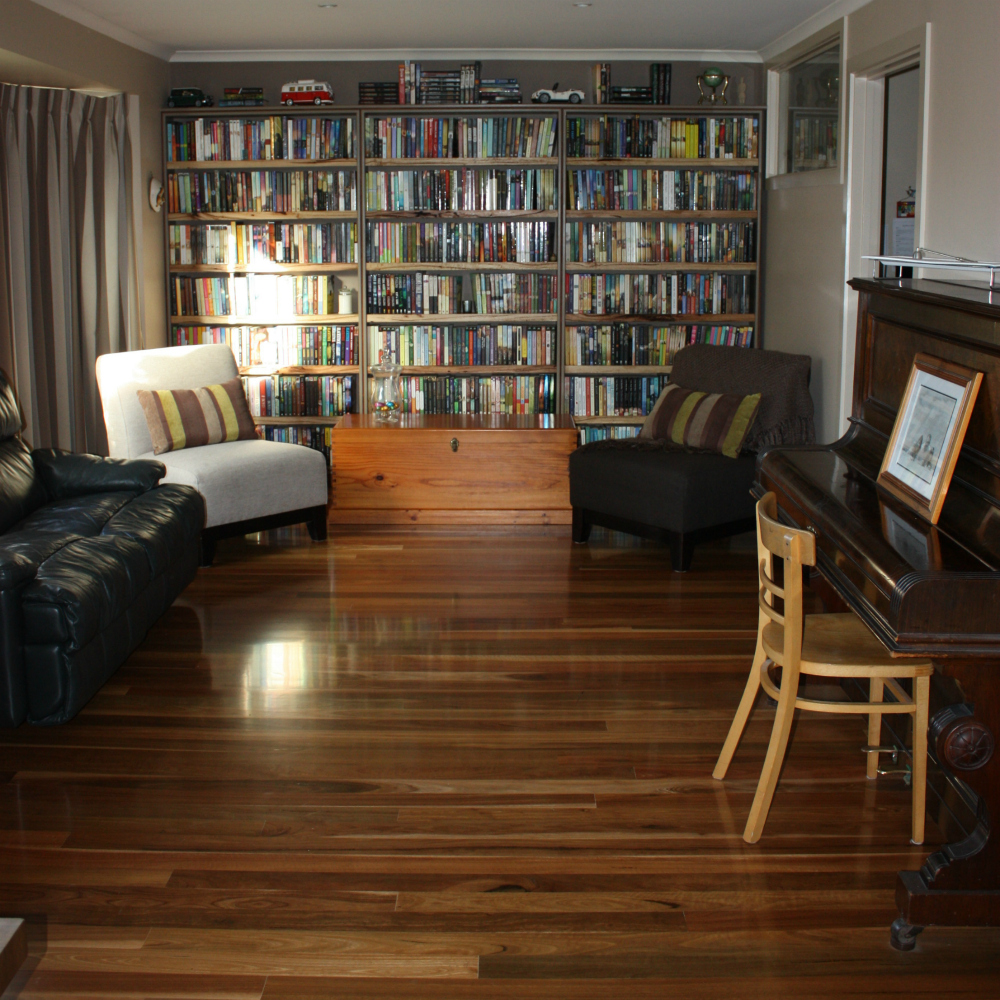 And it doubles as a music room for my husband, too!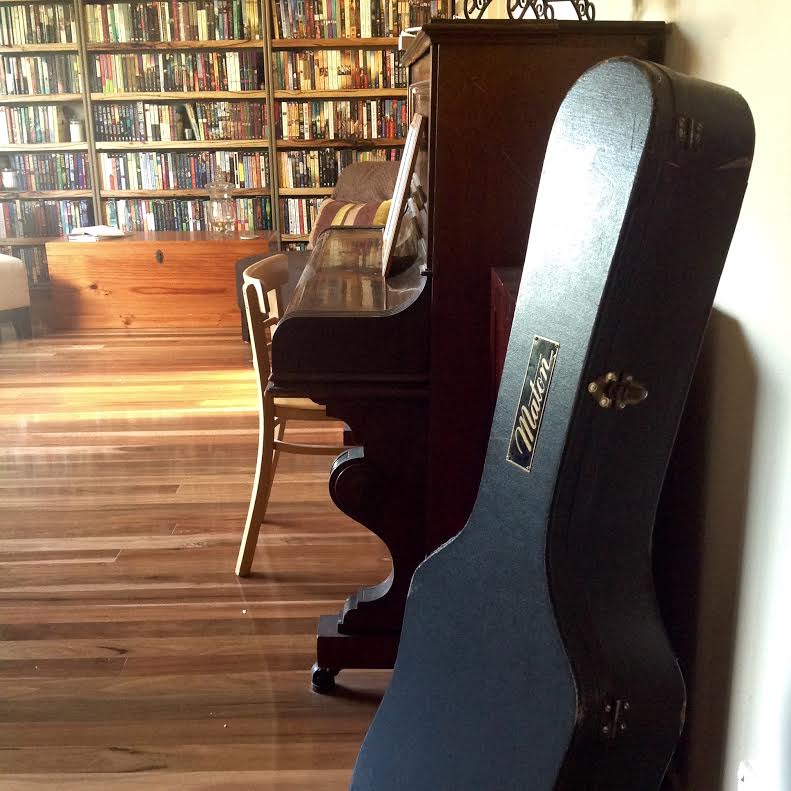 This room is opposite our bedroom, so every morning I wake and come out of my room and smile! And my book club members won't know themselves when we meet this Friday to discuss Stephanie Landsem's The Tomb!
And if any of you were wondering, these shelves house authors A to Ha only…sigh…now to rejig my remaining shelves 😉 And anecdotally, most Christian authors surnames begin with H or M…at least according to my stacks!