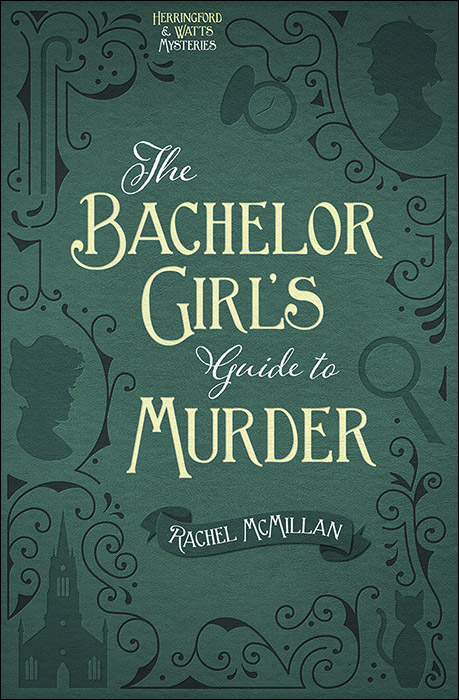 Meet two unconventional women in
Rachel McMillan's
Herringford & Watts mystery
The Bachelor Girl's Guide to Murder
Harvest House
*******
The Story

In 1910 Toronto, while other bachelor girls perfect their domestic skills and find husbands, two friends perfect their sleuthing skills and find a murderer.

Inspired by their fascination with all things Sherlock Holmes, best friends and flatmates Merinda and Jem launch a consulting detective business. The deaths of young Irish women lead Merinda and Jem deeper into the mire of the city's underbelly, where the high hopes of those dreaming to make a new life in Canada are met with prejudice and squalor.

While searching for answers, donning disguises, and sneaking around where no proper ladies would ever go, they pair with Jasper Forth, a police constable, and Ray DeLuca, a reporter in whom Jem takes a more than professional interest. Merinda could well be Toronto's premiere consulting detective, and Jem may just find a way to put her bachelor girlhood behind her forever–if they can stay alive long enough to do so.
Introducing Jem & Merinda
Brief physical description  
MERINDA HERRINGFORD
Merinda has an angular face and flat build. She's tall and blonde. The only remarkable attribute she has are her eyes which Jem describes as cat-like. She has a fierce intelligence about her face, with a look that always seems to betray she knows something you don't. While striking, her profile and build were not considered conventionally attractive for an Edwardian woman
JEMIMA WATTS
Jem is classically beautiful, like the popular Gibson girls of the time period. When Ray sees her he is inspired to think in poetry! She has chestnut brown curls and bright blue eyes.  Men stop and stare at Jemima! And she's curvy. It's far easier for Jem to be found out as a woman (even when she wears her usual disguise of trousers and bowler hat) than her best friend .
Resembles… 
MERINDA: Kelly Reilly
JEM: Erin Krakow (but a tad more shapely)
Strengths and weaknesses
MERINDA is smart and very, very loyal. She is willing to do anything when in pursuit of a case and has an innate sense of justice. But, she also thinks that life is a Sherlock Holmes story which gets her into a lot of trouble
Her downfalls:  she's proud and very competitive and she needs to be right! This leads her into all sorts of interesting conundrums with the opposite sex: especially Benny Citrone (a Northwest Mounted Policeman) and her long-time friend Constable Jasper Forth.
JEM is an unabashed romantic waiting to be swept off her feet. She's been picking out porcelain dishes and choosing songs for her wedding since childhood.  She is smarter than she thinks she is and excels at social situations thanks to her proper upbringing. She's also what I like to call "the Merinda Whisperer."  She also has strong (some might say old fashioned) convictions and she's pretty resolute.
She also gets woozy in tense and frightening situations (which thanks to Merinda happen far too often).  But her biggest weakness is Ray DeLuca. You've read the stories where the hero doggedly pursues the heroine? It's the other way around here. Jem would follow Ray to the ends of the earth. He's not the guy she picked out from the books she read as a child but she's learning that her heart and her life-time ideal can be completely at odds with each other.
Quirk (if any)
Merinda is addicted to strong Turkish coffee and sleeping late.
Jem smells like lavender and is actually a bit of a pickpocket (but you'll have to read the book to see exactly what she steals! And why!)

Your inspiration for the character
I think every woman has some Jem and some Merinda in them. Women are not one thing. They are romantic and logical: they are sweet and strong.  We can't put women into boxes or categories.  Homemaking women can be fierce career women. Single women can possess a strong maternal instinct for their nieces and nephews. I explore these ideas in the series.

Background to the story
My agent was currently shopping a straight historical romance I had written and was having little luck. At ICRS, she kept hearing about the popularity of romantic suspense. She skyped me and, knowing that I was a MASSIVE Sherlock Holmes fan, suggested I try a female Sherlock Holmes. I took a notebook and a bunch of post-its to a favourite café over the weekend and brainstormed an entire world. (Note: when Arthur Conan Doyle was first brainstorming Sherlock Holmes,one of the first potential names he scribbled was Sherrinford Holmes and I play on that with Merinda Herringford).
I also feel very strongly about validating women: especially in church circles. I once described myself as feeling so quirky –unmarried and single in her 30s —that I might as well have been an Edwardian woman in trousers.  That fed the idea even more.

US/Canadian residents only
To enter:
Post a comment here about what you love about strong female literary characters; AND
Pop over to Rachel's blog, meet her fabulous men – Ray DeLuca & Jasper Forth – and post a comment on her blog post!
A winner will be drawn on Sunday May 1st!
Thanks Rach ~ so excited for you and loving this series! 
Relz Reviewz Extras
Review of The Bachelor Girl's Guide to Murder
Rachel's Author Alert
Website || Facebook || Twitter || Instagram
Buy the novella A Singular and Whimsical Problem
Buy from Amazon: The Bachelor Girl's Guide to Murder or Koorong