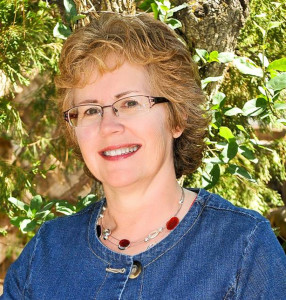 Discover more about
Carol Cox
and her historical romance
Truth Be Told
Bethany House
********
What was a favourite childhood book of yours?
My mom taught me to read at an early age, so books have always been a huge part of my life. When I was five years old, my dad brought home a book called The Happy Hollisters, the first title in a mystery series for kids. That story drew me in right away, and I didn't want to put it down. Once I finished, I couldn't wait to get my hands on the next title…and the next. I've been hooked on mysteries ever since!
Do you remember the title of the first story you ever wrote? What was it about?
I'm not sure it had a title, but I remember the story well. I decided to write my own epic adventure at age four, a fairy story. The fact that I couldn't write yet posed a problem, but I overcame that by recruiting my grandmother to take down the story while I dictated. All was going well…until I added a sinister character who caught the fairy and pulled off her wings. That was too much for Grammy, who immediately resigned as my secretary and put my writing career on hold for years.
If you weren't a writer, what career would you/did you/do you have pursued?
At one time, I thought I might follow in the footsteps of my father, a dairy farmer. Like him, I loved the outdoors and working with animals. Instead, I wound up getting a degree in elementary education and becoming a teacher. I only taught in a classroom for two years, but that training has stood me in good stead as a homeschool teacher, as well as in teaching various age groups in church settings  over the years.
Why do you write stories?
Weaving stories has become such a part of my life, I can't imagine not doing it. Characters, situations, and story lines dance around in my head all the time. And just as I take pleasure introducing my friends to real people and places I enjoy, I love introducing readers to the people and places that populate my imagination!
Truth Be Told
Sometimes the truth can be dangerous… 
When Amelia Wagner takes over her father's newspaper in 1893 Granite Springs, Arizona, she vows to carry on the paper's commitment to reporting only the truth. But Amelia soon learns that even the truth can have serious consequences. Her father's revealing articles about the Great Western Investment Company have caught the attention of the wrong people, and pressure mounts for Amelia to retract her father's statements.

Determined to find out the real story, Amelia begins her own investigation. She's joined by Benjamin Stone, a Great Western employee who's been assigned to keep tabs on her for the good of the company, a man Amelia finds both perplexing and intriguing.

What they uncover stuns them both–and has far-reaching implications for not only Ben and Amelia but all of Granite Springs. Can they reveal the truth before the enemy finds a way to silence them for good?
Describe your novel in 5 adjectives
Western
Historical
Suspenseful
Humorous
Down-to-earth (the hyphens make that one word instead of three, right?)
Please share a little about one of your main characters
I enjoyed writing about Amelia Wagner, the heroine of Truth Be Told, immensely. She became a very real person in my mind, and watching her growth as the story unfolded was an adventure. Amelia is a young woman who deeply admired her father, shares his passion for truth, and has a burning desire to live up to the trust her father placed in her. That, plus her faith, gives her the courage to press on in her search for the truth, even when the way becomes dangerous.
What spiritual theme or question does your story deal with?
Truth Be Told touches on a number of themes—topics like forgiveness, addiction, believing the best against all appearances, and the costs of fighting for the truth.
Share a recent movie or tv show that you have loved, and why?
The ladies' group at our church got together and went to see Mom's Night Out recently. With all the deep issues we deal with on a daily basis, it was so refreshing to sit and laugh…and laugh…and laugh some more with a theater full of women!
Thanks Carol!
Relz Reviewz Extras
Review of Love in Disguise
Interview with Carol
Visit Carol's website and blog
Buy from Amazon: Truth Be Told or Koorong