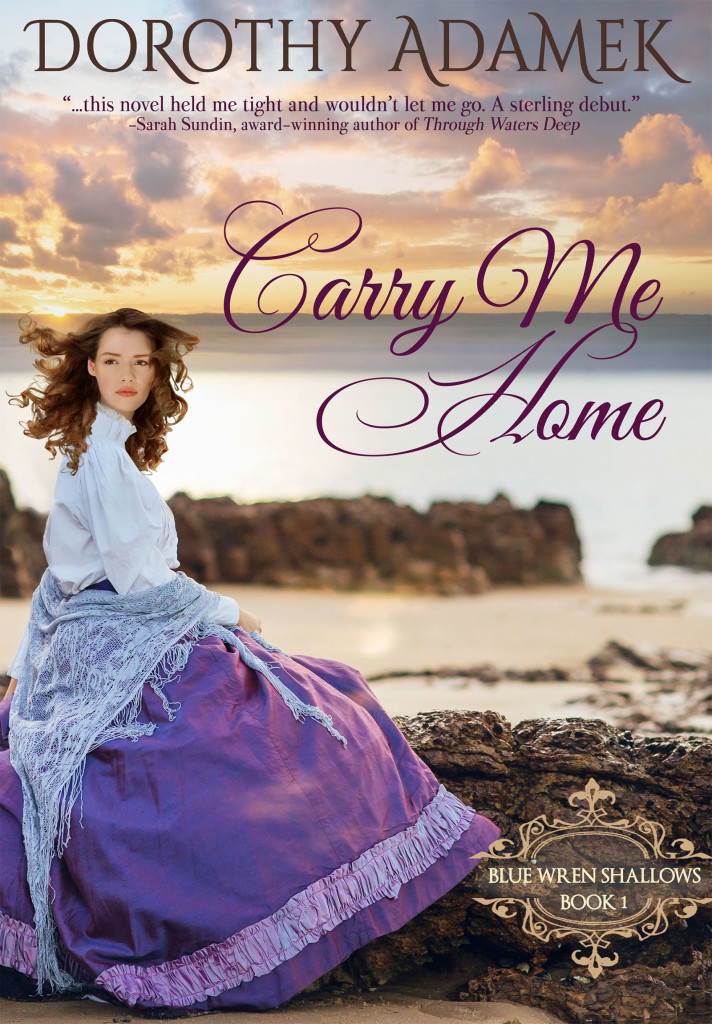 Synopsis:~
Finella Mayfield hates two things: liars and thieves. And she's determined to marry a man who's neither. Chasing her dead father's dreams, the twenty-year-old English bride arrives in Australia in 1875 for an arranged marriage. Anticipating her future as village preacher's wife, she records her thoughts in her Everlasting journal.
But instead of her fiancé, Finella is met by Shadrach Jones, a poor farmer sent to collect her from the busy Melbourne pier.
This is not what her father planned. And it's only the beginning of the unraveling of Finella Mayfield ~ the bride with no groom.
All Shadrach longs for is rows of mustard and chicory. He's busy growing a farm near the Phillip Island fishing village of Cowes, and caring for Molly, his simple sister. Far from the brutal life they remember with their ex-convict father, Shadrach's building something new.
But he's also made a promise to a dying friend. To collect and marry the English girl destined to never be a preacher's wife.
Can Shadrach convince Finella she has a future with a farmer? Can he convince himself, knowing his family secrets will haunt their future?
My endorsement:~
**Here's the deal, folks! Dotti is a dear friend. I'm Australian. The book is set not too far from where I live. I've read her book. I've proofed her book. I attended the photo shoot for the cover. I love this girl. I'm honoured to be mentioned in the acknowledgments. I want you to know all of that before you read this endorsement, so you understand I'm not trying to hide my connection to her. Read the following thoughts with that knowledge, but know none of that changes that this is a beautiful story and Dotti is one talented writer!**
Carry Me Home is a stunning tale of loss, betrayal, sacrifice, and love. Belying her debut status, Dorothy Adamek immerses readers in this historical romance with alluring prose, vivid imagery, and characters that are intriguing, complex, and layered. Neither Shadrach or Finella anticipated their lives would be upended by tragedy,  two unwilling souls thrust into a battle of survival and unfolding attraction in a world unknown by Finella, while being Shad's lifeblood. Witty dialogue and the warmth of young Molly's simple and innocent belief in them both make for a story that is charming and evocative. Historically accurate, Dorothy weaves intriguing local mores within the story, adding complexity and interest to each page. With the romantic tension of a Laura Frantz novel and the attention to detail reminiscent of Lori Benton's tales, Carry Me Home will make a superb gift for anyone wishing for a high quality read and a trip overseas without the cost of the airfare!
And if you are worried about my bias, here's what some beloved authors are saying about Carry Me Home…
Sarah Sundin ~ "In Carry Me Home, Dorothy Adamek gives a familiar tale a fresh Australian twist. With gripping characters, a playful romance, delightful writing and heart-rending moments, this novel held me tight and wouldn't let me go. Why, this gifted writer even makes mud romantic! A sterling debut!" 
Siri Mitchell ~ "As irresistible and winsome as a Phillip Island sunset, Dorothy Adamek's Carry Me Home is beautifully written and a lyrical portrayal of the power of forgiveness." 
Joanne Bischof ~ "Reading Dorothy's debut novel is like a walk with friends from the cliffs to the sea. The first steps take your breath away by the beauty, the next leave you laughing at calamity at hand, and the rest leave your heart full for the good company. Each word is profound – shells lovingly placed by the author to be gathered and kept. When you reach the shore, you do it with tears in your eyes and a realization that you are changed."
Relz Reviewz Extras
Visit Dotti's website and journal
Buy at Amazon: Carry Me Home