Meet a marketer & a handyman in
Amanda Cabot's
contemporary romance
At Bluebonnet Lake
Revell Books
********
The Story
Marketing maven Kate Sherwood's world is fast-paced, challenging, and always changing. The last thing she wants to do is slow down to a crawl at Rainbow's End, a dilapidated resort in the Texas Hill Country. But she cannot deny her ailing grandmother's request to visit the place where she and her deceased husband spent one glorious week (albeit fifty years ago). There Kate meets Greg Vange, the resort's handyman. But there's more to Greg than meets the eye–billions more, in fact, as he recently sold his successful software company and is at the resort in search of what's next for his life.

Kate isn't looking for romance, but she can't deny the sparks of attraction that fly every time she and Greg are together. She even starts to see potential in the rundown resort. Could there be a future there? Or will Kate's long-sought promotion take her back to the big city?
Introducing Kate & Greg
Brief physical description
Her elegant clothes and expensive hair cut leave no doubt that Kate Sherwood is out of place at a rundown resort.  A twenty-eight year old marketing executive with blonde hair and brown eyes, she's five feet 6 inches tall, slender, and clearly used to the amenities of a big city.
At first glance, no one, least of all Kate, would mistake Greg Vange for a billionaire.   When she first sees him, he's dressed in ordinary jeans and a chambray shirt and is repairing a window screen.  But a second glance tells her that this six foot tall man with dark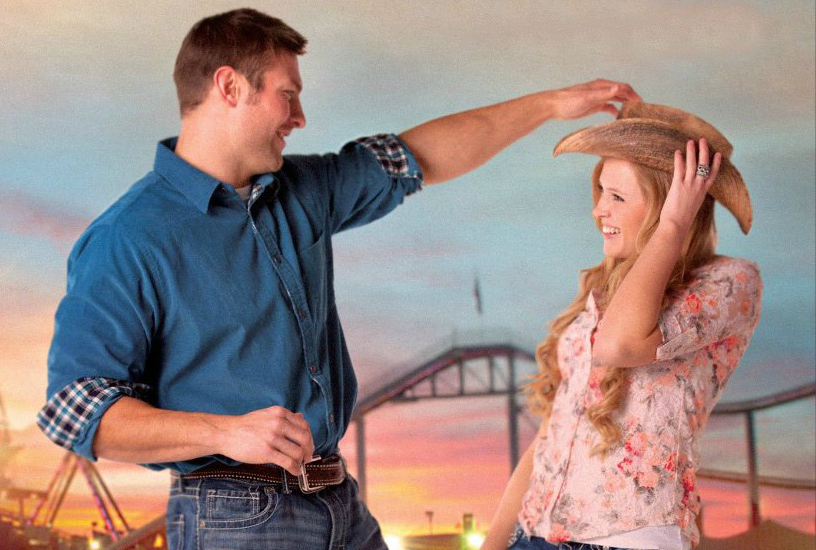 brown hair in need of a decent cut and penetrating green eyes is used to being in charge.  In charge of what?
Resembles…
Once again Cheryl Van Andel, the art director at Revell, has managed to find the perfect models for the cover of my book.  I'm always amazed at how she seems to read my mind and find people who are just the way I imagined them.  So, you don't have to look any further than the cover to see what Kate and Greg look like.
Strengths and weaknesses

Kate's greatest strengths are her love for the grandmother who raised her after her parents' death and her dedication to her career.  No one would ever call her a slacker!  Her weakness is believing that she's self-sufficient.
Greg is the poster child for determination.  From adolescence on, he was determined to escape his small town roots and make a success of his life, and he succeeded – many times over.  He's vulnerable, though, where his family is concerned, in part because of his inability to communicate with them.
Quirk (if any)
It's not really a quirk, but Greg is afraid of heights.  So what's he doing riding a Ferris wheel?
Your inspiration for the character
Although I never base my characters on myself or anyone I know, Kate and Greg's careers were inspired by parts of my day job.  I used to be in Information Technology, so having Greg be a software designer wasn't much of a stretch.  As for Kate, at one point I worked for a consulting firm, and one of my clients was a medium-sized advertising agency in Manhattan.  The work they did was so interesting that I decided Kate should be an ad exec.
Background to the story 
Would you believe the inspiration was a leaky roof at what should have been a four-star resort?  The reality of a resort on its last legs was far different from the glossy brochure, but as is often the case with unpleasant experiences, it gave me the seed of an idea that led to the whole Texas Crossroads trilogy.  I started imagining the people who'd come to a resort like that and how their lives would be changed once they arrived.  The first answers to those questions are answered in At Bluebonnet Lake.
Thanks Amanda!
Relz Reviewz Extras
Reviews of Summer of Promise, Tomorrow's Garden, Scattered Petals & Paper Roses
Character spotlight on Priscilla & Zach
Character spotlight on Sarah & Clay
Interview with Amanda
Visit Amanda's website
Buy at Amazon: At Bluebonnet Lake or Koorong