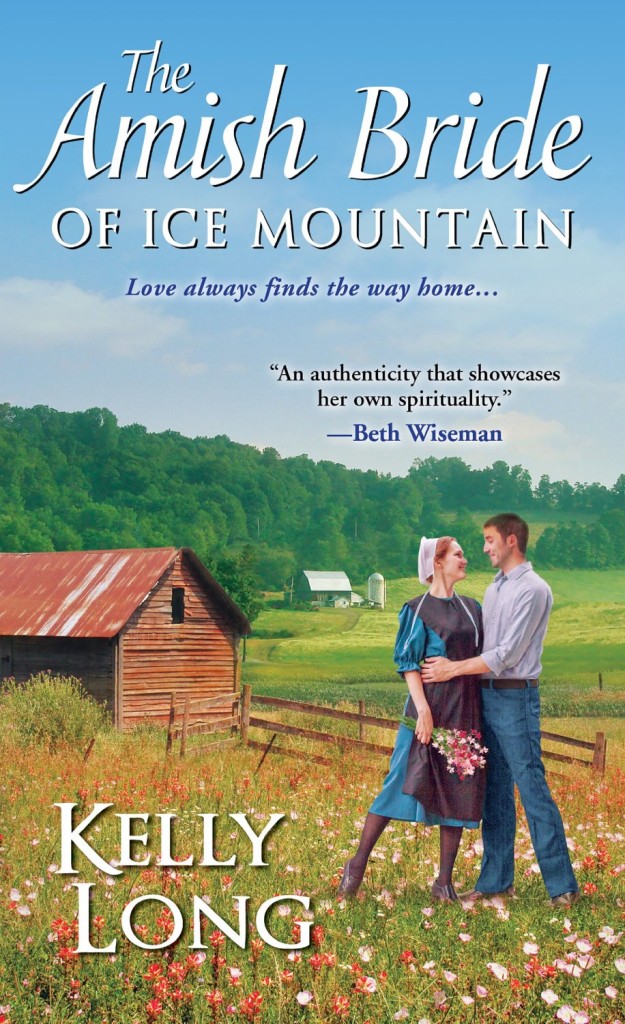 Synopsis:~
Like most Mountain Amish girls, Mary King has always dreamed of her wedding day. But she never imagined that a sudden, irresistible kiss would result in marriage to the handsome Englischer professor studying her unique community. Or that doing the truly honorable thing means keeping their relationship chaste so both she and Dr. Jude Lyons can someday go their separate ways.
But when Mary accompanies her husband-in-name-only to Atlanta to meet his wealthy, overbearing family, she's tempted more than ever by Jude's kindness, humor–and vulnerability. And when a wrenching misunderstanding causes her to return heartbroken to her remote Appalachian home, she's certain she's lost the real love they have found…and the shared future she's come to want so much. But a crisis of more than faith will work surprising miracles–and show Mary that love is strong enough to make the impossible come true.
My take:~
Most of you will know that Amish books are not my genre of choice but Kelly Long is a writer for whom I'm willing to make an exception, having enjoyed her authentic characterisation and engaging prose in her A Patch of Heaven series. I'm not really sure how I happened to read those but enjoy them I did!
The Amish Bride of Ice Mountain is another intriguing story of an Amish girl caught, in a moment of weakness, kissing the English professor for whom she had been working, as he researched the Amish culture and teachings. Forced to wed by her father and brothers, Mary is hopeful she can win her new husband's love, while Jude intends to keep things chaste until an annulment can be granted. Sound familiar? The theme might be but with Kelly's deft touch, the characters come alive and the location and plot twists are unique. Evocative and genuine, Jude struggles with his fascination and ever growing attraction to his beautiful wife, while Mary determines, with pure intentions, to win her husband's love, desire, and commitment. I very much enjoyed their growing relationship and Jude's developing appreciation for the family and community he finds himself connected to in a new way, filling the deep hurts inflicted by his own. Some of my favourite scenes are when Jude and Mary return to Jude's family home, where he again ridiculed by his father for his career choice, and Mary's insight and forthrightness about what is important in life in conversations with Jude and his desperate and seemingly shallow mother, are moving. The spiritual themes are presented with Kelly's usual insight and sensitivity. This is a well told story that is engaging and intriguing, dealing with dysfunctional families, both within and without the Amish community, and reminding readers of the healing power of love, grace, and mercy.
It needs mentioning that Kelly has opened up the bedroom door in this novel, not something we often see in this genre. While not required to do so, Kelly makes it very clear by a note to her readers on Amazon, her website, and FB page that she writes about the intimacy between a husband and wife in this story. Admirably, Kelly has put the choice to read this story, and the unexpected content, in the reader's hands, to determine if this book is suited to them. I think both the world and the church, in their extremes, have distorted the physical union between a husband and wife, and it is hard for those of us, coloured by both sides of a tainted fence to discern what is "right" for an author to include or not. It's not my place to dictate to an author what should or shouldn't be in their manuscript. Or to tell you, my dear readers, what you should and shouldn't be reading. I will say this, while not what I normally read, I've felt more uncomfortable reading other books that over emphasize the physical attraction on seemingly every second page of a story, and ones where the "hero" borders on being abusive or at least controlling, when forcing a kiss upon a resistant heroine, than a page reflecting the intimacy of a wedding night between a husband and wife who love and respect each other. That said, the intimacy is of such a nature that I wouldn't recommend it for teens.
Regardless, The Amish Bride of Ice Mountain is a delightful story that has the ability to appeal to more than just those readers who love the Amish genre. Look for my Q & A with Kelly, coming soon!
With thanks to Zebra Books for my review copy
Relz Reviewz Extras