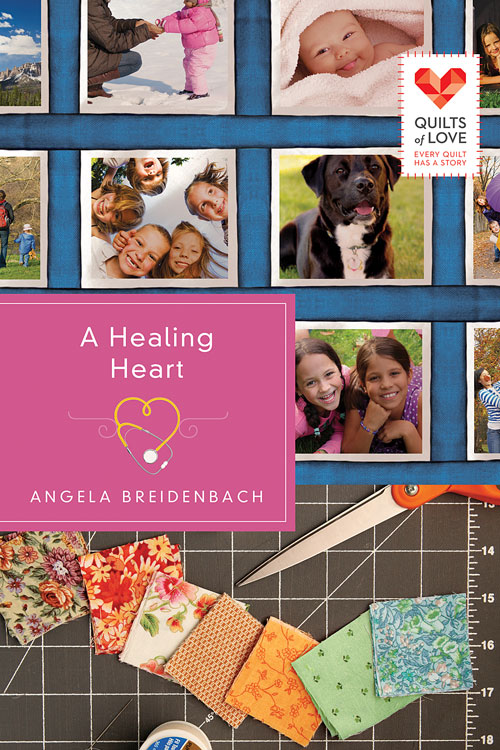 Meet a widow and a business man in
Angela Breidenbach's
contemporary romance
A Healing Heart
Abingdon Press
The Story
Mara Keegan is an uber-successful mother and a widow of three years. She's been chasing success and all the "good things in life" for her family to make up for the cruel whim God played on them by taking her husband. In an effort to be the perfect mom, she decides to make a photo memory quilt, a graduation present for her daughter, Cadence. 
She's not yet finished when she experiences a heart attack. While Mara recuperates, she revisits the choices she's made that led to this physically and spiritually broken heart. The memory quilt must be finished in time for Cadence's big day, but Mara struggles with her burgeoning feelings for the man who must keep Mara's business going during her recovery, Joel Ryan. Can Joel find his way into Mara's heart and onto Cadence's quilt?
Enjoy meeting Mara & Joel
Mara Keegan
Brief physical description
Mara Keegan is one quarter Crow and three-quarters Irish. She's 39, olive toned skin, with brown eyes tinged with green. Mara's face is heart-shaped with wide cheek bones and wide set eyes. At 5′ 7″, she's about 145 pounds. Her hair is very dark, long, parted on the side, and usually worn in a side pony tail or twisted up at work. She's a strong native Montanan in both heritage and demeanor.
Resembles…
Kimberly Norris Guerrero is a Native American actress. You can check out her photo here!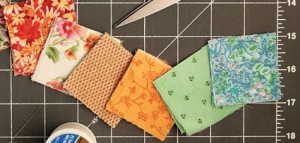 Strengths and weaknesses
Mara has one big problem her strength is an achiever, but she's taken it to the extreme and become a workaholic. Her strength of being an achiever is misused and becomes a weakness. But she loves her children and wants to provide the very best for them after their father dies. She doesn't trust anyone, especially not Joel Ryan. And God isn't on her list either.
Quirk (if any)
Mara mentally and physically flicks away decisions. Her "go to" phrase is, "Fine. Fine" That means she's capitulated to move on.
Your inspiration for the character
I wanted to show a woman struggling with workaholism and trust issues because I know these issues personally and I know so many women who struggle with them. Kimberly Norris Guerrero is a beautiful middle years Native woman who looks like what I imagined Mara Keegan to look like who embodies the rich heritage of both Native Americans and the Irish in Montana.
Background to the story
Mara Keegan's husband, David, was a risk-taker who raced snowmobiles up snowy cliffs of the Bridger Mountain Range. He died three years before the story opens in a snow mobile caused avalanche. Prior to his death, Joel Ryan attempted a hostile take over of the Keegan business. Mara is left to keep the business going to not only employ their 25 people, but the additional 25 planned in the expansion. Mara also is very committed. When she makes a promise, she keeps it. She feels very betrayed by both God and her husband. Mara's childhood was filled with loving women who shared the legacy of ancestral beading and quilting. Mara's daughter wants to learn too. But Mara is struggling with running a company, being both mom and dad, and then—the devastation of a heart attack.
Joel Ryan
Brief physical description
Joel Ryan is 5′ 11″ and has blue eyes, light brown springy curled hair. He keeps it really short because the natural curl bothers him if it gets too long. He's a very
competitive, confident man. He has a small scar above his eye from falling and hitting a rock while skiing in his home state of Colorado. Joel is very professional and became a Christian because of the influence of his business coach.
Resembles…
Jeffrey Donovan of Burn Notice is a great likeness.
Strengths and weaknesses
Joel is a strong leader, but sometimes can let his competitive nature get in the way. When he became a Christian, Joel discovered he could use his strengths for a more fulfilling life by putting that competitive ability to work for other people's dreams. He loves kids, but has never been able to have them himself. He doesn't believe children are in his future.
Quirk (if any)
In order to feel connected to God, Joel calls him Big Guy. This quirk comes out of my own experience when working with youth. Sometimes God seems so formal He's distant in our minds. When we bring God closer through recognizing a trait and how that relates to our relationship with Him, often the walls we put up are able to come down. Joel has never stopped calling God the Big Guy. It reminds him that there's someone bigger than his own ego—the very thing that nearly destroyed too many people.
Your inspiration for the character
I've always admired strong business men with a compassionate side like my husband. Men who are driven to succeed, but learn the importance of leaving a faith and family legacy. I liked the photo I saw online of Jeffery Donovan in a suit with a big, wide smile. It made him so likeable. I wanted my character to be like the guy I saw in the photo—strong and likeable.
Background to the story
Coming from behind, a place of humility after so much success, Joel Ryan did the unthinkable. He drove himself into acquiring businesses with ruthless abandon until his own business mentor shared Christ. Joel accepted Jesus and then set out to right the wrongs as he followed the path God intended for him. His last "wrong" to right may be his undoing. Widowed Mara Keegan knows she can't trust Joel Ryan and now he's been put in place of Mara's retiring business coach.
I really enjoyed writing businesses coaches and how these people can really change lives though their jobs are to help create successful businesses. Whether it's for business or goals, I think coaches are an underused and much needed resource. I'm so grateful to the coaches I've had like fellow author, Tosca Lee.
Relz Reviewz Extras
Visit Angie's website and blog
Buy A Healing Heart at Amazon or Koorong