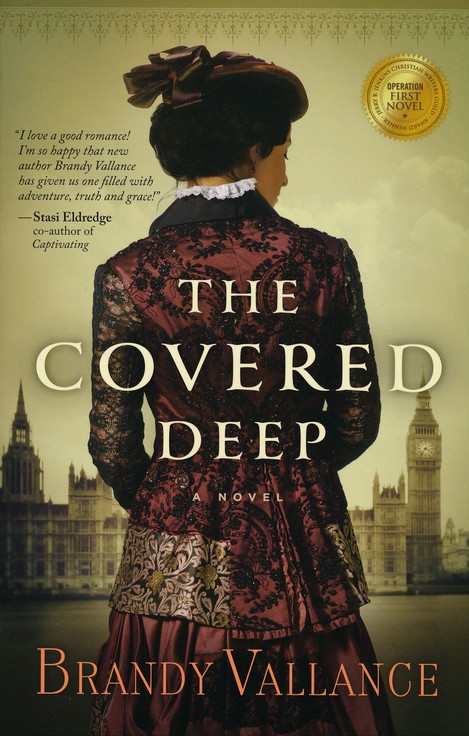 Meet a linguist & an unlikely adventurer in
Brandy Vallance's
historical romance
The Covered Deep
Worthy
********
The Story
Bianca Marshal is an incurably romantic bookworm from Appalachia who's holding out for the perfect husband. She doesn't want much, just that he be (1) a true believer in Jesus Christ (2) devastatingly handsome with a slightly wild look in his eyes (3) brilliant and humorous like Mark Twain (4) a foreigner, possibly a disgruntled duke (5) able to quote Bible verses AND Shakespeare (6) a more than capable kisser, and (7) adore her completely.
Finding a man that meets the requirements of "the list" in the foothills of the Appalachians has proven impossible. Bianca's mama insists that there's no such thing as a perfect true love, and that Bianca's ideal man is pure fiction. On the eve of her twenty-fifth birthday, Bianca discovers a devastating statistic. Her chance of marrying is now only eighteen percent. But the "S" word—spinsterhood—is not something she's willing to accept. She's going to prove the statistics and her mama wrong. Bianca wins an essay contest that propels her into a whirlwind search for the perfect romantic hero. Via the opulence of London and the mysteries of the Holy Land, Bianca's true love will be revealed, but not without a price that might be too heavy to pay.
Introducing Bianca & Paul
Brief physical description
Bianca Marshal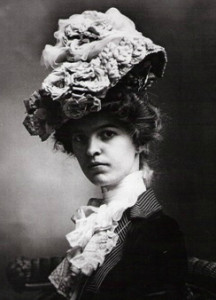 Hazel eyes
Long, curly, brown hair that is auburn in the sun. She uses the Victorian rag method to get her curls.
Paul Emerson
Green eyes
Brown hair, sometimes described as the color of mahogany.
Tall, swoon worthy looks. Devastating smile.
Resembles… 
Sorry! I could never find an inspiration photo for Paul! It's hard to find a picture for someone so brilliant and amazing. The Theater of the Mind is sometimes better. However, a recent reviewer of The Covered Deep did choose a picture for him and I can't wait to see!
Here's my guess, Brandy ~ David Giuntoli. At least in this photo! I'm sure Rachel McMillan will have a view on this 😉
Strengths and weaknesses
Bianca's strengths: voracious reader, curious, loves to learn, intelligent, knows what she believes, finds out answers for herself.
Weaknesses: Gothic novels. Also, she has a paradox in her character.
Paul's stre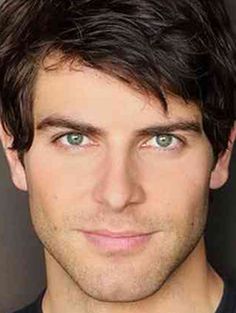 ngths: speaks nine languages, insatiable wanderlust, compassion, a heart like David in the Bible.
Weaknesses: Like any realistic character, he has quite a few. But, to find those out, you'll have to read the book. I wouldn't want to give the magic away.
To me, his weaknesses are just as interesting as his strengths.
Quirk (if any)
Bianca: Southern colloquialisms. London corsets are her enemy.

Paul: When he's frustrated, he mixes two languages together while speaking. He has something close to a photographic mind.
Your inspiration for the character
I found the photograph above in a vintage photography shop in Pensacola, Florida. As soon as I saw her, it was like a lightning moment. I could see her strength, but there was also something lingering in her eyes. I saw pain and it was like she was begging me to tell it. I started wondering what had happened to her. To me, she's beautiful, but in an unconventional way. That also gave me a clue—how she thinks about herself. All that was the beginning of Bianca's story.
Paul Emerson is based on Indiana Jones. Give him some secrets, add the Victorian context, and to me, he's the perfect swoon-worthy hero. History was my major in college (I originally wanted to be an archaeologist) so I really enjoyed writing about his passion.

Background to the story
My family (on my father's side) is from the southern Ohio / Kentucky region. Every summer, my grandmother and I would go there to visit. I spent my time walking in the woods, exploring Indian mounds, and listening to my Great Aunt Hester's Appalachian stories. When I began creating Bianca, those experiences made it into her backstory. I wondered what would happen if an Appalachian country girl encountered the opulence of Victorian London. How would she maneuver the aristocratic world? Then, because it was all the rage back then, I considered putting a cast of characters on a trip to the Holy Land. Mix in a British Museum historian, some Civil War echoes, a bit of India and voila! Actually, it wasn't as easy as that. This story took me fourteen years. 😉
The Covered Deep Excerpt

"Well . . ." The woman took out her fan. "What I really want to know—is it a bridge for lovers?"

"A bridge for lovers." A whimsical look altered his features. He casually placed his hands in his pockets.

The air was a pulsing, livid thing. Just that one word—lovers—sent Bianca's imagination, and her deepest desires, to a frenzied, unearthly height. All the novels she'd ever read, every scene she'd placed herself in, came to remembrance. Her gaze climbed Paul's waistcoat, the slight crookedness of his tie . . . Of course Mama would say a good Christian woman would not think such thoughts, especially since he'd only just asked to court her. A tremble started, a shiver around her shoulders.

"The Ponte Dei Sospiri . . ." The words rolled off his tongue with perfection. He looked into the air, as if he could see the famous landmark materialize.

Bianca opened her fan. The sound of Italian coming from his lips sent shivers of heat along her spine.

"Built in 1602 . . . It connects the old prisons to the interrogation room in the Doge's Palace. The view from the bridge was the last view of Venice convicts saw before their imprisonment. Lord Byron gave the bridge its name when he wrote Childe Harold's Pilgrimage. The famous quote is 'I stood in Venice on the Bridge of Sighs; a palace and a prison on each hand.'"

The woman fanned herself frantically. "But you're sure there's nothing to do with lovers? I could have sworn there was something involving a kiss."

A kiss.

The world halted. Its noise faded. Bianca's gaze fell upon his lips. Words from the Song of Solomon, a book her pastor never preached from, swirled at the edges of her mind. Let him kiss me with the kisses of his mouth: for thy love is better than wine . . .
Thanks so much, Brandy!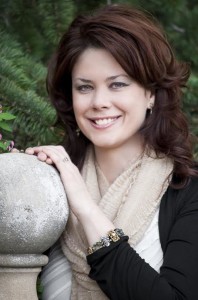 Brandy Vallance fell in love with the Victorian time period at a young age, loving the customs, manners, and especially the intricate rules of love. Since time travel is theoretically impossible, she lives in the nineteenth century vicariously through her novels. Unaccountable amounts of black tea have fueled this ambition. Brandy's love of tea can only be paralleled by her love of Masterpiece Theater Classics, deep conversations, and a good book. Brandy is the 2013 Operation First Novel winner and the 2012 winner of the ACFW Genesis Contest for historical romance. You can connect with Brandy via her website www.brandyvallance.com, Facebook, Goodreads, Pinterest, YouTube, or Twitter @BrandyVallance.
Relz Reviewz Extras
Visit Brandy's website and blog
Buy at Amazon: The Covered Deep or Koorong