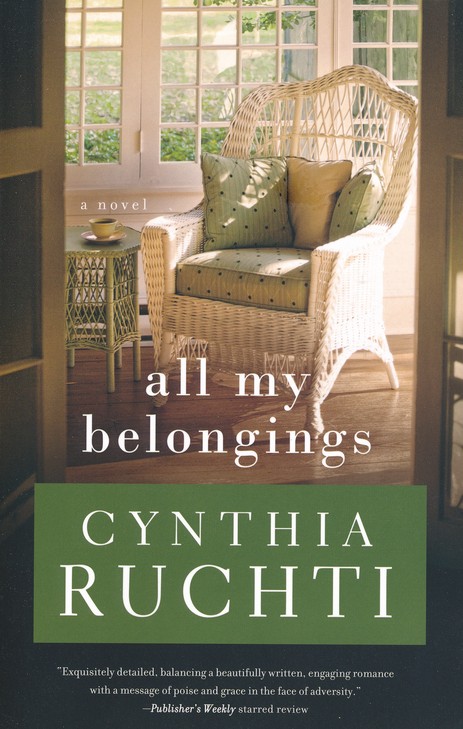 Meet a caregiver in
Cynthia Ruchti's
women's fiction
All My Belongings
Abingdon Press
The Story
Where do you turn when changing your name doesn't give you the anonymity you want? When running hundreds of miles away isn't far enough? When your search for a place to belong lands you right back where you began?
One phone call destroys all hope Becca Morrow has for a life beyond the shame of her past. Further discredited by the death of her elderly, ailing patient—the mother of the influential businessman, Isaac Hughes—Becca's new life is shattered and her longing for love slips away. Working to clear her name, Becca must learn to see the beauty in the ugliness of dying, to accept the precious tenderness in forgiveness, and—at last—discover that where she belongs isn't as much about her family history as it is about her faith in the One to whom she'll always belong.
Introducing Becca
Brief physical description 
Becca Morrow (aka Jayne Denagee) considers her looks average—average height, average build, average hair color which she calls peanut butter. Others would describe her hair as dark honey and her eyes as sea-glass pale blue. She dresses simply—jeans and a long sleeved tee-shirt…until she lands in southern California and converts to short sleeves or tank tops.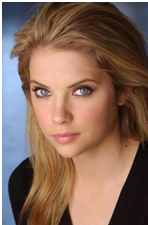 Resembles…
See picture!

Strengths and weaknesses 
Becca has an exceptional heart for the misunderstood and hurting. Unlike many, she sees past what a disease or pain might prompt another to say or do and rises above her own discomfort to meet their needs. On the flip side, the often means she neglects admitting or accommodating the needs of her own heart. She's fiercely determined when defending and caring for the needy, but assumes the same grace isn't warranted for herself.
Quirk (if any)
The sound of the grandfather clock in the foyer of the home in which she's caregiving disturbs her. She silences it every time she walks past. Her employer, Isaac, restarts it when he walks past, every time, assuming it needs to be "fixed."

Your inspiration for the character 
The longer I live the more sure I am that most of us will face some kind of caregiving situation in our lives—caring for a helpless infant, for an injured or ill spouse, for elderly parents or grandparents… I've seen both selfish and selfless caregiving, and experienced both when I was called upon to serve as caregiver. What I haven't experienced that Becca in All My Belongings did is a family that caused her shame, a legacy that she fought hard to shake. Longings and a sense of belonging get entangled in everyday life in brief moments, seasons, or lifetimes for some. When the nest empties. When a major job change or cross-country move uproots us. When who we've been is challenged by who we're becoming. When the right thing to do is the hardest thing to do and we feel the cliff edge crumbling under our toes. That's where the writer taps into careful listening, anecdotal as well as textbook research, and the gift of imagination.

Background to the story
Jayne Denagee legally changes her now recognizable name following her father's conviction for orchestrating her mother's premature death. In an attempt to distance herself as far as she can from his name and reputation, she accepts a position halfway across the country caring for an elderly woman suffering from congestive heart failure and dementia. The woman's son, Isaac Hughes, is a successful businessman but caregiver-challenged. Jayne, now Becca Morrow—a name with no connection to her past but a hint of a future—pours herself into caring for Aurelia Hughes. She hears faint whispers of hope for a stable, settled, purpose-filled place to belong and tugs of attraction to Isaac and the faith that shores him. But a dramatic discovery threatens to unravel it all and plunge her right back into the chains of her father's reputation. No distance is great enough to separate her from her beginnings, it seems. And then the ultimate challenge. What price is she willing to pay for love that can never be returned?
Thanks Cynthia!
~~~~~~~~~~~~~~~~~~~~~~~~~~~~~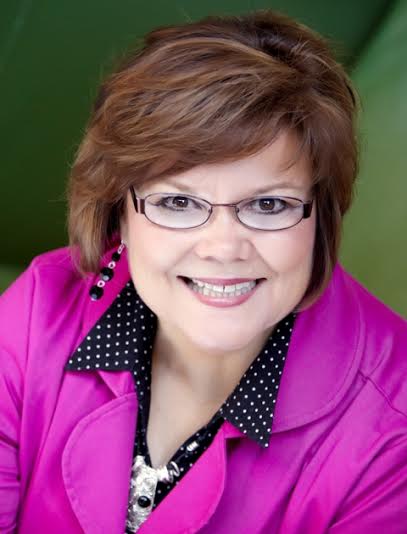 Cynthia Ruchti tells stories of Hope-that-glows-in-the-dark through her novels and novellas, nonfiction projects and speaking events. All My Belongings is her eighth release (including three non-fiction books). Ruchti has also written articles for numerous magazines and industry publications and currently serves as Professional Relations Liaison for American Christian Fiction Writers. Ruchti lives in Wisconsin where she spends her days diving into words, worship and wonder.
Learn more about Cynthia Ruchti and her books at www.cynthiaruchti.com.
Readers can also become a fan on Facebook (cynthiaruchtireaderpage) or follow her on Twitter (@cynthiaruchti). 
Relz Reviewz Extras
Character spotlight on Anna, Ivy, and Becky
Review of They Almost Always Come Home
Character spotlight on Libby Holden
Visit Cynthia's website and blog
Buy All My Belongings at Amazon or Koorong