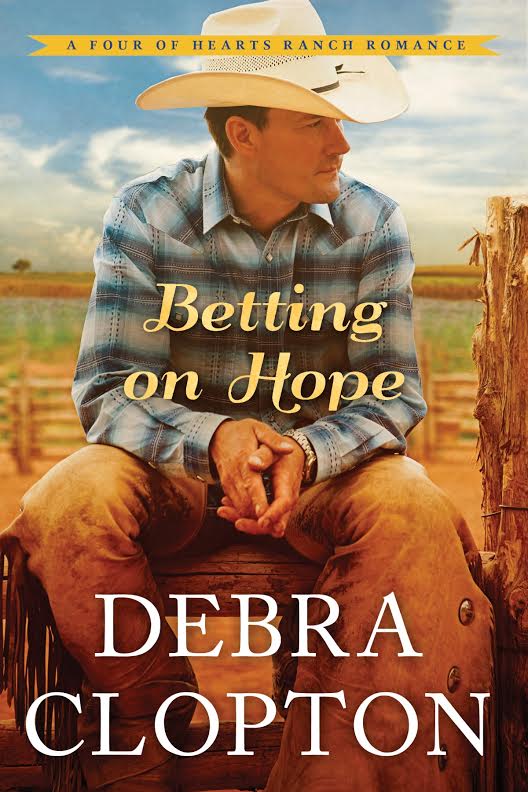 Meet a cowboy and a columnist in
Debra Clopton's
contemporary romance
Betting on Hope
Thomas Nelson
********
The Story
One clutzy advice columnist.
One champion cowboy.
And an entire small town rooting for love.
Advice columnist Maggie Hope never dreamed she'd be shaking hands with champion horse trainer Tru Monahan over a high-stakes bet, especially one that involves horses. And saddles. And everything else a city girl like Maggie feels uncomfortable around. But after filling in for a coworker and interviewing the handsome cowboy, she finds herself doing just that. Anything to save her advice column.
Despite Maggie's two left feet, Tru is bound and determined to bring out her inner cowgirl by teaching her to ride a cutting horse, trained to separate cattle from the rest of the herd. While her riding improves, their attraction intensifies, but Tru knows he can never let her into his heart—for her own good.
In Wishing Springs, a community full of meddling but well-meaning townsfolk, Maggie discovers the home she's always longed for. But she's holding something back—a secret that could destroy her reputation and any future she's ever hoped for with the cowboy she might just love.
Introducing Tru & Maggie
Brief physical description
Tru Monahan: tall, lean, wide shouldered. He has chocolate dark hair, a strong jaw and high cheekbones. His intelligent and serious eyes are warm, deep, rich amber that remind Maggie Hop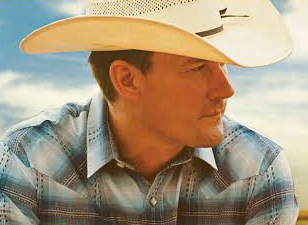 e of maple syrup held up to the light. To Maggie they are incredible and seem to see every dark, vulnerable secret she hides. And then there is his dazzling signature smile…known to get him into trouble with a single flash. He's all cowboy.
Maggie Hope: spearmint green eyes, dimples, and long blonde hair that hangs long on her willowy frame. She's delicate, klutzy, and (in her mind) completely breakable if she gets on the back of a fast-moving quarter horse. In truth the way she looks on the outside is how she feels on the inside—easily breakable if she didn't fight to be strong and hopeful. Beneath that frame is a woman with a huge heart and a dream to help others. She has a strength to envy and is stronger than she believes.
Resembles…
Tru was strictly in my head, but I loved the cover model of the book the moment I saw it. I chose that cover because I thought it conveyed Tru Monahan perfectly.
Maggie was inspired by a combination of Meg Ryan and her quirky, vulnerable characters and Kristin Chenoweth who is just a charming, funny and very delicately built person as I envision Maggie.
Strengths and weaknesses
Tru: He's calm and has a way about him that radiates strength. He cares deeply about his family. He has a weakness for Maggie.
Maggie: She cares deeply with a strong desire to help others. Her weakness is that she can't trust enough to get the things from life she needs…family and love
Quirk (if any)
Tru likes to build big wooden furniture when he has time, which isn't often.
Maggie gets clumsy when she's nervous.
Your inspiration for the character
Tru: I live among cowboys and horse trainers, go to Cowboy Church with them and call them my friends. They inspired this character and all of my cowboy characters because, well, they are who they are—true Texas cowboys.
Maggie: Straight from my imagination and my readers will put a face to her.
Background to the story
There was a lot that went into creating this series over all, but for this particular story I knew I wanted to create a bond of brothers dedicated to keeping their grandfather's legacy alive as he has entered the early stages of Alzheimer's. My cowboy father-in-law, Bubba as he's known, (the father of my first husband who passed away eleven years ago) is in the mid-stages of the disease and it has been hard on all of us to watch this strong man slip away from us. I knew when I wrote this series and this story that I wanted to honor him. He is the inspiration for Pops. Bubba's love of the quarter horse industry and his teasing sense of humor laid the groundwork for Pops and many of the things you see in his office are Bubba's. The emotions Tru Monahan feels for his dad are the emotions I know my late husband would have felt had he lived. At the same time I was inspired by these desires I was completely inspired to bring a new and quirky heroine to life in Wishing Springs, Texas who was the complete opposite of the steadfast, serious Tru Monahan. I was drawn to a sweet klutz with heart and depth. Maggie Hope was born.
BIO: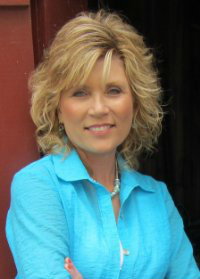 Debra Clopton is a multi-award winning novelist and has written more than 22 novels. Along with writing, Debra helps her husband teach the youth at their local Cowboy Church. Debra's goal is to shine a light toward God while she entertains readers with her words.
Relz Reviewz Extras
Visit Debra's website and blog
Buy at Amazon: Betting on Hope (A Four of Hearts Ranch Romance Book 1) or Koorong