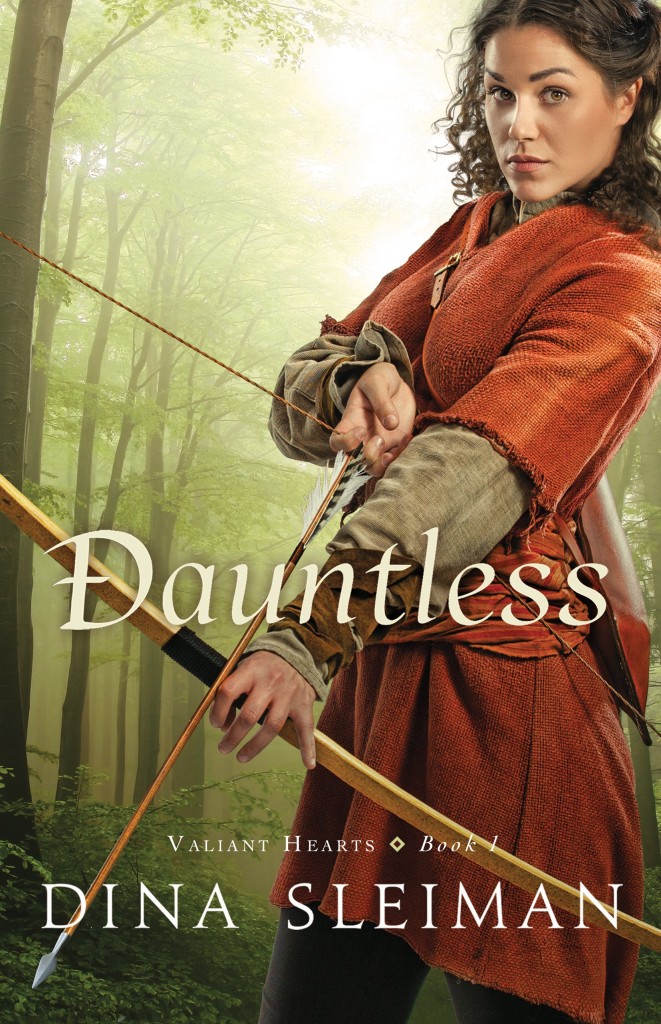 Meet an acrobatic outlaw in
Dina Sleiman's
fantasy
Dauntless
Bethany House
********
The Story
Where Legend and History Collide, 
One Young Woman Will Fight for the Innocent

Born a baron's daughter, Lady Merry Ellison is now an enemy of the throne after her father's failed assassination attempt upon the king. Bold and uniquely skilled, she is willing to go to any lengths to protect the orphaned children of her former village–a group that becomes known as "The Ghosts of Farthingale Forest." Merry finds her charge more difficult as their growing notoriety brings increasing trouble their way.
Timothy Grey, ninth child of the Baron of Greyham, longs to perform some feat so legendary that he will rise from obscurity and earn a title of his own. When the Ghosts of Farthingale Forest are spotted in Wyndeshire, where he serves as assistant to the local earl, he might have found his chance. But when he comes face-to-face with the leader of the thieves, he's forced to reexamine everything he's known.
Introducing Merry!
Brief physical description
Lady Merry Ellison is a tiny, striking brunette who has cut her hair to chin length and dresses in boy's tunics and leggings. She is the tough and strong leader of a band of outlaws in a forest of England during 1216. Picture a feisty little gymnast meets Robin Hood.
Resembles… 
I would say she resembles Kacy Catanzaro, who took the American Ninja Warrior contest by storm this year and went farther than any other female ever has.
Strengths and weaknesses
Merry is physically strong, excellent at acrobatics, stealthy, and she's also an excellent leader. Her main weakness is that her heart has grown hard due to all the tragedy surrounding her in the realm of the evil King John—Prince John of the Robin Hood stories. She has lost her faith in God and in others, and she thinks she has to do everything in her own strength.
Quirk (if any)
I'm pretty sure Merry would say she can't afford to have a "quirk," although there are plenty of quirky characters around her. But Merry does have a hidden softer side that always comes out when she is around little Wren, a toddler she helped rescue when her village was destroyed two years earlier. Wren reminds her that if matters had gone differently, Merry might have been wed to her childhood sweetheart and a mother to her own child. She always brings to mind thoughts of home and hearth.

Your inspiration for the character
I was inspired by two Robin Hood type heroines. Keira Knightley played Robin Hood's tough and determined daughter in Disney's Princess of Thieves. She often came to mind as I was writing the book. In fact, my original description for Merry was basically Keira Knightley, but I later tweaked that description to better match the model on the cover. The other character is the spunky Maid Marian of the BBC Robin Hood. She is a thief and crusader for the poor in her own right. That's where I got the idea to give Merry acrobatic skills.
Background to the story
Years ago an editor suggested that I try writing a YA medieval romance. I was certainly open t0 this idea, but I didn't have any clear direction. It wasn't until I was in the midst of watching the BBC Robin Hood series with my son that a concept finally sparked to life in my mind. The series featured a number of strong, feisty women. Maid Marian, as I mentioned. The Saracen character, Djaq, was also a woman—not to mention plenty of tough female bad guys. One day as I was walking and praying specifically about a YA medieval series, this new Robin Hood came to mind, the ideas started flowing, and before long Dauntless was playing like a movie in my mind. Thus my Valiant Hearts series, featuring strong young medieval women in legendary male roles, was born.
Thanks Dina!
Relz Reviewz Extras
Enter the Dauntless 'Join the Adventure' Giveaway
Visit Dina's website and blog
Buy at Amazon: Dauntless (Valiant Hearts) or Koorong