Meet a former nurse and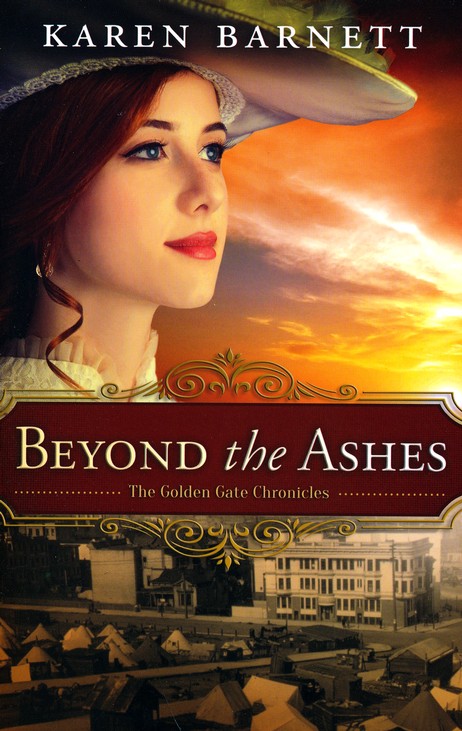 a doctor in
Karen Barnett's
historical romance
Beyond the Ashes
Abingdon Press
*******
The Story

Where better to rebuild and face one's fears than in 1906 San Francisco, a city rising from the ashes? Ruby Marshall, a young widow, is certain that she'll discover new purpose assisting her brother Robert with his cancer research, but she doesn't anticipate finding new love.

Dr. Gerald Larkspur dreams of filling his empty home with family, but he's always hoped it would be a wife and children. In the aftermath of the great earthquake, the rooms are overflowing with extended family and friends left homeless by the disaster. When Robert's widowed sister arrives the close quarters seem close indeed.

Ruby and Gerald's fledgling romance is put at risk when Gerald develops symptoms of the very disease they're striving to cure. Together they must ask–is it with a second chance at love when time might be short?
Introducing Ruby & Gerald
Ruby King Marshall 
Brief physical description
Ruby is a 27-year-old woman with incorrigible red, curly hair that she likes to keep styled in a perfect 1900s Gibson Girl fashion, but it doesn't always cooperate. She has pale blue eyes and a fair complexion.
Resembles…
I based her look on a young friend from my church, but she also resembles actress Rachelle Lefevre.
I have a Pinterest board related to Beyond the Ashes if you want to take a closer look!
Strengths and weaknesses
Ruby is soft-hearted and compassionate. A former nurse, in 1906 she decides to move to post-earthquake San Francisco to help with the refugee crisis and to keep her bachelor brother company.
Ruby is a bit of a control-freak. Since losing her husband in an accident, she struggles with fear. Controlling every aspect of her world is a way of protecting herself from further hurt.
Quirk (if any)
Ruby is terrified of automobiles. Instead of avoiding them, though, she decides to learn to drive. That way, she'll be the one behind the wheel instead of being at the mercy of another driver.

Your inspiration for the character
Isn't every character a subtle reflection of the author? Ruby and her fearful controlling nature are inspired by my own struggles with fear. I'm nowhere as bad as Ruby (my husband might disagree), but I know fear is something that often shapes my decisions. As I was writing the book, it became very clear to me that God was working on some of these issues in my heart. I'm learning that fear, at its root, is a lack of trust in God's wisdom and goodness. That's a tough lesson to swallow—both for Ruby and for me!
Dr. Gerald Larkspur
Brief physical description
At nearly 30, Gerald thinks love has passed him by. With his easy smile, blond hair, and Bristol-blue eyes, I think many women would disagree.
Resembles…
Dan Stevens of Downton Abbey fame. 
Strengths and weaknesses
Gerald is a man of strong faith, though it will be severely tested in this story. He's generous to a fault—filling his home with family displaced by the earthquake, pouring out his heart to dying patients, and doing everything he can to support and promote his medical partner's goals and aspirations.
Many of these same strengths can also be weaknesses. He gets overly attached to his patients, and for a doctor specializing in cancer, that means he's constantly dealing with heartbreak. Since Gerald is an extreme introvert, having his home overflowing with guests means he's on edge much of the time. There is no peaceful place for him to quiet his soul.
Quirk (if any)
He's not really fond of dogs. As you can guess, this might be a problem . . .
Your inspiration for the character:
I originally created Gerald Larkspur as a side character in the first book of the series, Out of the Ruins. His main purpose was to bring the hero and heroine together in the first chapter. He refused to stay in this small role, however, and grew into a wise and caring mentor for my hero. When I had the idea for Beyond the Ashes, I knew he had to take center stage in this new story.

Background to the story 
The seed of this story was planted back when I was doing research for Out of the Ruins. I had learned that doctors in the early 1900s were experimenting with X-rays and there was a belief that they might prove to be a miracle cure for cancer. They didn't realize the potential problems of overexposure to the radiation and many of those scientists died from the very disease they were trying to cure. The tragic, yet heroic, nature of this idea caught my imagination. When I put that together with a young widow seeking a fresh beginning, I had a huge story challenge to overcome.
*****
Thanks for having me on your blog, Rel! This was a fun look back at these characters
Karen Barnett is the author of Beyond the Ashes, Out of the Ruins, and Mistaken. Named the 2013 Writer of Promise by Oregon Christian Writers, Karen lives in Albany, Oregon, with her husband, two teenagers, and three adorable dachshunds. When she's not writing, she enjoys playing guitar, cake decorating, and binge-watching all sorts of television series on Netflix.
Relz Reviewz Extras
Review of Mistaken
Visit Karen's website
Buy at Amazon: Beyond the Ashes or Koorong