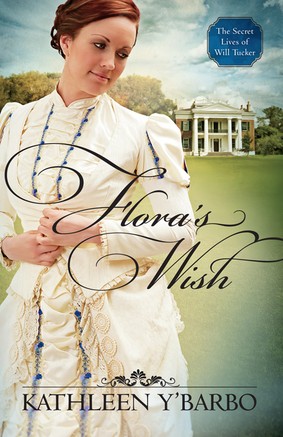 Meet Flora & Lucas from
Kathleen Y'Barbo's 
historical romantic comedy
Flora's Wish
Harvest House
The Story
May 1887—Flora Brimm is determined the fifth time is the charm. Back home she has a reputation as "Fatal Flora," a woman whose previous four fiancés died in untimely accidents. Flora is desperate to marry, because producing an heir is the only way she can keep her family's estate. She's confident this visit to Eureka Springs with her grandmother will help her land a husband.
Pinkerton detective Lucas McMinn is hot on the trail of Will Tucker, the thief who broke his sister's heart. When he discovers the slippery fellow with Flora, he thinks they are in on the devious plot together. Will Flora be able to convince Lucas of her innocence? Will Lucas catch the elusive Mr. Tucker?
And, more importantly, will Lucas survive if he pursues Flora's heart?
Enjoy meeting Flora & Lucas
Brief physical description
Flora Brimm's eyes are a lovely shade of blue that even she doesn't mind. Her hair, however, is a shade of red that she prefers to think of as auburn and tends to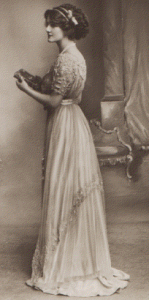 be a bit on the unmanageable side. Were she not a proper Natchez belle, she might be tempted to pin it up in a braid and be done with it, not caring that her skin might freckle and her curls might ruin her appearance. However, she is careful never to leave home without looking her best, even when her ensemble includes a handcuff hidden beneath her sleeve that goes along with the Pinkerton's arrest warrant.
Pinkerton Lucas McMinn has eyes of Irish green that remind Flora of clover faded in the summer sun. The son of an upstart Irishman and a New Orleans debutante, he has a lovely set of dimples though he does not smile nearly enough. And his hair, it is dark as a New Orleans night with just the slightest bit of curl at the ends. He's tall enough to prevent her looking over his shoulder while dancing and just handsome enough to attract far too much attention from the other ladies in the ballroom.
Resembles…
While searching for just the right picture of Flora, I came across an actress from the Edwardian era named Lily Elsie. Although Miss Elsie was a baby in the cradle when Flora was having her say, the images I found—including a painting by Giovanni Boldini which looks very much like Miss Elsie—suited Flora perfectly.
Lucas gave me a bit more trouble, but I finally settled on this photograph which looked like Lucas. What do you think? Could Flora fall in love with that man? I think so.
Strengths and weaknesses
Flora's strength lies in the fact that she has no idea how strong she is. Instead, she plows ahead believing she will somehow muddle through and manage to get things done. Therein also lies her weakness, as Flora tends to get ahead of God and do things her own way first.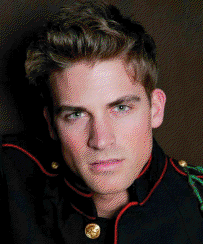 Lucas's strength lies in his keen sense of right and wrong, his loyalty to family, and his ability to use his detective skills to bring justice where it is needed. However, family loyalty also proves to be his weakness, and revenge a particularly difficult emotion to control.
Quirk (if any)
A childhood spent climbing just about anything she could has rendered Flora completely fearless when it comes to heights. She things nothing of stepping out of a fourth floor ballroom window to traverse the length of a hotel on a starry night with nothing to catch her should she fall.
Lucas, on the other hand, is not keen on heights but has gadgets to keep him from falling. When he isn't on chasing down the solution to a Pinkerton puzzle, Lucas is back home in New Orleans working on his next invention along with his best friend and fellow lawman, Kyle Russell. At any given time, he might be in possession of a pair of spectacles that allows him to see long distances, loading a bullet into his revolver that contains filament line for climbing, or wearing a bowler hat that magnifies sound.
Your inspiration for the character/Background to the story
Actually the entire story was inspired by several visits to the Crescent Hotel in Eureka Springs, Arkansas. Once a destination for wealthy Victorians who came to "take the waters", I imagined a conversation between a young woman and her grandmother (the American version of Dame Maggie Smith's Dowager Countess in Downton Abbey). When I realized they were talking about a man named Will Tucker who was going to be the solution to their problem, a story was born. From the story came the characters, an unusual way of writing for me because I usually know the "who" well before I know any of the other points of the story.
Realizing that the Brimm family would have a formidable matriarch, I knew Flora must have inherited many of the older woman's characteristics. That was the starting point for the heroine who came to be a woman of great strength and loyalty. Lucas, however, was the enthusiastic inventor and reluctant Pinkerton who evolved over time. As Flora's character strengthened, so did Lucas's resolve to win the day—and her. I had great fun watching them grow into full-fledged "story people".
Thanks Kathleen!
Relz Reviewz Extras
Reviews of The Confidential Life of Eugenia Cooper,  Anna Finch and the Hired Gun and The Inconvenient Marriage of Charlotte Beck
Visit Kathleen's website
Buy Flora's Wish at Amazon or Koorong