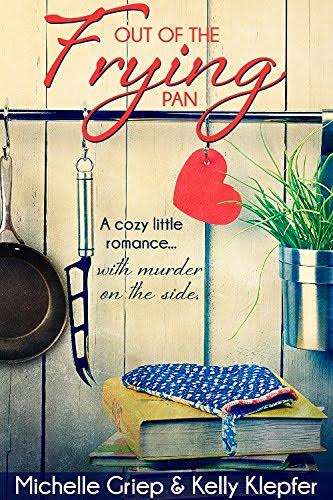 Meet sleuthing sisters in
Kelly Klepfer & Michelle Griep's
cozy mystery
Out of the Frying Pan
Bling! Romance
*******
The Story

When the chef of Sunset Paradise Retirement Village ends up dead, life for sisters Fern and Zula Hopkins is whipped into a froth. Their zany attempts to track down the killer land them in hot water with Detective Jared Flynn. Should he be concerned about their safety or the criminal's?

But there are deadly ingredients none of them expect. Drugs. Extortion. International cartels. And worst of all…broken hearts–especially when the Hopkins sisters' niece KC arrives on the scene.

Before the snooping pair gain any headway with the case, it becomes crystal clear that the sisters share a mysterious secret that takes life from the frying pan and into the line of fire.
Introducing Zula & Fern
I'd love to introduce you to Fern and Zula Hopkins. Accidental and amateur sleuths and opposite as sun and moon sisters-in-laws.
Brief physical description 
Zula is all fluff and feathers, glitz and glamor, rainbows and sparkles. Ms. Zula Hopkins is talented enough to walk in stilettos and wears them to cook, craft and bedazzle. Small as dynamite package of Southern style, grit and charm. She can cook the socks off of or win the heart of any man she chooses to set her glitzed and glittered cap toward.
Fern prefers to let nature be the belle of the ball. She wears linens and cotton in beige and gray to offset the natural silver of her hair. Every once in awhile she throws on a strand of pearls or a silk scarf. Lithe and graceful she is as unique as one of her paintings.
Resembles… 
Zula: Carol Burnett/Florence Jean Castleberry (Flo, the kiss my grits Lady)
Fern: Blythe Danner/Helen Mirren
Strengths and weaknesses
Zula: Can find the potential in anyone and will do her best to bring it out. She can also resurrect just about anything including dumpster flowers! Weaknesses. Sweet mercy she can have her feelings powerful hurt!
Fern: Quiet strength. She has overcome and just keeps plugging along. Fern will continue to learn and grow if it kills her. And it just might. Weaknesses: She can't let go of things that get her goat, and her goat gets got a lot. (Say that real fast about 6 times in a row.)
 
Quirk (if any)
Zula's quirks, she will bedazzle, sing, cook, and bake her way into any situation that needs her attention or catches her eye. Frank Sinatra is a favorite and she loves to belt his songs at top volume while cooking, walking, thinking and creating.
Fern needs quiet and introspection. She prefers minimalism and she withdraws into the quietness of art and pilates/yoga stretching. But her need for mystery and intrigue keeps her up late at night and cause her to look behind bushes and suspect her neighbors of secret lives. She also cracks and laughs at horribly inappropriate times such as when a geriatric dog bounces off a corpse at a crime scene.
 
Your inspiration for the character and Background to the story
Zula and Fern Hopkins were birthed long ago after taking a bus trip to Branson Missouri with a friend who set up a tour for retired folks. I was her second and we traveled with the most fun group of 60 through 80 year olds. After that we always talked about writing a book based on some retired ladies involved in a murder mystery. Years later Michelle and I brainstormed co-authoring a novel and I mentioned this seed of an idea. Next thing I knew we had a skeletal plot ironed out and were putting flesh on the bones of these characters. Flynn and KC were an addition that ramped up the romance and boy oh boy were they fun to write as well.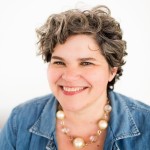 Kelly Klepfer had ambitions to graduate from the school of life quite awhile ago, but alas . . . she still attends and is tested regularly. Her co-authored cozy/quirky mystery, Out of the Frying Pan, is the culmination of several of the failed/passed tests. Kelly, though she lives with her husband, two Beagles and two hedgehogs in Iowa, can be found at Novel Rocket, Novel Reviews, Scrambled Dregs, Modern Day Mishaps, Instagram, Pinterest, Facebook, Goodreads and Twitter with flashes of brilliance (usually quotes), randomocities, and learned life lessons. Zula and Fern Hopkins and their shenanigans can be found at Zu-fer where you always get more than you bargained for.