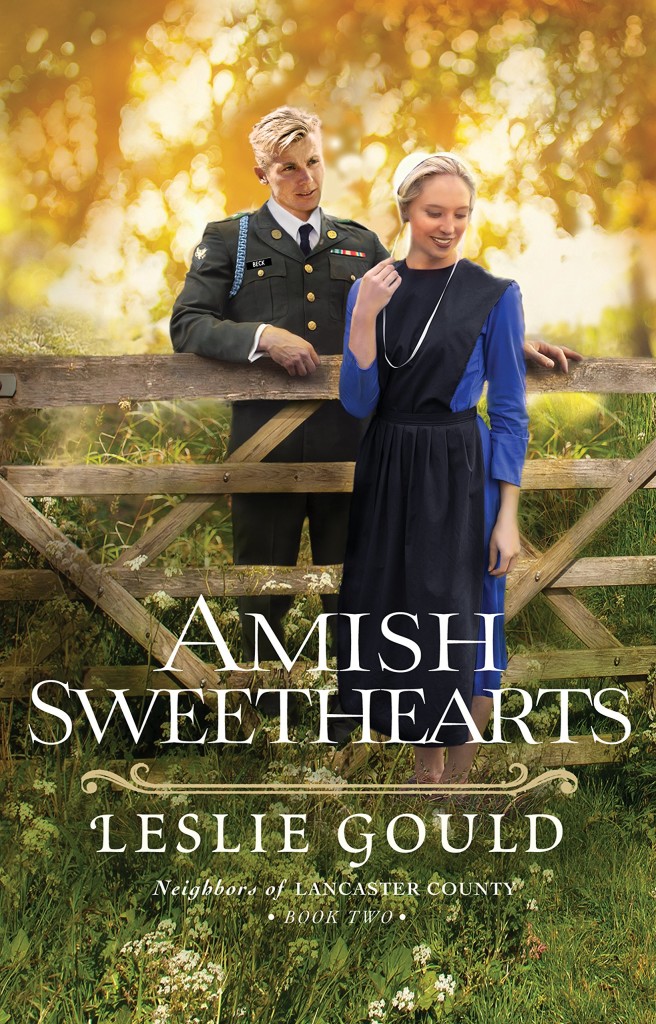 Meet forbidden childhood friends in
Leslie Gould's
Amish romance
Amish Sweethearts
Bethany House
******
The Story

Can These Two Friends from Opposite Worlds Find Love?

They've been best friends for years, but as high school ends, Zane Beck can't help but look at his Amish neighbor, Lila Lehman, with different eyes. Her controlling father sees only one future for Lila, though, and arranges for her to be courted by an upstanding young Amish man. When Zane sees the two together, his plans for the future crumble, and he impulsively enlists in the Army, following in his father's footsteps.

However, the passing of years and the distance between them isn't enough to halt their now hidden feelings for each other. If being together used to be difficult, it's now impossible, especially with the Amish opposed to war. Zane's service takes a dramatic turn when he's sent to Afghanistan. Being on the front line and the reality of taking a life has him questioning whether he can continue to serve or not. But all choices have consequences–both his and hers. With Lila preparing to marry another, will these one-time sweethearts ever find the life together that they both still long for?
Introducing Lila & Zane
Brief physical description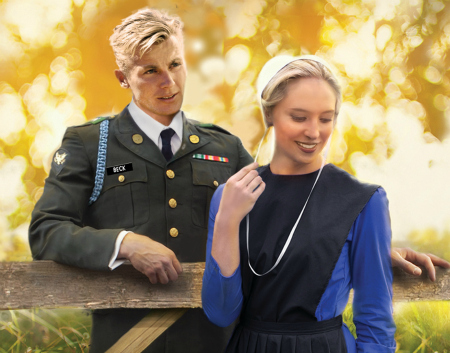 Lila Lehman is blond, blue-eyed, and twenty-one by the end of the story.
Zane Beck is also blond, but with brown eyes. He's twenty-two by the end of the story and has served in the U.S. Army for nearly four years.
Resembles…
When I first started writing, I imagined Lila as a young Nicole Kidman. Once the cover was released though, Lila became the beautiful young woman on the front.
At first I imagined Zane as a young Leonardo DiCaprio. Again, once I saw the cover, I thought of him as the handsome soldier on the front.
Strengths and weaknesses

Lila cares too much about pleasing others instead of asking God for direction. Her weakness gets her into trouble. Once she realizes how dishonest she's become, her greatest strength shines through. She stands up to the expectations others have of her and becomes her own person.
Zane can be stubborn and impulsive, but he's also very loyal. Being impulsive lands him in the Army. Being loyal makes him a good soldier, and keeps him committed to Lila—even when she claims to want no such thing.
Quirk (if any)
Lila doesn't like conflict. If she doesn't want to talk about something she goes straight-faced and stoic.
Zane's quirk is that he definitely marches to his own drummer. He doesn't give into peer pressure—not even in the Army.
Your inspiration for the character
Lila is the oldest sister in a family of five children. Her mother died when she was eleven and she feels responsible for her siblings. I'm the youngest of four, but I know lots of oldest sisters, including my own and several good friends, who feel a great responsibility for their younger siblings. I think that birth order is absolutely fascinating.
As far as Zane, I have to preface this by saying that my husband isn't impulsive, lol (although he can definitely be stubborn!). But he is very loyal, and he was a soldier for 30 years in the U.S. Army Reserve. So, yes, my hubby was definitely a big part of the inspiration for Zane.
 He also was one of my sources for the scenes in the story set in Afghanistan.
Background to the story 
Amish Sweethearts is the second novel in my Neighbors of Lancaster County series. In the first story, Amish Promises, Lila is eleven when the Becks, a military family, move down the lane from the Lehmans. Lila and Zane, the oldest child in the Beck family, become best friends through the years, mostly hiding their relationship from her strict and overbearing father. Amish Sweethearts begins with both Lila and Zane struggling with what will become of their friendship.
I've always been fascinated with childhood sweethearts and wanted to explore what would happen when two young people, from very different faiths and cultures, grow up together and then find themselves falling in love. The result is Amish Sweethearts.
Thanks Leslie!
Relz Reviewz Extras
Discover more about Leslie
Review of Courting Cate
Character spotlight on Cate
Visit Leslie's website
Buy at Amazon: Amish Sweethearts or Koorong