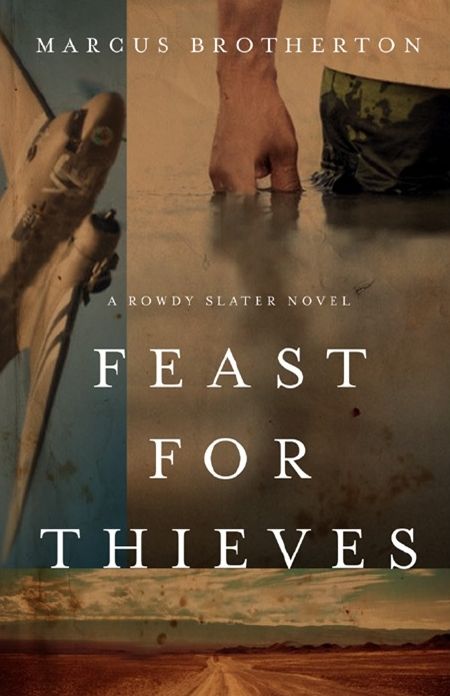 Meet a soldier turned preacher in
Marcus Brotherton's
historical adventure 
Feast for Thieves
River North
********
The Story
Sergeant Rowdy Slater is the most skilled-and most incorrigible-soldier in Dog Company, 506th PIR, 101st Airborne, an elite group of paratroopers fighting for the world's freedom in World War II.
Through a bizarre set of circumstances, Rowdy returns to the States after the war, turns his life around, and falls into the only job he can find-preacher at the sparsely populated community church in Cut Eye, Texas, a dusty highway town situated at the midpoint of nowhere and emptiness.
The town's lawman, suspicious that Rowdy has changed his ways only as a cover up, gives an ultimatum: Rowdy must survive one complete year as Cut Eye's new minister or end up in jail.
At first Rowdy thinks the job will be easy, particularly because he's taking over for a young female missionary who's held the church together while the men were at war. But when a dark-hearted acquaintance from Rowdy's past shows up with a plan to make some quick cash, Rowdy becomes ensnared due to an irrevocable favor, and life turns decidedly difficult.
Rowdy's a man used to solving problems one of two ways: with his rifle or with his fists. Will he be able to thwart his old friend's evil schemes while remaining true to his new higher calling?
This is a wild ride of a book bursting with a bank robbery, kidnapping, desperate prayers, and barroom brawls. Before the smoke clears, all sides just might end up getting exactly what they want.
Introducing Rowdy…according to Marcus!
His name is Zearl.
Yep.
Zearl.
But never call him that.
He always goes by his nickname, Rowdy—Rowdy Slater, and he's the toughest, most skilled paratrooper fighting for the world's freedom in WWII.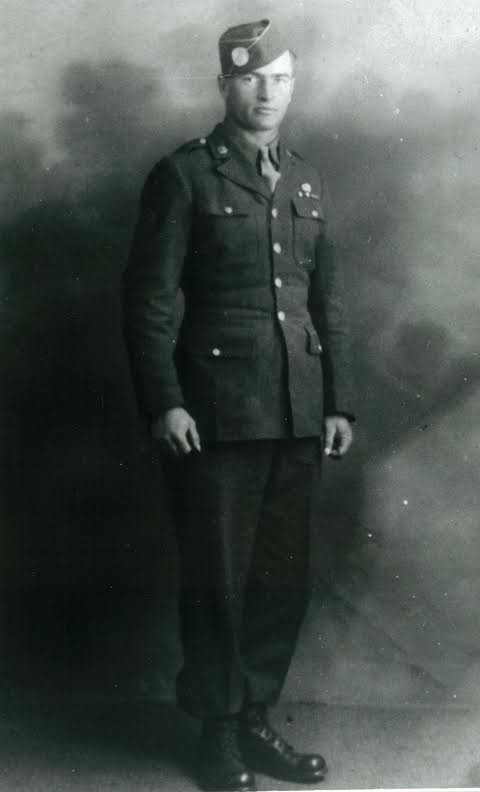 Rowdy is also the most incorrigible solider in his company, which is why it's so crazy when he comes home from the war, turns his life around, and falls into the only job he can find—preacher in Cut Eye, Texas, a backwoods town situated on a highway between nowhere and emptiness.
From the first page, my protagonist, Reverend Rowdy emerges as a character to root for, complete with flaws, charm, and an unshakeable conscience. He's a man of muscle and a man of action, (I used this picture of the real life paratrooper Joe Toye when envisioning Rowdy).
Reverend Rowdy wouldn't admit it either, but he's falling in love with Bobbie Barker, the church's willowy missionary. She's smart and funny and has a penchant for quoting horrible poetry. Rowdy needs to stick close to her, because she'll turn out to be exactly what he needs in the end.
If the story of an incorrigible paratrooper becoming a minister sounds far-fetched, it actually isn't. My fictitious Zearl "Rowdy" Slater was inspired by a real man, Wayne "Skinny" Sisk, generally thought of as Easy Company's most incorrigible soldier.
I learned about Skinny Sisk several years back when I began researching various nonfiction book projects surrounding the elite group of paratroopers commonly known as the Band of Brothers.
In 1949, after the war, Skinny Sisk experienced a genuine spiritual conversion when his four-year-old niece shared the gospel with him. Skinny repented, chose to follow Jesus, and was later ordained into pastoral ministry. Skinny wrote to his commander, Dick Winters, "I haven't whipped but one man since, and he needed it."
The Reverend Skinny Sisk lived and ministered in West Virginia. He died in 1999.
His example inspired the creation of Rowdy. Every other detail about Rowdy's life has been fictionalized, and none of the specifics of Skinny's life were used in this novel.
Still, I began this novel with one big story idea and question in mind—An elite paratrooper becomes a minister. Hmm. Here's a man used to solving problems with a rifle or his fists . . .  What sort of wild-hearted minister might such a man make?
Relz Reviewz Extras
Visit Marcus' website
Buy at Amazon: Feast for Thieves: A Rowdy Slater Novel or Koorong