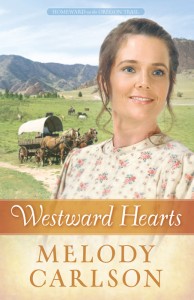 Meet young widower Elizabeth Martin 
in Melody's Carlson's
Westward Hearts
Harvest House
The Story
Kentucky, 1854–Elizabeth Martin has mourned her husband's death for three years, but now she feels ready to fulfill the dream they had shared–to take their two children west. The dream becomes reality when her middle-aged parents and bachelor brother surprise her with the news that they want to go as well.
After converting three of their best wagons to prairie schooners and thoroughly outfitting them, the little party travels from Kentucky to Kansas City, where they join a substantial wagon train. Elizabeth soon finds herself being drawn to the group's handsome guide, Eli Kincade.
The long journey and deepening relationships challenge the travelers to their core, and Eli's mysterious past leaves Elizabeth with more questions than answers. She knows there's no turning back, but she wonders, What have I gotten myself into?
Introducing Elizabeth!
Brief physical description
Elizabeth Martin is a widow in her early thirties (back in the 1800's). A farmwife with honey brown hair and sapphire blue eyes, she is both attractive and strong—tough enough to face the hardships of traveling the Oregon Trail in a covered wagon.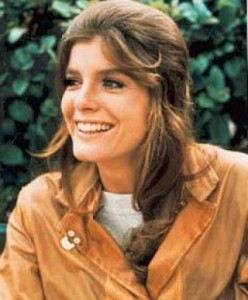 Resembles….
As I wrote the book, I pictured her like Katharine Ross (when Katharine was that age) but the image on the book cover ended up being a little different.
Strengths and weaknesses
Elizabeth's strength is her determination to follow her dreams by taking her children to a new land that she believes is full of opportunity. Her weakness is her inability to let go of the past, particularly the loss of her first husband, and move forward into new relationships.
Quirk (if any)
Not sure you'd call it a quirk, but Elizabeth has a big heart and her generosity sometimes puts her in quirky positions.
Your inspiration for the character
My ancestors came over on the Oregon Trail in the 1850's and I grew up hearing bits and pieces of stories relayed to me by my grandparents (who seemed a lot like pioneers to me). My grandmother's name was Elizabeth and she was a very capable woman (sewing, cooking, gardening, etc.). I think she helped to inspire Elizabeth Martin.
Background to the story
Elizabeth and her husband had planned to take their two children across the country to join his relatives in Oregon, but her husband died of cholera and Elizabeth thought she'd buried this dream with him. But the dream doesn't go away and eventually Elizabeth (joined by her family) sets of on the journey of a lifetime, five months of arduously crossing the unsettled wilderness of America in a covered wagon. Along the way she discovers new strengths, a community of friends, and the potential for romance.
Relz Reviewz Extras
Review of Christmas at Harrington's
Interview with Melody
Character spotlight introduction to the Four Lindas
Further spotlight on the Four Lindas
Visit Melody's website
Buy Westward Hearts at Amazon or Koorong