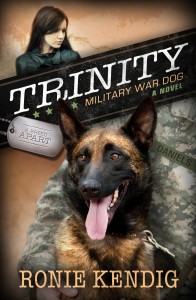 Meet Belgian Malinois, Trinity, her handler Heath Daniels, and Darci Kintz from
Ronie Kendig's
Trinity: Military War Dog
Barbour
The Story
A year ago in Afghanistan, Green Beret Heath Daniel's career was destroyed. Along with his faith. Now he and his military war dog, Trinity, train other dogs and their handlers. Though his passion is to be back in action, the medical discharge has forced Heath—and Trinity—to the sidelines.
Military intelligence officer Darci Kintz is captured while secretly tracking the Taliban. Only one dog can handle the extreme conditions to save her. Trinity. Only one man can handle Trinity. Time is running out on the greatest—and most dangerous—mission of their lives.
Introducing Trinity, Heath & Darci!
Trinity
Brief physical description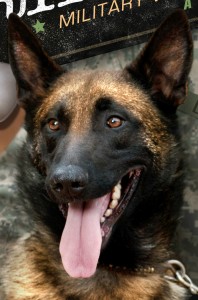 Brown eyes, athletic build, big ears (hey, it comes with the territory; I'm cool with it.), long legs, oh—four paws and brown fur.
Actor/famous person
Sorry. Not many humans look much like me. Even the canines in movies are a little too. . .soft compared to me
Strengths and weaknesses 
I'm a dog. What weaknesses are there? Well, okay, I'm not overly fond of the cold but if my human wants to go there, we go. As long as I'm with him, we're good to go. I'm loyal and will go any mile Heath wants me to travel. I'll protect him, even if it means taking my last breath and bark.
Quirk (if any) 
I guess you could say my obsession with that little green orb Heath keeps throwing away is a quirk. He throws it. I retrieve it. The game never gets old. When things are rough and we've been through a heavy fire fight, it's nice just to squeak that stupid little ball. It's my reminder that, hey, I made it. And I did my job—kept Heath alive.
Heath Daniels & Darci Kintz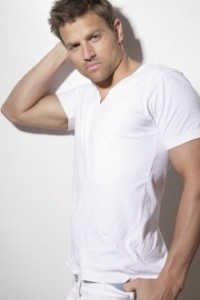 Brief physical description
Heath Daniels – As a Green Beret, Heath is always OTG (on the go) and lugging a ton of gear through some of the most rigorous terrain a man ever met. So, he's very well built. He has brown hair and gray eyes.
Darci Kintz – to meet the challenges of her job, Darci is athletic but still very feminine. She stands shorter than Heath's 6'1"but she's not tiny like a lot of Chinese women.
Actor/famous person 
This is the guy I had on my character sheet, but I also think Josh Duhamel (in camo) would be a good match.
This took some digging for Darci, but I think Maggie Q is a solid match for how I saw/envisioned Darci.
Strengths and weaknesses
Darci has a fierce warrior in her and has always felt the need to prove herself, that when someone like Heath accepts her for who she is, it rattles her to her core.
Heath is a lot like Trinity—he doesn't give up, even if it means costing his life. But he's struggling with this traumatic brain injury diagnosis and being sidelined. He feels his very worth and purpose in life have been called into question.
Heath has this thing about asking for something. He'll ask once, then he says "I won't beg."
Your inspiration for the character
I spent more than a year reading and researching military working dogs and talking to handlers. A culmination of those experiences coalesced into Trinity, the four-legged heroine of Trinity: Military War Dog.
Background to the story 
The inspiration for the Trinity, and in fact the entire A Breed Apart series, came through an email from a long-time friend. The email related a story about a military war dog who heroically saved his handler who had been captured. The story turned out to be a hoax, but it was the seed for this series and my discovery of a fascinating breed of warriors—military working dogs.
Relz Reviewz Extras
Character spotlight on Heath, Darci & Trinity
Endorsement of Trinity
Watch Trinity's book trailer
Reviews of Firethorn, Wolfsbane, Digitalis and Nightshade
Meet the team: Max ~ Colton ~ Canyon ~ Griffin ~ Azzan ~ John  ~ Marshall
Meet the women: Sydney ~ Piper ~ Dani ~ Kazi
Character spotlights: Max & Syd ~ Colton & Piper  ~ Canyon & Dani
Visit Ronie's website and blog
Visit Ronie's Discarded Heroes website
Buy Trinity at Amazon or Koorong

Heads up!
Grab Ronie's Nightshade series for Kindle at the fabulous price of $3.99 each – limited time only
Click to buy Nightshade, Digitalis, Wolfsbane & Firethorn