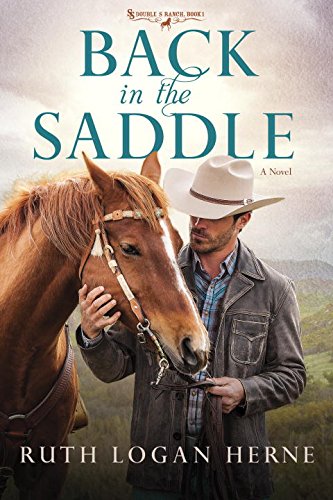 Meet a financier & a former detective in
Ruth Logan Herne's
contemporary romance
Back in the Saddle
Waterbrook Multnomah
*******
The Story

The Prodigal Is Coming Home

It's been a long time since Colt Stafford shrugged off his cowboy legacy for shiny Manhattan loafers and a promising career on Wall Street. But when stock market manipulations leave him financially strapped, the oldest son of legendary rancher Sam Stafford decides to return to the sprawling Double S ranch in Gray's Glen, Washington. He's broke, but not broken, and it's time to check in with his ailing father, and get his legs back under him by climbing into the saddle again.
 
He doesn't expect to come home to a stranger pointing a loaded gun at his chest— a tough yet beautiful woman that Sam hired as the house manager. Colt senses there's more to Angelina Morales than meets the eye and he's determined to find out what she's hiding…and why.
 
Colt's return brings new challenges. Younger brother Nick has been Sam's right-hand man at the ranch for years and isn't thrilled at having Colt insert himself into Double S affairs. And the ranch's contentious relationship with the citizens of Gray's Glen asks all the Stafford men to examine their hearts about what it truly means to be a neighbor.  And as Wall Street recovers, will Colt succumb to the call of the financial district's wealth and power—or finally the courage to stay in the saddle for good?
Introducing Colt & Angelina
Ruth: This is fun! I love these characters, I could chat non-stop about them all day… but I won't, I promise!
Our hero, Colton "Colt" Stafford… <swoon>
Brief physical description
Colt is tall, but not crazy tall, square-shouldered and lean. He's not as bulked up as he used to be when he lived on the ranch. Hauling cattle and calves rips a body into shape way better than a Lower Manhattan work-out gym could ever do! Dark hair, blue eyes, eyes the shade of blue that once you see it them, you never forget it. He hides emotion well, a cool, calm, practiced gaze, not letting anyone in unless it's on his terms. If you were playing poker with Colt Stafford, you might as well fold your hand and throw the pot because I guarantee you, Colt's going to win.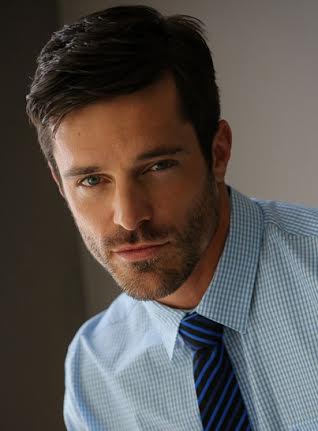 Resembles…
See attached photo
Strengths and weaknesses
Colt's brilliance and intuitiveness are his strengths. He never quits, he's an assessor, and he never forgets, but that crushingly brilliant memory is also his weakness because it is so hard to forgive what's been punched into your brain over the years. Colt's biggest weakness is that he's learned to stand hard and tall, just like his father, and they both need to learn the art of standing down. As they re-develop a relationship with each other and God, we see this happening, step by step.

Quirk (if any)
Colt's not a quirky guy. The steel-eyed gaze is his trademark, but he's not one for quirks. He's got too much control, right up until two little girls and a preschool boy remind him of how precious and amazing life is. The steely gaze begins to soften there and then.
Your inspiration for the character
Colt's a combination of the young men whose careers I've followed on Wall Street, my four sons, and seeing the way being in a big city, surrounded by people who don't know a thing about the heartland or the soil or the rich fabric that makes up America's tapestry outside their busy streets affects people when they move there. It's a perfect conglomerate of then and now.
Background to the story
Hedge fund manager Colt Stafford is broke, but not broken. He comes back to the Double S Ranch to help his ailing father. They've been estranged for a long time, but when push comes to shove, family is still family, and that's a true statement, even on the Double S. Famed for its masterful beef production techniques, Sam Stafford's ranch has raised the bar across the nation, but when illness paints a grim picture, the Stafford patriarch has two wishes—to see his sons happy at last and to find peace with God. But neither will come easy because Stafford men are three shades of stubborn, and it takes God—and the women, strong enough to catch their eye and help heal their hearts—to set things on their rightful path.
Angelina Morales
Brief Description
Think a Latina Kate Becket from Castle… The savvy style, the disciplined body and emotion, but a heart of gold that expands when it comes to protection, service and children. Long, dark hair and eyes the grey/brown blend of rising smoke. She wears loose clothing to keep attention on her gaze and not her curves because a ranch full of cowboys doesn't need to know too much,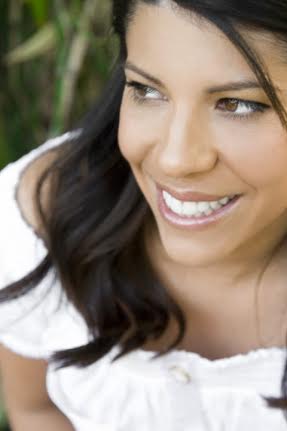 and a woman under cover needs to pay attention, all day, every day.
Resembles…
Carrie Madariaga as Angelina Morales
Strengths and weaknesses
You don't get to be a big city detective without being tough, smart and one step ahead of the bad guys, but Angelina has seen the dark side of life, and that has heightened her sympathy for children and families. She has a strong faith and a fierce sense of family, but that's also her weakness. When her father was gunned down in retaliation for a drug racketeering collar and conviction, Angelina moves her widowed mother and her son to the forested hills of Central Washington overlooking the gorgeous Kittitas Valley. She changes her name and profession, but as time goes on, she knows she needs to bring them out of hiding. When Seattle tempts her with an offer to return, Angelina is torn. At what sacrifice can she follow her dream or have her dreams changed?
Quirks
Angelina is a "take no prisoners" woman, and if there happens to be a weapon on hand (gun, spatula, rolling pin), she's really not afraid to use it. Because she was raised in a Latin American home, she can slip from straightforward cop English into a fiery Spanglish without much provocation. She is an absolutely wonderful character, strong enough to meet Colt on his own turf, and feminine enough to soften his gruffest angles.
Your inspiration for the character
A mix of Kate Becket from Castle, Catherine Zeta Jones in Zorro and the maternal instinct of most women, that all-encompassing sacrificial love that puts others first with little thought to our own outcome. I needed a blend of strength, temptation, faith and family to be the right woman to balance Colt's raw-edged nature, and Angelina supplies all that… and more.
Background of the story
Angelina Morales aka: Detective Mary Angela Castiglione, SPD, brought her widowed mother and baby son into the hills of Central Washington after her retired police captain father was gunned down in a retaliation killing. Angelina and her task force had pulled the plug on a major racketeering scheme, and lost her father as a result. She'd fallen for the sweet words of a high-stakes financial investor in Seattle, and when she found herself pregnant, he tipped his East Coast, blue-blood hat and left her to be a single parent.
She gives up the job she loves, and impresses Sam Stafford at the job interview by cooking up an on-the-spot storm of food for returning cowboys, a talent learned by working in food kitchens at her mother's side. But Sam knows she's got a secret, and as his health declines two years later and his son returns, Angelina must face her choices… does she dare see high-stakes money roller Colt Stafford as one of those options?
About Ruth Logan Herne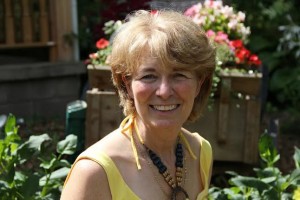 Multi-published, bestselling author Ruth Logan Herne is living her dream with over ¾ million books in print. A mother and grandmother, she lives on a small upstate New York farm with her husband, dogs, cats, chickens and a revolving door of small children and their parents in and out of the house. She can often be found hiding in a nook or cranny, scribbling away.
Keep up with Ruth Logan Herne at ruthloganherne.com, on Facebook (ruthloganherne), on Twitter (@ruthloganherne), or on Pinterest (ruthyloganherne).
Relz Reviewz Extras
Visit Ruth's website and blog
Buy from Amazon: Back in the Saddle or Koorong