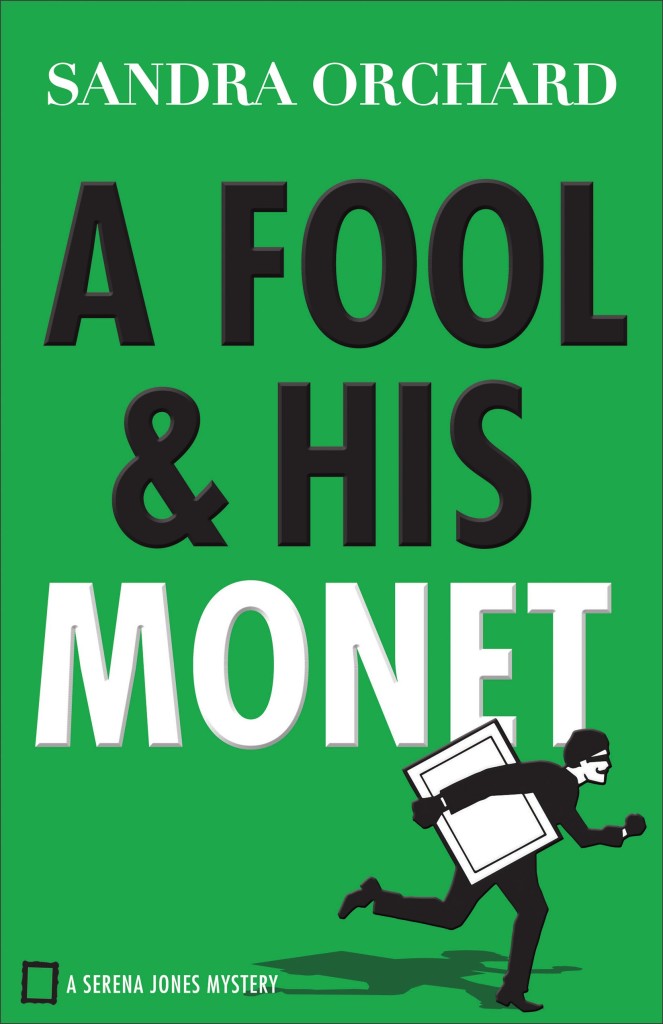 Meet an FBI agent and two men in her life in
Sandra Orchard's
mystery
A Fool & His Monet
Revell
******
The Story

As the youngest member of the FBI Art Crime Team, Serena Jones has a passion for recovering lost and stolen art—one that's surpassed only by her zeal to uncover the truth about who murdered her grandfather. She joined the FBI Art Crime Team with the secret hope that one of her cases will lead to his killer. Now, despite her mother's pleas to do something safer—like get married—Serena's determined to catch thieves and black market traders.

When a local museum discovers an irreplaceable Monet missing, Serena leaps into action—and a whole lot of trouble. Though her boss advises against pursuing her main suspect, she can't resist her instincts, her drive, and her desire to find more clues about her grandfather's death. Jones will certainly find a lot of trouble, but will she find the Monet?
Introducing Serena, Tanner, & Nate
Brief physical description
Serena Jones is physically fit, with long blonde hair usually worn in a ponytail, hazel eyes, and a ready smile.
Resembles…
(see https://www.pinterest.com/AuthorSOrchard/characters-%7E-serena-jones-mysteries/ for pins of the characters)
Strengths and weaknesses
Serena is very personable—the kind of woman who listens to what you say, remembers your name and uses it—but she's clueless to how guys mistake the quality for romantic interest. She's highly competent and dedicated to her job, but driven to succeed, so finding balance in her life is a challenge. She's claustrophobic.

Quirk (if any)
To help her recall names she connects people in her mind with famous actors.

Your inspiration for the character

She's a cross between Miss Congeniality and Stephanie Plum.
Background to the story 
The idea for the series came from a combination of wanting to write something more light-hearted with a couple of potential love interests (think Stephanie Plum but with a competent FBI agent heroine) and reading a newspaper article about the Montreal police detective who founded one of the top art-theft units in the world. The FBI estimates that the international black market in art is worth about $6-billion a year. The mafia uses it to launder money. Terrorists use it to raise money. And regular old thieves of every stripe (from rich art dealers to street punks) try their hand at snagging a piece of that pie. Which makes for great potential fodder. For this particular story, I researched several real-life museum heists to help me create a variety of credible suspects. I then let my imagination run wild to create backstories for each that might have motivated them to commit the crime.
Serena has two important men in her life: Tanner Calhoun, her former field-training agent and sometimes partner, and Nathan (Nate) Butler, her apartment superintendent.
Brief physical description
Tanner: Muscular physique on a looming 6'4" frame. Dark hair, dark brown eyes, and a warm smile bracketed by enormous dimples, amid his scarcely grown in beard look. He's 10 years older than Serena.
Nate: At 30, his tousled brown hair and the scarcely grown-in beard makes him look as if he'd carelessly decided to stop shaving for a week. He's 5'11", average build.
Resembles…
Tanner: Jeffrey Dean Morgan
Nate: Bradley Cooper
Strengths and weaknesses
Tanner: confident, intense, resourceful, protective, quick-witted,
Nate: has strong observational and listening skills, but is guarded in what he reveals about himself; he's always willing to lend a hand, and looks out for others' welfare
Quirk (if any)
Tanner: uses humor to defuse tense situations, often playing off Serena's movie star quirk.
Nate: has an uncanny ability to finish Serena's thoughts
Your inspiration for the characters
I wanted the men in Serena's life to fill very different needs in her life and for the important people in her life—father, mother, great aunt, best friend—to not agree on who's best for her. So…Tanner's strengths and priorities complement her work persona and Nate's interests and priorities, such as his interest in art and love of old movies, complement her personal side. But both men have depths and secrets that will take several novels for her to discover.
Sandra Orchard invites readers of A Fool and His Monet to vote for their favorite man in Serena's life here: http://sandraorchard.com/vote-for-your-favorite/
Thanks Sandra!
Relz Reviewz Extras
Character spotlight on Tom & Kate
Review of Deadly Devotion
Connect with Sandra on Facebook
Visit Sandra's website and blog
Buy at Amazon: A Fool and His Monet or Koorong