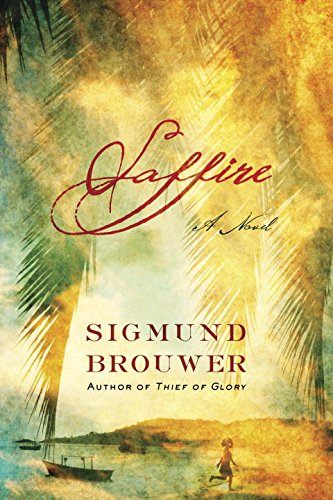 Meet a cowboy and an inspector in
Sigmund Brouwer's
historical novel
Saffire
Waterbrook Press
*****
The Story

I reminded myself that once you start to defend someone, it's difficult to find a place to stop. But I went ahead and took that first step anyway. . .
  
For President Teddy Roosevelt, controlling the east-west passage between two oceans mattered so much that he orchestrated a revolution to control it. His command was to 'let the dirt fly' and for years, the American Zone of the Panama Canal mesmerized the world, working in uneasy co-existence with the Panamanian aristocrats. 

It's in this buffered Zone where, in 1909, James Holt begins to protect a defenseless girl named Saffire, expecting a short and simple search for her mother. Instead it draws him away from safety, into a land haunted by a history of pirates, gold runners, and plantation owners, all leaving behind ghosts of their interwoven desires sins and ambitions, ghosts that create the web of deceit and intrigue of a new generation of revolutionary politics.  It will also bring him together with a woman who will change his course—or bring an end to it.
  
A love story set within a historical mystery, Saffire brings to life the most impressive-and embattled- engineering achievement of the twentieth-century.
Introducing James & T.B.
Brief physical description
Main character James Holt resembles James Garner with with Owen Wilson's nose. The second main character, T.B. Miskimon, resembles James D'Arcy who played the role of butler in the ABC series, Agent Carter.
Strengths and weaknesses
Any strength pushed too far can become a weakness, and Holt's natural rebelliousness sometimes makes him petulant, while T. B. Miskimon's organizational skills and certainty in his continued correctness make him both a formidable opponent and a social pariah.
Quirk (if any)
Holt can't let go of his cowboy hat under any circumstances; T.B. Miskimon pursues cleanliness in attire to the point of obsession.
Your inspiration for the character
The building of the Panama Canal was accomplished through military precision and chain of command, led by Colonel George Washington Goethals, who was essentially a benevolent dictator in charge of 50,000 workers and an astronomical budget that needed to be fully accountable to Congress.
I thought it would be fun to see what happens when a self-reliant individualist gets thrown into the situation, and a cowboy from the Dakotas seemed like just the person to stir up the situation.
At the same time, there needed to be someone trying to keep this cowboy — James Holt — under control, so I assigned him someone who on the surface who seems prissy and inflexible — T.B. Miskimon. But Holt soon discovers that Miskimon has a steel core that makes the man formidable in an unassuming way.

Construction of locks on the Panama Canal, 1913
Background to the story 
As readers learn early in the story Colonel Goethals held a 'King Solomon' type of court every Sunday morning, open to any and all, where rank did not matter. That Goethals listened to complaints each Sunday is not entirely new to anyone who has learned about the building of the canal. However, after dozens of sources, it wasn't until I read Julie Greene's book, The Canal Builders: Making America's Empire at the Panama Canal, that I found one of the few references to T. B. Miskimon.
As Julie Green notes, "Records maintained by T. B. Miskimon, Goethals's inspector, provide a world of insight into the Zone's daily affairs. ICC employees and their wives complained about everything from drunken or adulterous neighbors to fraudulent commissary managers, insulting foremen, cruel policemen, blackmailing supervisors, women of ill repute, gamblers, abusive spouses, salesmen bearing indecent photographs , and a judge who engaged in sexual harassment. Miskimon dutifully investigated each case and recommended a solution to his boss. In one case where Miskimon found fraud involving commissary books, Goethals suspended the men responsible without pay for fifteen days. When a yardmaster of the Panama Railroad was accused by a colleague of working while intoxicated, Miskimon's detailed investigation resulted in a six-page report for Goethals , in which the inspector concluded that while the yardmaster certainly imbibed, the charge of intoxication on the job may well have been the creation of his jealous and hostile colleague."
I learned this before I'd begun to write Saffire, and I was immediately intrigued at the story of a right-hand man sent out by the Colonel to investigate complaints. And I immediately wanted to write a story about a droll insouciant cowboy who would make life miserable for T.B. Miskimon.
I discovered that one of the only ways to learn more about T.B. Miskimon was through the reports he typed up for Goethals, available for viewing at Wichita State University.
As a result, I spent hours there, in a quiet room, lost in those original letters, letting my mind rove through another time when it did matter if men in uniform smoked on duty, and when a woman's complaint about holes in screen windows was a complaint worthy of investigation.
I hope you get a chance to visit www.sigmundbrouwer.com/saffire, where I posted a video that shows my search for the first and middle name behind T.B. Miskimon, and the final discovery that seemed like a Twilight Moment for me!
Thanks Sigmund ~ sounds fascinating.
Relz Reviewz Extras
Visit Sigmund's website
Buy at Amazon: Saffire or Koorong