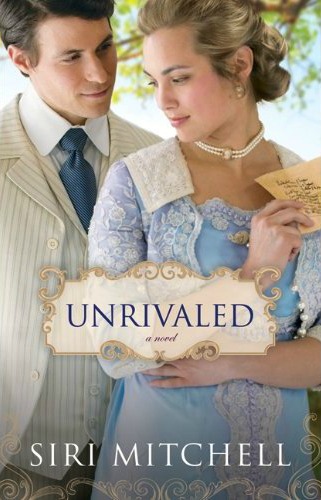 Meet a conniving candy maker and a Chicago bad boy in
Siri Mitchell's 
historical romance
Unrivaled
Bethany House
The Story
Lucy Kendall always assumed she'd help her father in his candy-making business, creating recipes and aiding him in their shared passion. But after a year traveling in Europe, Lucy returns to 1910 St. Louis to find her father unwell and her mother planning to sell the struggling candy company. Determined to help, Lucy vows to create a candy that will reverse their fortunes. 
St. Louis newcomer Charlie Clarke is determined to help his father dominate the nation's candy industry. Compromise is not an option when the prize is a father's approval, and falling in love with a business rival is a recipe for disaster when only one company can win. Will these two star-crossed lovers let a competition that turns less than friendly sour their dreams?
Enjoy meeting Charlie & Lucy
Brief physical description
Lucy Kendall: Nineteen years old. She's just come back from a Grand Tour of Europe with her aunt and uncle. She's blonde, blue-eyed, and rather tall.
Charlie Clarke: Twenty-two years old. From the tough south-side of Chicago, he's a bad boy trying to make good and show the father who once deserted him that he's worthy of the family business. He has dark hair, brown eyes, and dimples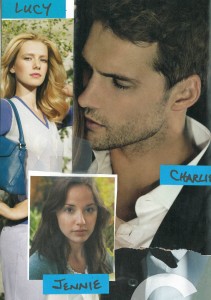 Resembles…
I've attached my character collages.
Strengths and weaknesses
Lucy: She's passionate about creating candy and determined to show her father that she ought to be allowed to take part in the family candy business. Upon her return home, she discovers her father has suffered a heart attack, so she undertakes the saving of his candy business as well. She's very determined and stubborn, committed to beating Charlie Clarke at his own games, no matter how underhanded and sneaky she has to be. Honestly, she's bossy and there's just no way I could write around that. I tried. She's completely flawed, but also completely devoted to those things and those people that she loves.
Charlie: He's a natural people-person and can make almost everyone like him…except for Lucy. His father 'stole' the Kendall family's first candy business as well as their successful Royal Taffy recipe. Charlie has to figure out how to help his father destroy the Kendalls' company while trying to convince Lucy that he cares for her. He's determined to leave his life in a gang behind him, but Lucy seems bent on provoking him into losing his temper…or his self-control. He also likes whiskey. And waltzing.

Your inspiration for the character
I read the book The Emperors of Chocolate during my research. Charlie's estrangement from his father echoes that of the founder of the Mars Company and his son, although the actual details of Charlie's parents' divorce and the takeover of Standard Manufacturing are completely fictional. I was interested, in developing both Lucy and Charlie, in portraying the dysfunctions of families in early 20th century in America and how the weaknesses and flaws of parents affect their children. We tend to think of that time as 'the good old days', but it really wasn't. Placing this book in a setting that should have been 'sweet' provided a nice contrast to human behaviour.
Background to the story
As I was researching my 1980s book, She Walks in Beauty, I came across a mention of the candy industry in the early 1900s. I was shocked to discover how cutthroat and ruthless it was. The juxtaposition between the sweetness of candy and the bitterness that developed within the industry was just too good a hook to pass up.
Thanks Siri!
Relz Reviewz Extras
FamilyFiction Plus with Siri
Exclusive Book Club Interview with Siri
Review of The Messenger, A Heart Most Worthy, A Constant Heart and She Walks in Beauty
Character spotlight on She Walks in Beauty's Clara Carter, Love's Pursuit's characters and A Constant Heart's Marget & Lytham
Visit Siri's website
Buy Unrivaled at Amazon or Koorong