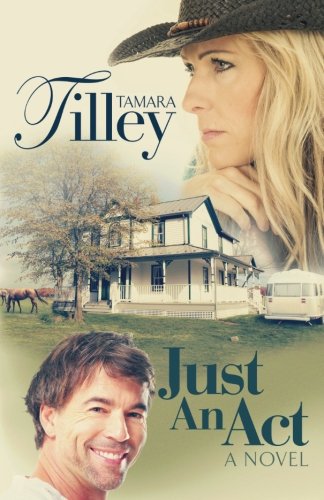 Meet a single mum and a Hollywood star in
Tamara Tilley's
contemporary romance
Just An Act
Archer Press
*****
The Story

Mitch Burk wants to change his future before it's too late. Beth Justin wants to hold on to her past before it slips away.

Mitch Burk wants to disappear. Known as Simon Grey—Hollywood heartthrob—Mitch decides to walk away from the celebrity lifestyle that is slowly killing him. Needing some peace and quiet and a place where he can regroup, Mitch hitches an Airstream trailer to an old Suburban and just drives. Unfortunately, he ends up in the middle of Kansas with a busted windshield, a rebellious teenager, and on the wrong side of Beth Justin—the owner of the Diamond-J ranch. Knowing he's an unwanted guest, Mitch plans to move on as soon as his truck is repaired. However, the longer he stays on the Diamond-J, the more he comes to appreciate the high plains of Kansas and the quiet faith of a certain blue-eyed ranch owner.

Beth Justin has not had an easy life. A teen pregnancy, a broken heart, and the death of her parents has left Beth with a fragile faith, a defiant son, and the Diamond-J ranch. When Mitch Burk shows up unexpectedly, Beth had no idea who he is—only that he's a nuisance and a real pain in her side. Begrudgingly, she allows him to stay on the Diamond-J while his truck is repaired. Beth soon comes to appreciate Mitch's help not only around the ranch, but with her son as he navigates the trappings of adolescence. When Beth's appreciation for Mitch turns in to attraction, she hides her feelings, convinced he'll only end up breaking her heart.
Introducing Beth & Mitch
Beth Justin
Brief physical description
Blonde-hair, blue-eyed, and a little rough around the edges. She's a ranch owner and used to having dirt under her fingernails. Her idea of dressing up is jeans with a crease, and no straw stuck to the heel of her boots.
Resembles…
See pic!
Strengths and weaknesses
Beth's strength is her heritage and her relationship with the Lord. The Diamond-J Ranch is the air that she breathes. It's her lifeblood. But even still, her relationship with the Lord is what helps her put one foot in front of the other. She has her shouting matches with God, but she knows it's the Lord who has sustained her through the loss of her parents, a teen pregnancy, and the struggles of being a single parent.
Beth's weakness is her son, and of late, Mitch Burk. Beth is a single parent to her sixteen-year-old son, Shane. When Shane starts to rebel, Beth realizes the only way to save her relationship with her son is to sell the Diamond-J Ranch and move to the city. It would be like cutting off her right arm, but she'll do anything not to lose him. Then, Mitch Burk shows up on her ranch. What starts out as an interruption to her life, turns into a complicated attraction.
Quirk (if any)
Not really a quirk, but a flaw. She doesn't trust people. She trusted a man once and he betrayed her.
Your inspiration for the character
I just wanted to write someone who was real.
Mitch Burk (aka Simon Grey)
Brief physical description
Sandy brown hair, hazel eyes. Hollywood Heartthrob voted Sexiest Man Alive.
Resembles…
See pic
Strengths and weaknesses
Mitch's strength is that he finally decided to walk away from Hollywood and the emptiness it represented. His weakness is for Beth. Though he was ticked off to find out he was stuck on the Diamond-J Ranch while his truck was being fixe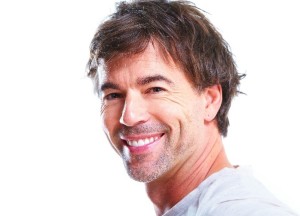 d, it doesn't take long for Mitch to become infatuated with Beth. She's stubborn, sassy, and exudes an internal strength he finds very attractive.
Quirks –  Mitch leaves Hollywood with no intention of going back. Using his real name, going back to his original hair color, and taking on a scruffy appearance, he's keeping his identity a secret from Beth and Shane.
Your inspiration for the character
There was no specific inspiration. Just a man fed up with being used by the system and wanting to find true meaning in life.
Background to the story – My previous books were crime dramas. When I started writing Just An Act, I set out with the intentions of writing a story about the drama of everyday life. Beth is a single-parent doing the best she can. Shane is a sixteen-year-old boy, bitter that he doesn't know who his father is, so he rebels. And then a stranger shows up and adds to Beth's list of problems. As I said, I started out writing about everyday drama, but it didn't quite finish that way. I don't want to give too much away, but there's a little more drama in the end than I planned when I first started.
I want to thank Rel for spotlighting Just An Act, and for giving a voice to indie authors. I love that I can write the stories God has laid on my heart without sacrificing realism and the messiness that is real life. My characters are far from perfect, but aren't we all? Their imperfections are what cause them to grow. They see a need for something more, something different in their life. And in that need, they discover that true strength can be found in a relationship with God. I don't have characters that have arrived. I allow the reader to join them on their journey.
Thank you Tamara!
Relz Reviewz Extras
Character spotlight on Joanna & T. J. (Badge of Respect) & Amber & Stephen (One Saturday)
Reviews of Full Disclosure, Abandoned Identity, and Criminal Obsession
Visit Tamara's website
Buy at Amazon: Just An Act