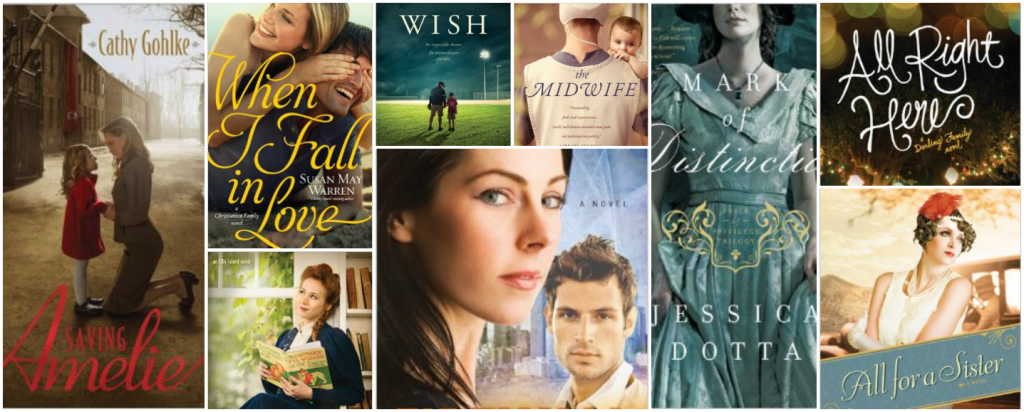 Now it's Tyndale House's turn to be put under the microscope with their new titles, releasing in mid 2014.
I'm excited about these stories and the cover art is great for the most part. Saving Amelie is my favourite – I adore its simplicity yet clear communication of the story and era. Likewise Wish is another that retains clean lines and gives no doubt about the storyline. No doubt Aaron is going to frustrated with the decapitation on Jessica's second novel, and I'm with him, which is a shame as I love everything else about the cover.
Firewall is quite appealing and follows the general themes of DiAnn's previous covers while Susie May's and Allison's continue the respective themes in their series. I do feel the yellow font on Susie's is a little overwhelming but am highly anticipating this story having just finished It Had to Be You which was excellent!
All the stories sound great, and who would have thought I would ever say this, but I'm really looking forward to an Amish tale, Jolina's second novel! How cute is that baby?!
I'm intrigued by newcomers Jake and Carre's stories ~ can't wait! No cover yet for C. E. Laureano (yep, that's Carla Laureano, author of Five Days in Skye) but that is another story I can't wait to discover.
Over to you, my friends…..thoughts, please!
Wish by Jake Smith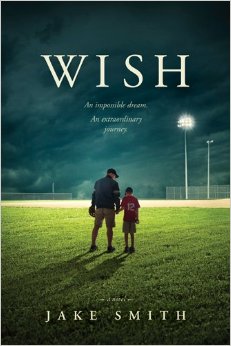 James McConnell's one wish is that his eight-year-old son will finally be healthy enough to play a game of catch. Then he and his wife, Emily, receive news they've dreaded: Aaron's cancer has relapsed.
As the family steels themselves for a draining treatment regimen in yet another hospital, Aaron receives the gift of a lifetime—a personal visit from one of his favorite professional baseball players—and the chance to make a bold request, his wish: to see his dad play one game in the Major Leagues.
A former college standout, James fears he doesn't have the talent it takes, even for one game, and that he'll miss what could be Aaron's precious last weeks. Yet how can he refuse his dying son's wish?
Poignant and triumphant, Wish is the story of a father's love, a family's perseverance, and the miracles that can happen when you believe in the impossible.
May, 2014
Oath of the Brotherhood by C. E. Laureano
In a kingdom where the Old Ways hold fast and a man's worth lies entirely in his skill with the sword, Conor Mac Nir is a scholar, a musician, and a follower of the forbidden Balian faith: problematic for any man, but disastrous for the son of the king.
When Conor is sent as a hostage to a neighboring kingdom, he never expects to fall in love with the rival king's sister, Aine. Nor does he suspect his gift with the harp (and Aine's ability to heal) touches on the realm of magic. Then his clan begins a campaign to eliminate all Balians from the isle of Seare, putting his newfound home in peril and entangling him in a plot for control of the island that has been unfolding since long before his birth.
Only by committing himself to an ancient warrior brotherhood can Conor discover the part he's meant to play in Seare's future. But is he willing to sacrifice everything—even the woman he loves—to follow the path his God has laid before him?
May, 2014
Mark of Distinction by Jessica Dotta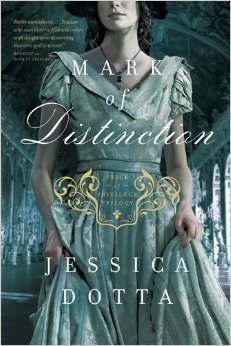 London is said to be the glittering jewel of society, a world unto itself—but to Julia Elliston it is a city of shadows. Her life is swiftly dissolving into scandal. And in Victorian society, even a whisper of scandal—substantiated or not—can be the death of a young woman's reputation.
When Julia discovers that Lord Roy Pierson, her guardian and one of most influential men in England, is the father she has never met, she begrudgingly accepts his protection. But Chance Macy's power is far-reaching as well.
Thrust into society as the Emerald Heiress, Julia is the toast of London, a celebrated curiosity. But in reality she's trapped between the clutches of two powerful men. Aided only by a gentleman whose intentions she prays she can trust, Julia must finally take control of her own fate—but outwitting one's foe rarely goes according to plan.
May, 2014
Increasingly wary of her father's genetic research, Rachel Kramer has determined that this trip with him to Germany—in the summer of 1939—will be her last. But a cryptic letter from her estranged friend, begging Rachel for help, changes everything. Married to SS officer Gerhardt Schlick, Kristine sees the dark tides turning and fears her husband views their daughter, Amelie, deaf since birth, as a blight on his Aryan bloodline.
Once courted by Schlick, Rachel knows he's as dangerous as the swastikas that hang like ebony spiders from every government building in Berlin. She fears her father's files may hold answers about Hitler's plans for others, like Amelie, whom the regime deems "unworthy of life." She risks searching his classified documents only to uncover shocking secrets about her own history and a family she's never known.
Now hunted by the SS, Rachel turns to Jason Young—a driven, disarming American journalist and unlikely ally—who connects her to the resistance and to controversial theologian Dietrich Bonhoeffer. Forced into hiding, Rachel's every ideal is challenged as she and Jason walk a knife's edge, risking their lives—and asking others to do the same—for those they barely know but come to love.
June, 2014
The Midwife by Jolina Petersheim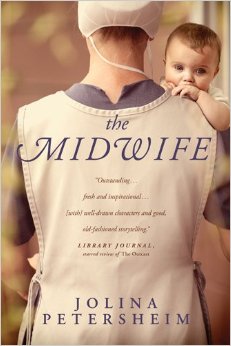 Since the day Rhoda Mummau was baptized into the Old Order Mennonite Church and became the head midwife of Hopen Haus, she's been torn between the needs of the unwed mothers under her care and her desire to conceal the secrets of her past. Contact with the outside world could provide medical advantages, but remaining secluded in the community gives her the anonymity she craves.
Graduate student Beth Winslow is on a path she never would have chosen. Heartbroken after surrendering a baby to adoption, she devotes herself to her studies until she becomes pregnant again, this time as a surrogate. But when early tests indicate possible abnormalities, Beth is unprepared for the parents' decision to end the pregnancy—and for the fierce love she feels for this unborn child. Desperate, she flees the city and seeks refuge at Hopen House.
Past and present collide when a young woman named Amelia arrives to the sweeping countryside bearing secrets of her own. As Amelia's due date draws near, Rhoda must face her past and those she thought she had left behind in order for the healing power of love and forgiveness to set them all free.
June, 2014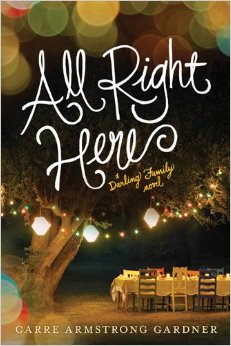 All Right Here by Carre Armstrong Gardner
Ivy Darling can't have children of her own, and her husband Nick's resentment is forcing them apart. And while Ivy has the support and love of her large, close-knit family, Nick's family has never welcomed her into the fold.
When the three children next door are abandoned by their mother, Ivy and Nick take them in for the night. One night becomes several, and suddenly Ivy and Nick find themselves foster parents to the only African-American kids in the town of Copper Cove, Maine. As Ivy grows more attached to the children, Nick refuses to accept their eclectic household as a permanent family. Just as Ivy begins to question whether or not she wants to save her emotionally barren marriage, Nick begins to discover how much Ivy and the children mean to him. But is his change of heart too little, too late?
June, 2014
When I Fall in Love by Susan May Warren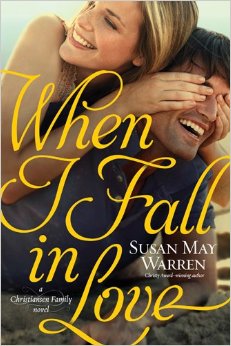 Hawaii was the last place Grace Christiansen ever imagined she'd vacation, much less fall in love. But when her family surprises her with a cooking retreat in paradise, she is pulled—or maybe yanked—away from her predictable, safe life and thrown headfirst into the adventure of a lifetime.
Max Sharpe may make his living on the ice as a pro hockey player, but he feels most at home in the kitchen. Which is why he lives for the three-week culinary vacation he takes each year in Hawaii. Upon being paired with Grace for a cooking competition, Max finds himself drawn to her passion, confidence, and perseverance. But just when Grace dares to dream of a future beyond her hometown, Max pulls away.
Wrestling with personal demons, Max fights against opening his heart to a love he knows he should never hope for. And as his secrets unfold, Grace is torn between the safe path in front of her and what her heart truly desires. If love means sacrificing her ideal happily ever after, Grace's faith will face its toughest test yet.
July, 2014
After a whirlwind romance, Taryn Young is preparing to board a plane at Houston International Airport, bound for a dream honeymoon, when a bomb decimates the terminal. Injured but still alive, she awakens to discover her husband is missing and they're both considered prime suspects in the attack. Further, the FBI is convinced her husband isn't who he appears to be.
Agent Grayson Hall's number-one priority is to catch those responsible for the day's act of terror. All evidence is pointing to Taryn and her new husband. But his instinct tells him her pleas of innocence are genuine. Is her naiveté just for show, or could she truly be another victim of a master scheme, possibly linked to the software she recently developed for her company?
With both their lives and reputations on the line, and the media outcry for justice increasing with each passing minute, Taryn and Grayson have no choice but to trust one another . . . and pray they can uncover the truth before they become two more casualties.
July, 2014
Annie's Stories by Cindy Thomson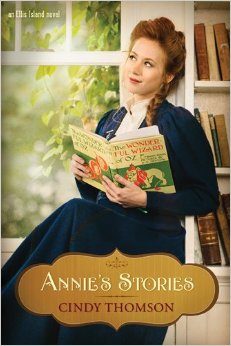 The year is 1901, the literary sensation The Wonderful Wizard of Oz is taking New York City by storm, and everyone wonders where the next great book will come from. But to Annie Gallagher, stories are more than entertainment—they're a sweet reminder of her storyteller father. After his death, Annie fled Ireland for the land of dreams, finding work at Hawkins House.
But when a fellow boarder with something to hide is accused of misconduct and authorities threaten to shut down the boardinghouse, Annie fears she may lose her new friends, her housekeeping job . . . and her means of funding her dream: a memorial library to honor her father. Furthermore, the friendly postman shows a little too much interest in Annie—and in her father's unpublished stories. In fact, he suspects these tales may hold a grand secret.
Though the postman's intentions seem pure, Annie wants to share her father's stories on her own terms. Determined to prove herself, Annie must forge her own path to aid her friend and create the future she's always envisioned . . . where dreams really do come true.
July, 2014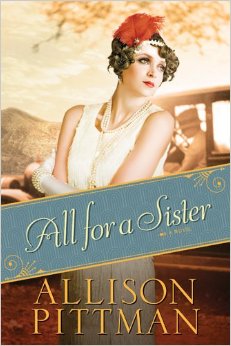 All for a Sister by Allison Pittman
In Hollywood during the Roaring Twenties, Celeste DuFrane has it all. Her father's work with color movie film opens doors that lead to the stardom she's always aspired to. But after losing her mother, she discovers that half the estate has been left to a woman accused of killing Celeste's baby sister before Celeste was even born.
Dana Lundgren arrives on the steps of the DuFrane mansion having spent most of her life imprisoned for a crime that never happened. After accusing her of murder so many years ago, why did Marguerite DuFrane leave her a sizeable inheritance?
As Celeste and Dana learn each other's stories, they come up with more questions than answers. Then a surprising discovery begins to fill in the missing pieces: Marguerite DuFrane's written confession, penned shortly before her death. Uncovering the treachery and deceit that changed the course of countless lives—most of all, their own—the two women find more than they ever dreamed of.
July, 2014