Newly crowned Christy Award winner, Ronie Kendig, has another exciting military suspense series coming our way this year, A BREED APART with the first in the series, Trinity: Military War Dog, releasing this September.
I'm excited to share the cover of the second fabulous instalment with you today! We had Labradors growing up so I know my sister is especially going to love this cover ~ hi Jen xo xo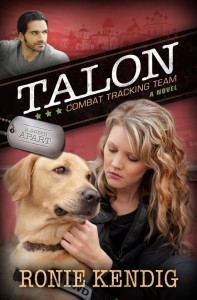 Look for Talon: Combat Tracking Team in May, 2013 from Barbour.
She's on a mission to find her missing brother. Only his combat tracking dog knows where to look. . . .
Air Force veteran Aspen Courtland just wants her brother back—dead or alive. The US Marine Corps declared him dead, but Aspen is unwilling to let him die without a fight. Aspen adopts her brother's combat tracking team dog, Talon, hoping to come closer to finding peace about Austin. But after the brutal attack that separated dog and handler, Talon is afraid of his own shadow.
Military Intelligence OperativeDane Markoski has run from the truth most of his life. Now, it's the only thing that can save him—and his mission—if he dares to face the past. Talon is the key to achieving his objective…but the only way to Talon is through his new owner. But Dane swore he'd never work a woman.
Teamed up in Djibouti, Dane and Aspen battle the elements and extremists. Survival depends on his skills, her optimism, and the courage of a traumatized combat tracking dog. Can Talon muster the valorfor one last mission?
Would enjoy your thoughts on this one! Cover art? Content?
To those who have read Ronie's DISCARDED HEROES series ~ what do you enjoy most about her stories?
Relz Reviewz Extras
Book trailer for Trinity: Military War Dog
Reviews of Wolfsbane, Digitalis and Nightshade
Meet the team: Max ~ Colton ~ Canyon ~ Griffin ~ Azzan ~ John  ~ Marshall
Meet the women: Sydney ~ Piper ~ Dani ~ Kazi
Character spotlights: Max & Syd ~ Colton & Piper  ~ Canyon & Dani
Visit Ronie's website and blog
Visit Ronie's Discarded Heroes website
Pre-order Trinity at Amazon or Koorong