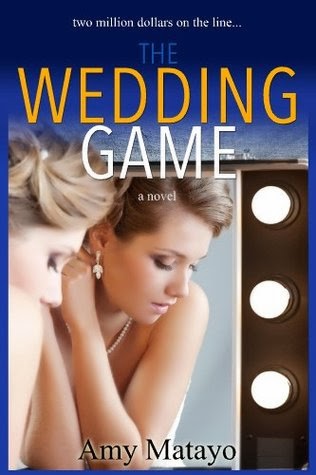 Synopsis:~
Cannon James has a plan: Sign on as a contestant for his father's new reality show, marry a blonde hand-picked by the producers, and walk away two million dollars richer. It's all been arranged. Easy. Clean. No regrets. Until Ellie McAllister ruins everything by winning the viewer's vote. Now he has to convince America that he's head over heels in love with her. Not easy to do since she's a walking disaster.
Ellie McAllister has her own problems. She needs money, and she needs it now. Despite her parent's objections and her belief that marriage is sacred, she signs on to The Wedding Game…and wins. Now she's married to a guy she can't stand, and if she wants her hands on the money, she has six months to make voters believe she loves him. Not easy to do since he's the most arrogant man in America.
It doesn't take long for Ellie and Cannon to realize they've made a mess of things…even less time for their feelings for one another to change. But is it too late for them? More importantly, can the worst decision they've ever made actually become one of the best?
My take:~
Ever read a book that has style, substance, and is a lot of fun? If not, then be sure to pick up Amy Matayo's debut novel, The Wedding Game, which ticks every box when it comes to a contemporary romance novel. There's plenty of sass and sizzle between appealing characters, Cannon and Ellie, whose flaws get the better of them from time to time, making for an entertaining and authentic read. Incorporating the world of reality TV and romance, the plot is fast paced and modern, with plenty of light hearted and witty moments interspersed with more contemplative and thought provoking passages. I was thoroughly charmed by Amy's prose and unique take on the marriage of convenience theme and I'll be lining up for the next book from this talented writer.
With thanks to the author for my review copy
Relz Reviewz Extras
Visit Amy's website and blog
Buy The Wedding Game from Amazon