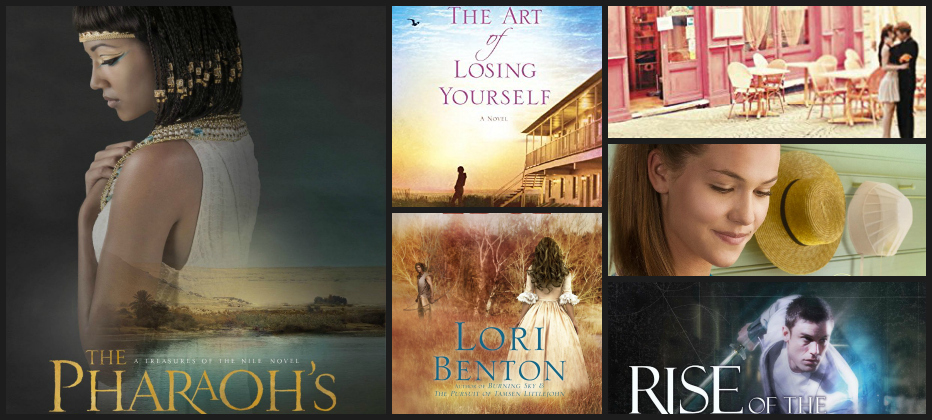 I promised a new cover art post on twitter, a week or so ago. Here she is!!
Cannot say enough about the beautifully unique cover for Mesu's latest Biblical novel – adore it. Mesu is a wonderful writer, too, so I'm very much looking forward to reading The Pharaoh's Daughter. I've previously previewed Lori's cover – another book I can't wait to read.
Katie's cover is serene, and thematically it is similar to her previous release, but it doesn't grab me as much. Likewise with Hillary's. However, these girls can WRITE so I'm very excited to read their new stories.
Waterbrook don't publish as many novels as the other big name Christian publishers but rest assured, they are always quality reads.
Would love your thoughts on these one, dear readers!
********
Rise of the Fallen: Wars of the Realm, Book 2 by Chuck Black 
Validus, the last angel God created, struggles with finding purpose as one of Elohim's heavenly host. He watches the first generation of angel warriors sent to earth attempt to protect mankind from the onslaught of evil attacks by Lucifer's demons, the Fallen. The collapse of mankind into total depravity leaves Validus with many questions, especially when God reveals his plan to destroy the earth and all living creatures on it.
After the Purging, Validus is chosen as a second generation earth-bound angel warrior and must quickly learn the ways of war if he is to survive and protect the righteous line of Seth from being destroyed so that The Plan can be implemented.
February, 2015
The Pharaoh's Daughter: A Treasures of the Nile Novel by Mesu Andrews 
Scarred by memories of her mother's death during childbirth, Anippe is terrified to give her Ramessid captain husband Sebak the son he wants.
When the Pharaoh orders Hebrew males murdered at birth, Anippe rescues a newborn from the Nile, believing the gods have answered her prayers for a son. But are the gods smiling or taunting?
Could her handsome boy rule Egypt one day—or will Anippe's deceptions result in tragedy for her family and the all of the enslaved Hebrews?
March, 2015
When Grace Sings: A Novel (The Zimmerman Restoration Trilogy) by Kim Vogel Sawyer 
Fans of Amish and Mennonite fiction will love this modern story of searching for identity set against a backdrop of deep tradition and a trusted faith community.
As two women work and pray for security and happiness, long-held family secrets begin to threaten their futures until God's grace redeems the truth.
March, 2015
The Wood's Edge: A Novel by Lori Benton 
On a hot August morning in 1757, as Fort William Henry surrendered to the French, British Major Reginald Aubrey committed an act that would unite two fathers, two families, two cultures, in seemingly unbreakable chains of grief, and decades of guilt.
But even in such barren soil, God's redemption and the vines of love still take root.
April, 2015
The Art of Losing Yourself: A Novel by Katie Ganshert
Carmen Hart hides her empty faith and empty marriage while playing mother to her troubled younger sister and renovating a motel that's been in the family for years.
As Carmen breathes life into the rundown building, will God breathe life into her, knitting together the dry bones and bringing Carmen to the fullness He plans for her?
April, 2015
Reservations for Two: A Novel of Fresh Flavors and New Horizons (Two Blue Doors) by Hillary Manton Lodge 
For a few weeks, Juliette D'Alisa and her boyfriend Neil get to spend every waking moment together as they travel through postcard-perfect locations in France and Italy. But when it's time to return to the states, it's also time for Juliette to figure out her new life as the manager of the Two Blue Doors restaurant, and how Neil is going to fit into her crazy world.
As Juliette reads the letters she discovered at the family chateau, she finds she has just as many questions as answers about her Grand-mère's past.
April, 2015