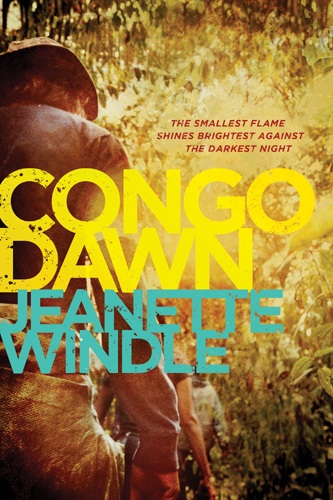 Synopsis:~
While former Marine lieutenant Robin Duncan is no stranger to corruption or conspiracy, she has always been able to tell the good guys from the bad, and the Congo jungle at first seems no different. But as her security team tries to track down an insurgent killer, Robin has to face a man who broke her trust years ago, and she discovers the gray areas extend farther in this jungle wilderness than she anticipated.
A ruthless global conspiracy begins to surface, run by powerful men who can't afford to leave any witnesses. Her life at stake, Robin doesn't know who to trust and wonders how she can help protect innocent people. Why is God silent amid all the pain and injustice? And how do these people of faith continue to rejoice in their suffering?
My take:~
Congo Dawn is another captivating story by Jeanette Windle, set in the Congolese jungle amidst the corruption, turmoil, and human suffering that plagues many African nations and the humans that choose to exploit and those who are dedicated to serve. With her usual skill, Jeanette creates characters that reflect all that is good and evil in today's world while acknowledging the gray areas that plague aid workers the world over. Robin's battle for respect among soldiers and her journey towards faith is intriguing and makes for a unique tale. Michael's childhood as a missionary kid in the Congo gives him a unique perspective that is challenging for Robin and the reader, too.  While overly wordy in parts with lengthy back story, this book is still a must read for anyone who enjoys a thrilling suspense novel. With a subtle romance, cultural insights, and the confronting realities of the Third World, Congo Dawn, is another great addition to my ever growing Windle collection.
With thanks to Tyndale House for my review copy
Relz Reviewz Extras
Character spotlight on Robin & Michael
Reviews of Veiled Freedom, Freedom's Stand and Betrayed
Character spotlight on Steve & Amy
Book Club Interview with Jeanette
Visit Jeanette's website and blog
Buy Congo Dawn at Amazon or Koorong