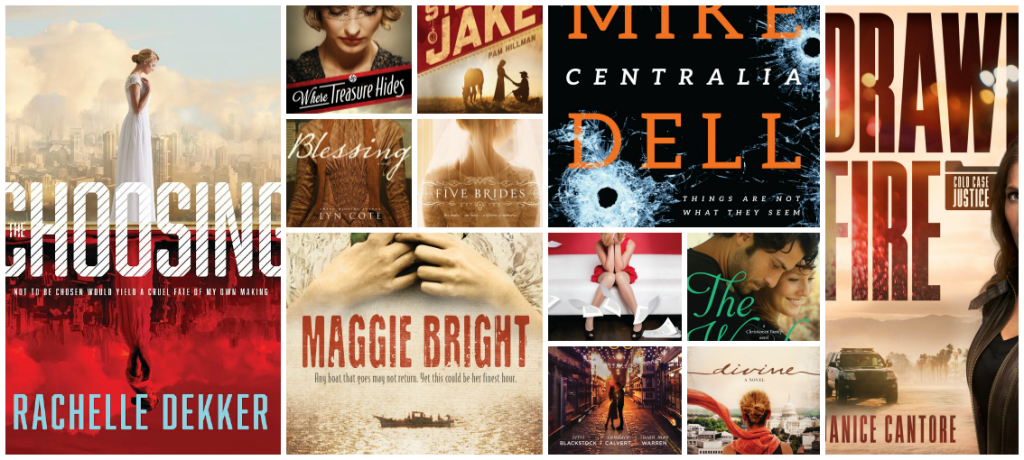 I'm delighted to share you will you Tyndale House's Summer, 2015 novels ~ I hopeful we are going to see some more unique books from Christian publishing in 2015 and Tyndale stories are a good place to start!
I'm intrigued by a number of these stories and loving the covers of many, too. Here's my thoughts – be sure to share your impressions in the comments below.
Firstly the stunning cover of The Choosing. Don't you just love it? Thanks to debut author, Rachelle Dekker (yes, there's a reason you recognise her name!), and Tyndale House, we have an exclusive message from Rachelle
So fun – thanks, Rachelle. I'm truly looking forward to this story and love that is filling a bit of a genre gap for CBA fiction.
I'm looking forward to reading Candace's novella in Chance of Loving You – I've already read Terri's and Susan's novellas, in previous formats, and they are both sweet stories. The cover…hmm…well you know I'm a fan of a fresh, clean look so the lights make this one a little fussy for me, I'm sorry to say.
Janice's is very striking and much more appealing to me than her previous series' covers. I'm not always a fan of the close up model shot but this one works for me. With many romantic suspense novels I've read of late, with the exception of Ronie Kendig, I'm finding them all a bit too much of the same, so I'm hoping Janice's is a little more out of the box.
Tracy Groot is one of the best writers in the business and as a history buff, I love the uniqueness of the story line. I'm undecided on the cover and I'm not quite sure why. Maybe it is the sameness of the colour from her blouse to the sea. I like it, just not sure I love it.
Eva's is the same colour wise but I love the simplicity and adore her name with the scrolling in the top right hand corner – different, don't you think?
Mike Dellosso's is unique and reflective of his genre. Quite taken with his name being the focus but it makes it a little hard to find the title – LOL!
Susie May's continues to follow the Christiansen theme which is a must. I love the natural beauty of both models and I'm sure they just gave him the scruff for my friend, Deborah, who commented on twitter about not enough men with facial hair on covers only the other day – LOL! (Waving to you, Deborah xo)
I don't like the Quaker look so Lyn's cover doesn't appeal much to me but I imagine it is very authentic to the time period which I respect. Karen's Divine has a new look – love the city skyline and the remaining three covers are reflective of their original digital only covers, all striking so I'm glad they retained them for the paperback copies.
Phew! Over to you – would love to interact with you on these covers. Do you know the publishers take note of your thoughts here? Yes, they do, so it's your opportunity to let them know what you think. Oh, and you'll see I've formatted this post differently, allowing a greater focus on the covers – I'd love your thoughts on whether you prefer it this way.
Thanks, dear readers
The Choosing by Rachelle Dekker

Like all citizens since the Ruining, Carrington Hale knows the importance of this day. But she never expected the moment she's spent a lifetime preparing for—her Choosing Ceremony—to end in disaster. Ripped from her family, she'll spend her days serving as a Lint, the lowest level of society. She knows it's her duty to follow the true way of the Authority.
But as Carrington begins this nightmare, rumors of rebellion rattle her beliefs. Though the whispers contradict everything she's been told, they resonate deep within.
Then Carrington is offered an unprecedented chance at the life she's always dreamed of, yet she can't shake the feeling that it may be an illusion. With a killer targeting Lints and corruption threatening the highest levels of the Authority, Carrington must uncover the truth before it destroys her.
May 19th 2015
Now for the rest of the covers!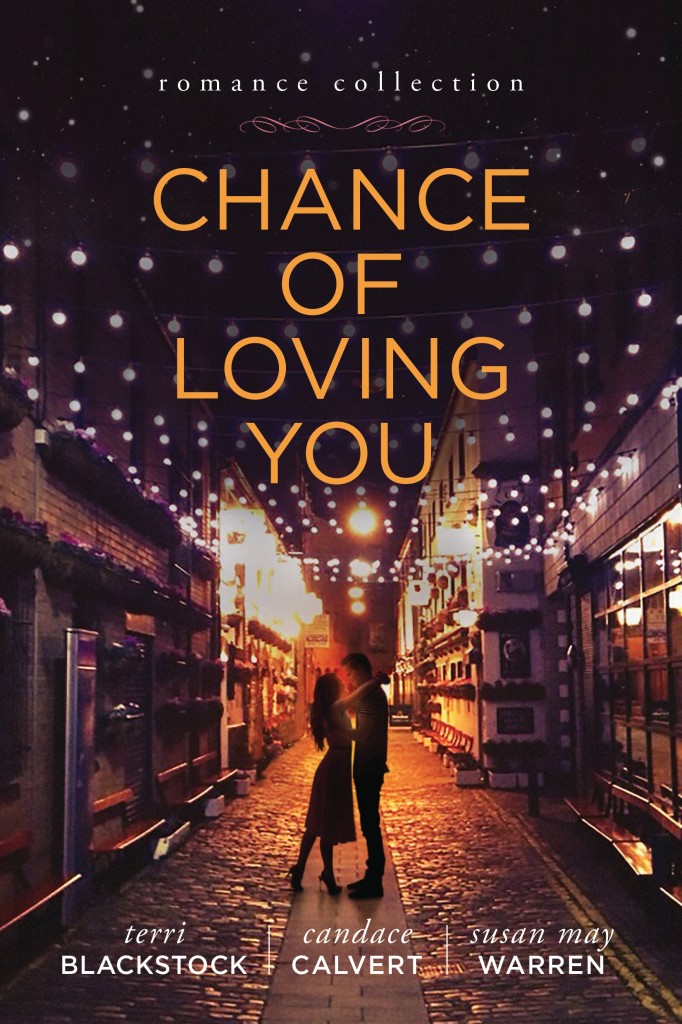 Chance of Loving You by Terri Blackstock, Candace Calvert, and Susan May Warren
An anthology by three bestselling romance authors
For Love of Money by Terri Blackstock
Trying to launch her own design firm while waitressing on the side, Julie Sheffield was drawn to the kind man she waited on at the restaurant last night . . . until he stiffed her on the tip by leaving her half of a sweepstakes ticket.
The Recipe by Candace Calvert
Hospital dietary assistant Aimee Curran is determined to win the Vegan Valentine Bake-Off to prove she's finally found her calling. But while caring for one of her patients—the elderly grandmother of a handsome CSI photographer—Aimee begins to question where she belongs.
Hook, Line & Sinker by Susan May Warren
Grad student Abigail Cushman has agreed to enter the annual Deep Haven fishing contest. She's a quick learner, even if she doesn't know the difference between a bass and a trout. But nothing could prepare her for competing against the handsome charmer she's tried to forget since grief tore them apart.
One chance for each woman to change her life…but will love be the real prize?
May 2015
Drawing Fire by Janice Cantore
One case from her past defines homicide detective Abby Hart.
With a possible serial killer stalking elderly women in Long Beach, California, Abby's best lead is Luke Murphy, an irritating private investigator who saw a suspect flee the scene of the latest homicide. When Abby discovers that the most recent victim is related to the governor, she's anxious to talk to him about a cold case that's personal to her, one Luke is interested in as well.
As she learns more about the restaurant fire that took her parents' lives years ago, Abby discovers why Luke is so invested in finding the ones responsible. The more they uncover, though, the more questions they have. Can Abby find peace without having all the answers?
May 2015
England, 1940. Clare Childs knew life would change when she unexpectedly inherited the Maggie Bright—a noble fifty-two-foot yacht. In fact, she's counting on it. But the boat harbors secrets. When a stranger arrives, searching for documents hidden onboard, Clare is pulled into a Scotland Yard investigation that could shed light on Hitler's darkest schemes and prompt America to action.
Across the Channel, Hitler's Blitzkrieg has the entire British army in retreat with little hope for rescue at the shallow beaches of Dunkirk. With time running out, Churchill recruits civilian watercraft to help. Hitler is attacking from land, air, and sea, and any boat that goes might not return. Yet Clare knows Maggie Bright must answer the call—piloted by an American who has refused to join the war effort until now and a detective with a very personal motive for exposing the truth.
The fate of the war hinges on this rescue. While two men join the desperate fight, a nation prays for a miracle.
May 2015
Five Brides by Eva Marie Everson
One dress, five women, a lifetime of memories.
Five single, fiercely independent women live together in a Chicago apartment in the early 1950s but rarely see one another. One Saturday afternoon, as they are serendipitously together downtown, they spy a wedding dress in a storefront window at the famous Carson, Pirie, Scott & Co. After trying it on—much to the dismay of the salesclerk and without a single boyfriend or date between the five of them—they decide to pool their money to purchase it.
Can one dress forever connect five women who live together only a short time before taking their own journeys to love and whatever comes happily ever after?
June 2015
Peter Ryan wakes up on a typical morning only to find his house empty, his wife and daughter nowhere to be found. His world is shattered after a phone call to a friend confirms the impossible: his wife and daughter died in a car accident he does not remember. Haunted by faint memories and flashes of details, Peter becomes convinced that something isn't right and begins to question reality. When he discovers a note in his daughter's handwriting, strange memories begin to surface that cause him to second-guess nearly everything he once believed. Suddenly armed men show up at Peter's home, turning the mysterious puzzle of his past into a dangerous game of cat and mouse.
On the run and unsure whom to trust, Peter has to discover what's real and what isn't . . . before he loses everything.
June 2015
The Wonder of You by Susan May Warren

Mortified after her semester abroad is cut short, Amelia Christiansen returns to Deep Haven, certain she isn't brave enough for the adventures she's dreamed of. The last thing she expects is for the man who broke her heart to cross the Atlantic and beg forgiveness.
Heir to a European hotel dynasty, Roark St. John has trekked from one exotic locale to another, haunted by tragedy and the expectations that accompany his last name. Amelia is the first woman to give him a reason to stop running. He'll do anything for a second chance—even contend with Amelia's old flame, who is intent on sending Roark packing.
While one surprise after another leaves Amelia reeling, Roark's continued presence only highlights the questions pursuing her. Like him, is she running from the life God has called her to? Could finding her new place mean leaving home behind?
July 2015
An impetuous love swept Blessing Brightman away from the Quaker community, into the highest ranks of Cincinnati society. But behind the glitter of ballroom and parlor, her spirit slowly eroded in an increasingly dangerous marriage. Widowed young, determined never to lose her independence again, Blessing reclaimed her faith and vowed to use her influence to fight for women's rights and abolition.
Gerard Ramsay, scion of a wealthy Boston family, arrives in Cincinnati hoping to escape his father's clutches with a strategy that will gain him independence. His plan is soon complicated, however, by the enchanting widow. Never before has a woman spoken as if she's his equal—or challenged him to consider the lives of others.
In a city nearly ablaze with racial tensions quickly dividing the country, can two people worlds apart possibly find common ground?
July 2015
Divine by Karen Kingsbury (repackage)

Mary Madison is educated and redeemed, a powerful voice in Washington, DC. But she also has a past that shamed polite society. A survivor of unspeakable horror, Mary has battled paralyzing fear, faithlessness, addiction, and promiscuity. Yet even in her darkest valley, Mary was sustained from afar, prayed over by a grandmother who clung to the belief that God had special plans for Mary.
Now a divine power has set Mary free to bring life-changing hope and love to battered women living in the shadow of the nation's capital—women like Emma Johnson. A single mother fleeing an abusive relationship, Emma wonders whether there is hope for her and her young daughters. She is desperate, broken, and unloved . . . and tempted to commit the unthinkable. Then Mary introduces Emma to the greatest love of all, greater than any either of them has ever imagined.
With hallmark tenderness and power, Karen Kingsbury weaves a tapestry of life, loss, love, faith—and the miracle of resurrection.
August 2015
**Note from Tyndale: These three titles below were released as digital only previously. We were so encouraged by their reception in the market that we decided to release them as print and digital.
When Livy O'Brien spies a young boy jostling a man walking along the boardwalk, she recognizes the act for what it is. After all, she used to be known as Light-Fingered Livy. But that was before she put her past behind her and moved to the growing town of Chestnut, Illinois, where she's helping to run an orphanage. Now she'll do almost anything to protect the street kids like herself.
Sheriff's deputy Jake Russell had no idea what he was in for when he ran into Livy—literally while chasing down a pickpocket. With a rash of robberies and a growing number of street kids in town—as well as a loan on the family farm that needs to be paid off—Jake doesn't have time to pursue a girl. Still, he can't seem to get Livy out of his mind. He wants to get to know her better . . . but Livy isn't willing to trust any man, especially not a lawman.
August 2015
Where Treasure Hides by Johnnie Alexander

Artist Alison Schuyler spends her time working in her family's renowned art gallery, determined to avoid the curse that has followed the Schuyler clan from the Netherlands to America and back again. She's certain that true love will only lead to tragedy—that is, until a chance meeting at Waterloo station brings Ian Devlin into her life. Drawn to the bold and compassionate British Army captain, Alison begins to question her fear of love as World War II breaks out, separating the two and drawing each into their own battles.
While Ian fights for freedom on the battlefield, Alison works with the Dutch Underground to find a safe haven for Jewish children and priceless pieces of art alike. But safety is a luxury war does not allow. As time, war, and human will struggle to keep them apart, will Alison and Ian have the faith to fight for their love, or is it their fate to be separated forever?
August 2015
Mind of Her Own by Diana Brandmeyer
Who knew making dinner could change your life? Louisa Copeland certainly didn't. But when the George Foreman grill falls out of the pantry onto her head, resulting in a bump and a mighty case of amnesia, Louisa's life takes a turn for the unexpected. Who is this Collin fellow, claiming she is his wife? And whose kids are those? Her name can't be Louisa. Why, she is the renowned romance writer Jazz Sweet, not a Midwestern mom of three.
Struggling to put the pieces together of the life she's told she had, Louisa/Jazz may realize that some memories are better left alone.
August 2015