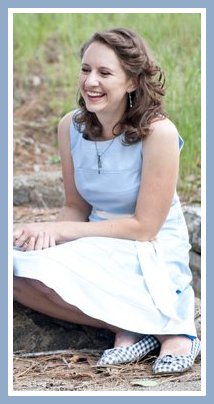 Discover the fabulously talented
Amanda Dykes
and her Christmas novella
Bespoke
********
A book character that sticks in my mind is… kind of a little-known character. Her name is Edith Adelon, from The Inheritance by Louisa May Alcott. Edith… I just love her. She's not a flashy heroine, but she's stronger than she appears. She's quite an unexpected one, actually—a "nobody" who is a companion to a wealthy family. But she loves them devotedly, and when she discovers something that could solve all her own problems—deep problems indeed—but that would hurt this family, she makes a heart-rending decision that has you as a reader crying out "nooooo!!!!" and applauding her noble, selfless, love-hewn choice all at the same time. And because of her decision, the happy ending packs that much more punch.
Edith is part of a troupe of literary characters that steal my heart every time—the quiet heroic ones. Samwise Gamgee. Beth March. Amy Dorritt. Arthur Clenham. Elinor Dashwood.  Laura Frantz's Eden. Francine Rivers' Hadassah. They're amazing to me, in so many ways.
The last book that made me cry was…This Quiet Sky  by Joanne Bischof. There's a scene in there involving a birthday party that just gripped my heart with all the undercurrents at play there. That girl can write in between the lines until the page positively breathes with a living tale!
The last book that made me laugh out loud was… (now, remember, I have small kids…) The Many Adventures of Winnie the Pooh. It absolutely took me by surprise, because I expected a fun tale to listen to with my kids, but was delivered with more dry and clever wit than I knew existed in this tale! While the Disney movie version is charming, it has nothing on the quick-witted wordsmithery of Milne's original book. Plus, the audio version is fully cast and read by a stellar crew, including Judi Dench and Jeeves  (technically Stephen Fry, but I shall forever think of him as Jeeves).
I'm completely immersed in their storytelling, whenever I read a book by…
Laura Frantz, Julie Klassen, Lawana Blackwell, Lori Benton, Cynthia Ruchti, and so many more. Reading their books is like finding a home in word form for my heart.
The first person who encouraged me to pursue my writing was… My parents always encouraged me (hi Mom and Dad!), and I had such great teachers, from elementary through high school, who encouraged me along the way. There was a small hiccup at one point when one teacher thought I should be a math teacher, but that all got ironed out. Numbers don't lie, after all, and the numbers told a very clear tale in my case: stay away! 😉
If I wasn't a writer, I would be… less sleep-deprived. Just kidding.
I write stories because…I think everyone has a language of their heart, and in many ways, I think my heart, and readers' hearts, understand things in story. It's a treasured, shared connection, and a form of worship to tell tales that – I hope—carry the heartbeat of our God in them, the best story of all.
Bespoke

A Secret. A Bicycle. A Promise…

While the elusive Secret Symphony of Giovanni St. John captivated the world's fascination, it left his daughter closed away in the Silent House – she, the one who holds the fullness of truth about the ninth symphony. Now Aria St. John is determined to not only break free of the loss that has defined her, but to honor her father through one final gift in his last days.

On the tiny Isle of Espoir, only one man can help in her quest: James Shaw, the village blacksmith… and the lost friend of her childhood. Will they be able to overcome the tragedy that separated them before it's too late?
My Christmas novella can be described by these 5 adjectives…
Secretive.
Redemptive.
Warm.
Beckoning.
Whimsical.
My main characters are…
Aria has some spunk, and has an idea that seems a tad bit crazy. But she's determined to see it carried out in order to see a tangible representation of redemption.
James is a bit of a brooder. But he's got a mischievous streak, too, which Aria knows better than anyone. He's honourable but weighed down by remorse for something long in the past.
And then there is the formidable Giovanni St. John. He's a puzzle, that one. He's a collision of control and exceeding talent and an unexpected thread of tenderness mined by his high-intensity life.
My main characters resemble… Aria visually reminds me of Jodhi May in her role in Daniel Deronda. You can see a few clips of her in this role, and the story world in general, on the Bespoke Pinterest board: http://www.pinterest.com/joyintherain/bespoke-secret/
James could be represented by a scruffy, earlier Jude Law (also on the Pinterest board). Plus, bonus, he's got the right accent! And so does Jodhi May, come to think of it.
My story's spiritual theme is… one of beauty for ashes (Isaiah 61:3—"… to bestow on them a crown of beauty instead of ashes, the oil of joy instead of mourning, and a garment of praise instead of a spirit of despair.")
Bespoke came about because… Last year, it was such fun teaming up with readers to compose a short Christmas story as a thank you gift to my newsletter subscribers. Readers were so kind to contribute their own Christmas memories, traditions, etc., and I had such fun weaving little nods and hints at those reader memories into the fabric of the story.
The process is a long one, so when I started thinking last spring about what to do for this Christmas, and praying over it, a crazy idea sparked. While it was fun to do last year's as an exclusive to newsletter subscribers, what if this year we approached it differently? As a community, pulling together to make something tangible happen all the way across the world?
I saw that Gospel for Asia has, in their gift catalogue for their ministries, the option to purchase bicycles for their native missionaries. They have done such an incredible job showing what these bicycles are used for, what their passion and purpose is as a ministry, and their love for the people they serve is so present in everything they do. So, I chose a bicycle to try to fund, decided to write a bicycle story, and started gathering readers' ideas, memories, etc. to weave in where I could in the tale.
That's how "the Bicycle thing" was born. People seem to be calling it that, which is fun.
Tell us more about the Bespoke ministry…
It's just what the subtitle reads (A Tiny Christmas Tale)—a little novelette, which can be obtained by donating any amount—a penny, a dollar, five… to the Bespoke Gospel for Asia campaign.
Every single cent goes directly toward providing bicycles to missionaries in Asia. I thought I might be crazy when all of this started, but God's been so faithful to provide just the courage needed, at just the right moments along the way. There's been a treasured prayer team praying all along who are positively treasured, and people have done far more than I ever dared to dream.
I started out with a prayer that went something like "Please, Lord… maybe… if it's possible… could we send one bicycle?" But oh, how mighty He is. He would have been mighty no matter what. But he chose to show me how far-reaching his vision can be: as of this writing, we have fully funded nine bicycles—and we have a full month and a half ahead of us, yet!
Now we get the honor of praying for those whose hands, gripped so faithfully in prayer each day, will now also grip the handles of these bikes.
All the information, including how/where to donate, is located at www.AmandaDykes.com/Bespoke.
My hope for this book is… besides using a story about a fictional bicycle to send real-life bicycles in order to touch hearts across the world, my hope for the story is for the readers to find a safe corner of refuge and warmth in the words of this story. A place to mend broken dreams, to venture with Aria and James as they see what hope and healing can rise out of long-cold ashes… and to be sprinkled with a luminous fall of Christmas whimsy, too.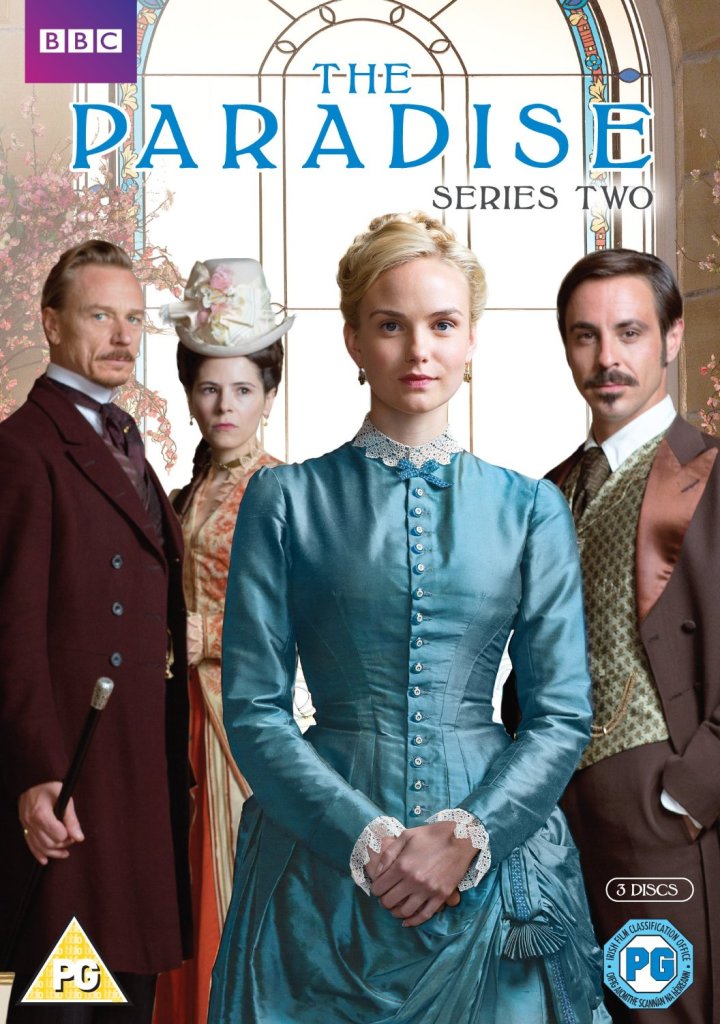 The most recent movie or tv show I loved was… The Paradise (season 1). I adored it!
Why?  Smart heroine, great period drama, village-type setting in England, and such an engaging premise. I've already watched it twice through! Oh, and I had been going through Lark Rise to Candleford withdrawals for years, so it was nice to see some familiar faces show up there.
The story I'm currently working on is… book 2 in a series. It's so much fun— a supporting character from book 1 is the heroine of book 2, and she's taking me all over creation, from ruins to chalets to boats and mountainsides and undercover schemes that take her utterly out of her element. She has a dry wit, a determination to be reckoned with, and a tender streak she's too stubborn to acknowledge.
You may not know this about me, but I… am a walking anomaly. I have been married ten years but we never had a first date, and I have two kids but have never given birth. It's kind of fun to step back and take a look at these beautiful circumstances. God loves to be creative in the way he does things, and I'm so glad.
I might go all fan girl if I met…YOU, Rel! Oh, my, Amanda ~ we'd both be a little giddy then!
If I could travel back in time, I'd go to… well, because Bespoke is freshly written, my heart is full of the island I based the Isle of Espoir on. It's called Sark, and it has a fascinating history—and is more lovely than anything! I would go back to the late 1800's there, but the truth is, I would go there in a heartbeat today. Even now, there are no cars, no streetlamps on the island, and it is so much like stepping back in time. The quaint streets are travelled by horse-drawn wagons and bicycles, and the village is peppered with stone houses and lovely hotels… *sigh* … who wants to come?
I get lost in the music when I listen to… musical scores of films. Favorite instrumental scores include Miss Potter, Finding Neverland, Emma (Romola Garai version), How to Train Your Dragon, The Village, Little Women, some of the score from Lost, Sense and Sensibility (Emma Thompson version)… and the list goes on!
A long held dream of mine is… to see the Northern Lights. And until that day comes, I have discovered a live web cam where I can watch them right from my couch!
Thank you, sweet Amanda!
Thank you for having me, wonderful Rel! 
Relz Reviewz Extras
Review of Bespoke
Learn more about the Bespoke project
Visit Amanda's website and blog
How do I receive a copy of Bespoke?