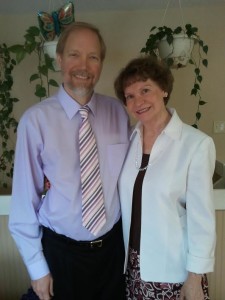 Discover more about writing duo
David & Beverly Lewis
and their Amish novel
Child of Mine
Bethany House
*********
A favourite childhood book?
Dave:  Alfred Hitchcock's The Three Investigators.
Beverly: The Yearling, by Marjorie Rawlings.
Do you remember the title of the first story you ever wrote? What was it about?
Dave: My first was Sanctuary with my wife and co-author, Beverly Lewis.
Beverly: "She Shall Have Music," written in pencil on yellow-lined paper, while I was in sixth grade. It turned out to be 77 pages long.
If you weren't a writer, what career would you/did you/do you have pursued?
Dave: I was a music instructor for years, offering classes in piano performance, composition and theory in our home-based studio. Since that time, I've been Beverly's first editor, research assistant, her co-author, and a real estate investor. Oh, and a pilot.  
Beverly: I taught in the public schools prior to adopting our three children: general vocal music for K-6, and 5th grade English and creative writing, as well as teaching music students in our duo-studios, including piano, voice, violin, theory, and composition.
Why do you write stories?
Beverly: Since my early childhood, I have been crazy-passionate about books—reading and writing. I sometimes think I write to make sense of life in general. I also feel called to tell stories that lift one's spirit and nudges readers toward making a difference in the world.
Child of Mine
Flight instructor Jack Livingston has been raising his eight-year-old adopted niece, Natalie, since the accident that took her parents' lives. When he travels, Natalie is tenderly cared for by her Amish nanny, Laura Mast, who loves the little girl as her own.
 
Eight excruciating years ago, Kelly Maines's baby was kidnapped. Determined to find her child, Kelly has tirelessly pursued every lead to its bitter end. And now, with the clock ticking, one last clue from a private investigator ignites a tiny flame of hope: Just a few miles away lives a young girl who matches the profile. 
 
Can this be, at long last, Kelly's beloved daughter?
Describe your novel in 5 adjectives

Dave:  Unexpected twists, heart-warming, entertaining, faith-inspiring, and compelling.
Please share a little about one of your main characters
Beverly: Kelly Maines is any loving, caring mother. She is tenacious, refusing to give up her desperate search for her baby girl. Kelly is beautiful inside and out, loves life, determined against all odds, with God's help. She's impulsive at times, vulnerable, expressive, and fearless. And not afraid to take flying lessons!  
What spiritual theme or question does your story deal with?
Dave: The challenge of maintaining one's faith under difficult, if not impossible, circumstances.
Share a recent movie or tv show that you have loved, and why?
Dave:  I enjoy the kind of films our young character Nattie loves: Frozen, Tangled, How to Train Your Dragon. My personal favourite: Lincoln. One of our family favourites:  We Bought A  Zoo.  Also, Bev and I particularly enjoy the TV mini-series, Downton Abbey.
Beverly: Dave and I watched each episode of Hallmark's mini-series: When Calls the Heart. We're rather taken with my own movie, "Saving Sarah Cain," by the same director and producer as WCTH movie and mini-series. Honestly, we're not big TV viewers; we tend to have our collective noses in books—either our own, or other authors'.  
What novel are you working on now?
Dave: I'm outlining another book, possibly a solo novel, and assisting Bev with research for her Spring 2015 novel, THE LOVE LETTERS.
Beverly: Presently, I'm doing the final tweaks for my stand-alone novel, THE RIVER, releasing Sept. 2, 2014, and writing the first draft for THE LOVE LETTERS, which debuts in March 2015.
Thanks David & Beverly ~ how lovely for you both to join us!
Relz Reviewz Extras
Interview with Beverly
Visit Beverly's website and blog
Buy from Amazon: Child of Mine or Koorong