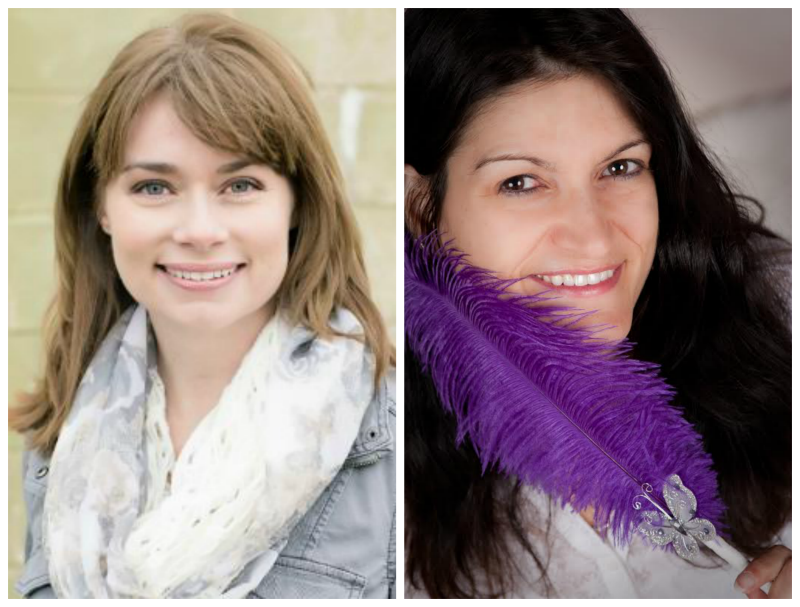 Discover more about
Rene Gutteridge & Cheryl McKay
and their contemporary romance
Love's a Stage
Redbud Press
*******
The last book that made me cry was…
Rene: Age of Miracles by Karen Thompson Walker.
The first person who encouraged me to pursue my writing was…
Rene: my art teacher in high school. I let him read my stuff one day and he encouraged me that I was good. I don't think I would've studied it in college without that prompt.  My typing teacher also encouraged me.  She asked me how I learned to type so fast, so I told her I wrote a lot of stories. She asked to read them and encouraged me that I had a talent. My parents were the first ones to buy me a computer, one of those old Apple computers. That's where I began writing, in my room, on that old computer.
**
If I wasn't a writer, I would be…
Rene: I'd go into some sort of law enforcement, or perhaps be a D.A. I have a very strong sense of justice. I get to work that sense out in my books, luckily.
**
I write stories because…
Cheryl: I believe stories have the power to help people, to change and move hearts, and inspire, and of course entertain. Inspiring others is the number one reason I write stories. But in addition to that, I also find writing stories to be redemptive. I enjoy turning something I've been through into a drama or even a comedy that others may relate to.
**
Rene: I write stories because I want things to be set right in the world, even if for a moment, between the covers of a book.
Love's a Stage

Grad student and future marriage counselor Aly Brewster had a perfect childhood with perfect parents. Now she's heading into her own perfect life: Finish her Master's. Build a successful practice. Husband at twenty-six. But when her parents blindside her with the news they're getting divorced, her perfect world shatters.

Actor Nick Armstrong has been in love with Aly since they met during freshman year. He's happy to accept his assigned place in her Friend Zone because it lets him be close to her. But it's been over five years—time to move on. Then the usually-unflappable Aly comes to him begging for help to save her parents' marriage. Nick has the perfect plan: fake an engagement to each other to inspire her parents to fight to save their marriage. And who knows? It might trigger Aly's feelings for him. But when Aly takes the ruse to the next level—planning a wedding in her parents' backyard and hiring additional actors to play his family—enough is enough!

As the lines between acting and reality grow decidedly blurred, these two improvised fiancés must decide: are they going to finish the play…or exit stage right. Alone.
My latest novel can be described by these 5 adjectives…
Cheryl: Romantic, hopefully humorous, heart-felt, inspiring, and a little silly at times. (You know our characters always have to be up to some antics.)
**
Our main character is… 
Aly Brewster, 24, is an idealist when it comes to love. She cares about history and roots, and wants to be faithful to her future husband—even though she has no idea who that is just yet. She's passionate about vows, marriage, and commitment, which has driven her to follow in her dad's footsteps to become a marriage and family therapist. Currently, she's a grad student. She's willing to do anything to save her parents' marriage. And we mean anything. She's also comically obsessed with statistics about love and wants to follow every rule to make sure she has the best chance at a lasting love and marriage.
**
The spiritual theme of Love's a Stage is…
How important it is to keep our vows, to keep marriage sacred, and to not give up on it. It's about learning to take a chance on love, even in the face of fear and risk.
**
The most recent movie or tv show I loved was… 
Rene: I can't get enough of Madam Secretary. The character is fabulous, and I'm completely drawn into what it would be like to be Secretary of State. Tea Leoni is fabulous, as she always is, but the characters around her do a good job of making me believe it's all really happening.  Any time another character walks into the room, I sit up straight because I know something interesting is going to happen, whether the character is the president or her daughter.
**
The story we're currently working on is…
O Little Town of Bethany, a sweet, funny, boy-next-door novella that will be coming out with Redbud Press.  It all takes place in the kind of town you want to run away to.
**
I might go all fan girl if I met…
Rene: Tommy Lee Jones. I'd be afraid to meet him in person because he seems a little grumpy, but nearby, I'd be hiding behind someone, flapping my hands and whisper screaming.
**
If I could go back in time, I'd travel to…
Cheryl: the 1950s and see my parents as teenagers. I'd wear a poodle skirt and try to do all the dances they did back then, and listen to all of their music. And of course, share a milkshake with my favourite beau.  I did so much research on the 1950s to write my novel, Song of Springhill, and now I'm completely obsessed with it.
**
A long held dream of mine is…
Cheryl: to see Never the Bride made into a film. That's the first novel Rene and I officially worked on together after we met because she'd novelized my film, The Ultimate Gift.  Plus, I want Rene to show up on set and be an extra!
Thanks so much, ladies!
Relz Reviewz Extras
Interview with Cheryl
Book Club interview with Rene
Get to know Cheryl
Review of Never the Bride
Character spotlight on Jessie Stone
Visit Cheryl's website and Rene's website
Buy at Amazon: Love's a Stage