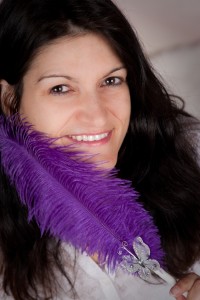 Relz Reviewz is all about fiction but very occasionally there is a non-fiction book that I want to share with my readers.  Cheryl McKay's Finally the Bride: Finding Hope While Waiting is one of them! 
Cheryl wrote a screenplay which she then turned into a novel, Never the Bride, with Rene Gutteridge.  Her latest book is her own story of Never the Bride becoming Finally the Bride!
What appeals to you most about writing?
For me, writing can redeem anything difficult or painful I've been through, because I can then share about it help others. This can be in fictional or non-fictional form. (I've written various versions of aspects of my life story in about 5-6 scripts.) I so enjoy living in the world of characters, finding their voices, and just playing with them.
Name five things you can't live without
Am I allowed to say cheese and chocolate? Okay, seriously. My favorite things in life include God, Jesus and my faith, my husband, my family, writing, and my computer with an Internet connection. (How did we ever live without it?) But I'm also quite fond of love, communication, food, water, health, and Chapstick. Yes, I'm royally addicted to Chapstick. Honestly, I can't pick just five.
Favourite book ~ Favourite movie ~ Favourite TV show
Book: Dialogue with God by Mark & Patti Virkler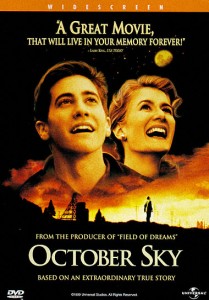 Movie: October Sky
TV Show: Psych (currently), and in the past, any 80s sitcom.
Where is the most interesting place you have been?
When we were moving my husband cross-country from North Carolina to California, we did this whole "Route 66" style tour, taking the 40. (Because yes, in California, it's called THE 40.) The whole trip was so fascinating because every place we stopped was different. We took our time, 11 days, to make the move. We stopped in places like Nashville and Memphis, to go to Graceland. I didn't know Little Rock Arkansas was so adorable or that Williams, AZ and all it's 50s and Route 66 stuff would fascinate me so much (not to mention our jet up to the Grand Canyon, which is quite a "wow.") We went to a Route 66 Museum in Oklahoma where we took the craziest pictures. It was like a movie set or back lot. (We love to act out goofy scenes for the camera.) We loved Santa Fe, NM, and enjoyed a visit to the site where the Oklahoma City bombing was. Rene Gutteridge (co-author on Never the Bride) and her family were our tour guides. She was in the city the day of the bombing, so it was neat to hear from that perspective.
What did you want to be when you grew up?
My initial desire was to be an actress. But I was writing plays to act in when I was five years old (you know, based on lunch box pictures and such). So, I think subconsciously I knew what I'd be doing before I really knew it. You know, a novel written by a seven-year-old has to be riveting, right? Because I wrote it, hand-written, in what's called a "Next to Nothing Book." I went to college for acting, only to get kicked out of a BFA acting program for lack of true talent. My teachers, rightfully, suggested I switch sides of the camera. I knew then God was redirecting me to writing. And no one I went to Junior High or High School with is at all surprised I do what I do. I used to steal my classmates out of class to practice these plays I'd written in the stairwell. (Yes, I was allowed to do this! You don't want to be in 10th grade French class? Go hang out with Cheryl in the stairwell and act out her latest mystery play.)
What are two things people might be surprised to know about you?
I'm an avid scrapbooker and insatiably addicted to colored Post-Its when I'm writing.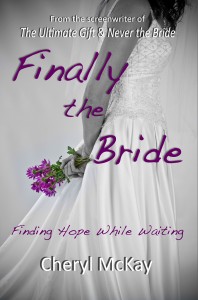 Finally the Bride: Finding Hope While Waiting
What inspired you to write this book?
I felt strongly led by God that, while I was single and in my late thirties that I needed to write this book. He wanted me to write it from a place of pain and understanding of what this journey can be like, when you have to wait a long time to find love. It's written in "real-time" with regard to personal stories, and includes practical tips for what to do with your life while "waiting." I had this funny idea that once I finished writing down all I felt led to write, that God would suddenly allow love to walk into my life. I wrote that book so fast, very motivated, thinking He'd move quicker if I did! Yeah, well, clearly, it was my own heart's desires because the book sat on a shelf for an entire year without so much as a peek at it once I finished the first draft, other than its ending. When I picked it back up, it was during yet another heartbreak and disappointment with this area of life, rather than coming back to share a happy ending. My plans and God's don't always match. God encouraged me to be vulnerable and share about that heartbreak while it was still going on.
What was more challenging to write ~ your fictional tale Never the Bride or Finally the Bride?
Definitely the non-fiction version was more challenging. The fictional one was so fun, when I was writing the script version first, before we sold it as a novel. That script poured out of me in about 9 days. I didn't want to write the non-fiction one, at first, since I thought it was God's way of keeping me single longer. So personally, I was experiencing more "guy angst" during the seasons I wrote the non-fiction version, too, which gets told in Finally the Bride. So in general it was just a more painful season of life. But I tried to use Jessie's sassy tone and make it comical throughout. And I share some very personal journal entries. At least in fiction, you can hide behind a character and people don't always know what's true and what isn't. There's no mistaking how personal I get with Finally the Bride.
Please share a little of your happily ever after
The neat thing was I had a promise to hold onto, that God planned marriage for me (that was given to me in prayer sessions in 1994 and 2003). But it took a long time for God to deliver on that promise. (I always related to Abraham and Sarah.) I share a lot about those promises in the book, how I got them. It was a long faith walk. It was neat to compare notes with my husband to find out how much God was doing the same things in his life to prepare him for me, as God was doing in my life to prepare me for him. We met in the 90s, but lost touch when I moved to California. So God had some specific orchestrating to do, to get us back together. The way God spoke to my husband in advance was astoundingly similar. And he gets to share his story in his own chapter at the end of Finally the Bride. I don't want to give away too much here. But I will say what I went through in the year leading up to marriage, was astoundingly similar to what happened to Jessie in Never the Bride, almost like I was led to write my own life story before it happened. God knew who and what timing was best for me, even if I didn't always know it.
You began writing this story before you met your now husband ~ he has written the final chapter ~ how did you plan to end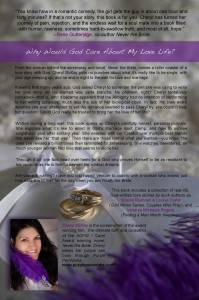 the book otherwise?
At one point, I thought the end might be Chapter 12, about allowing ourselves to be romanced by God, the Creator of Romance. I thought maybe the symbolic ending of my title would simply be landing on being "Finally the Bride of Christ." I even joked about that in Chapter One, asking the question if my title would have a dual meaning by the time I finished the book: a regular bride and the bride of Christ. I had no idea when I started in 2008, how I would end the book in 2012 (or that it would take that long to finish).
When I finished up through Chapter 12 initially, I wasn't ready to release it and we weren't sure of the way to market it yet. We all felt like it would be a stronger book release later, maybe when we were working on the film version of Never the Bride. But then as I went through some additional challenges in the love area of life, I realized the book was nowhere near done. I felt compelled to write about the challenges because I see so many women experience the same things. The next chapter wasn't the ending. It was the beginning of that brand new trial. Readers can go through that year in real time, through those final few chapters until I gratefully got to land on my God-written love story. Some people say it reads like a suspense novel. Unless you know me and my husband's name (or read interviews like this), you don't know how it turns out. You're on the roller coaster with me. I had no idea when I started writing the book it would turn out that way.
Please share a favourite paragraph
This comes from a chapter where I pose the theory that God cares about our love lives and would get involved if we'd let Him.
Did you know that God wants to write our love stories for us? Have you heard of this concept? Isn't that a bold statement coming from the woman He clearly hasn't done it for yet? If He had, you can bet I would have lost interest in writing this book! I would have moved on to other topics: marriage, maybe even motherhood. I guess this is where faith steps in, faith in the midst of no tangible evidence (Hebrews 11:1). I know what you're thinking: Doesn't God have better things to do like solving world hunger, the ozone problem, peace, and scads of issues the other seven billion people on this planet face? Yes, but that's where His omniscience (all-knowingness) and omnipresence (being everywhere) comes in handy. God actually can assist me with my love life while helping a third world country.
What do you hope readers take away from this book?
If anyone has been waiting a long time, I desire for readers to find hope in my story. They'll hear from someone who gets it, who's been there (and was there for 39 years of my life.) And if anyone's ever been waiting a long time for God to bring a promise to pass, I think my story can encourage them. God does, indeed, fulfill every promise He makes, even if it takes a while. I hope it's a journey of faith that inspires people.
What's next in your writing pipeline?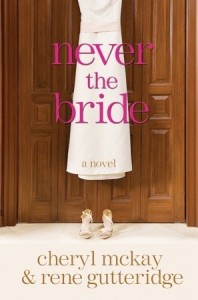 Rene Gutteridge and I are working on another novelization, of my script, Greetings from the Flipside, for B&H Publishing. It's another romantic comedy.
I wrote The Ultimate Life, the sequel to my film, The Ultimate Gift. I hope they can shoot soon. We're fund raising to shoot the movie version of Never the Bride.
And in about six months, I will be releasing Finally Fearless: Journey from Panic to Peace, my original autobiography, that's meant to help people who have problems with fear, panic and anxiety.
People are welcome to keep up with me at:
http://www.purplepenworks.com/
http://amazon.com/author/cherylmckay
http://www.imdb.me/cherylmckay
And my twitter is: @purplepenworks
On Facebook I have a page under Purple PenWorks that people can like. And Rene Gutteridge & I also have a joint author page for our novelizations.
Relz Reviewz Extras
Review of Never the Bride
Character spotlight on Jessie Stone
Interview with Cheryl
Interview with Rene
Visit Cheryl's website
Buy Finally the Bride at Amazon or Koorong