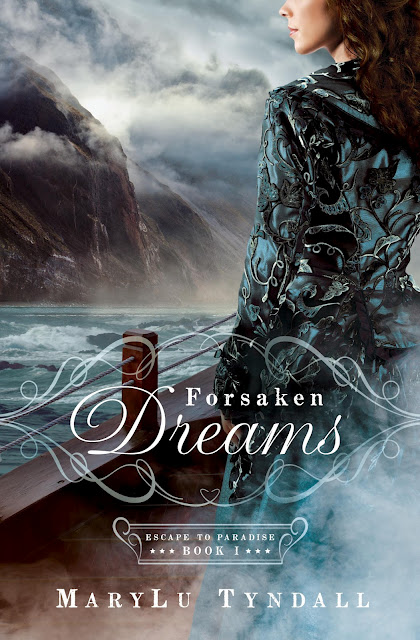 Synopsis:~
After witnessing the death and destruction caused by the Civil War, Colonel Blake Wallace is eager to leave his once precious Southern homeland for the pristine shores of Brazil and the prospect of a new utopian community.
Widow Eliza Crawford seeks passage on Wallace's ship harboring a dirty secret—and a blossoming hope for a fresh start. But will dangers from the sea and from man keep them from the peace and love they long for?
My take:~
No one does the high seas like MaryLu Tyndall! Another adventurous tale, filled with danger, passion, and heartbreak, Forsaken Dreams is a reading experience that is quite unforgettable. The unique history of this story will fascinate and entertain readers as a group of Southerners, disillusioned and traumatised following the Civil War, set their hearts and minds towards a new beginning in the jungles of Brazil. The story takes place on the New Hope, a brig captained by the experienced and slightly crusty Captain Barclay, with an eclectic group of passengers, each harbouring their own secret fears. As always, MaryLu's characters are complex and appealing. Eliza is bold and takes issue with authority, yet strives to grow in her faith. Blake is charming, heroic, but crippled by hatred and bitterness. The attraction is immediate and electric, providing both romantic and shattering moments as their secrets drive a wedge between them. Minor characters, no doubt set to play significant roles in future books are intriguing ~ from the pregnant Sarah, the beautiful but fearful Angeline, and the self serving socialite Magnolia, to the stowaway Hayden and doctor turned preacher, James. Anyone who loves an adventurous and passionate tale will be captivated by Forsaken Dreams and will eagerly await Elusive Hope, releasing this November.
With thanks to the author for my review copy
Relz Reviewz Extras
Reviews of Surrender the Dawn, The Red Siren and The Blue Enchantress, The Falcon & the Sparrow, The Restitution, The Reliance and The Redemption
Character spotlights for Surrender the Dawn, The Raven Saint, The Red Siren, The Blue Enchantress, The Restitution, The Reliance, The Falcon & the Sparrow
Visit MaryLu's website and blog
Buy Forsaken Dreams at Amazon or Koorong