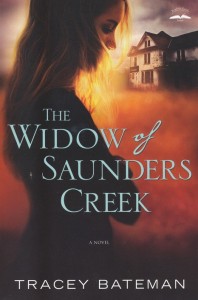 Synopsis:~
Corrie Saunders grew up in a life of privilege. But she gave it all up for Jarrod, her Army husband, a man she knew was a hero when she vowed to spend her life with him. She just didn't expect her hero to sacrifice his life taking on an Iraqi suicide bomber.  
Six months after Jarrod's death, Corrie retreats to the family home her husband inherited deep in the Missouri Ozarks. She doesn't know how to live without Jarrod—she doesn't want to. By moving to Saunders Creek and living in a house beloved by him, she hopes that somehow her Jarrod will come back to her. 
Something about the house suggests maybe he has. Corrie begins to wonder if she can feel Jarrod's presence. 
Jarrod's cousin Eli is helping Corrie with the house's restoration and he knows that his dead cousin is not what Corrie senses. Eli, as a believing man and at odds with his mystically-oriented family members, thinks friendly visits from beyond are hogwash.  But he takes spirits with dark intentions seriously. Can he convince Corrie that letting go of Jarrod will lead to finding her footing again— and to the One she can truly put her faith into? 
My take:~
The Widow of Saunders Creek surprised me!  When I first saw the title I imagined I would be reading another historical novel, particularly as the cover is ambiguous, unless you closely examine it.  Within the pages of this novel, however, Tracey Bateman has created an intriguing, character driven tale of a grieving young woman desperate to reconnect with her late husband, a house where unexplainable things occur and a moving love story.  Reflecting the historical superstition and mysticism to be found in parts of the Ozarks, Corrie is fascinated by the possibility that her husband is trying to speak with her.  Eli, Jarrod's cousin and strong believer, poses the alternative view that an evil spirit is tormenting Corrie.  The supernatural elements do not dominate this story, instead it is the developing friendship between Corrie and Eli, each chapter written from one of their perspectives.  I enjoyed this method of communicating each of their thoughts and emotions as they grappled with their own fears and faith.  The Widow of Saunders Creek is a fascinating read and one of my favourites from this experienced author.
With thanks to Waterbrook Multnomah for my review copy
Relz Reviewz Extras
Visit Tracey's website and blog
Buy the book at Amazon or Koorong