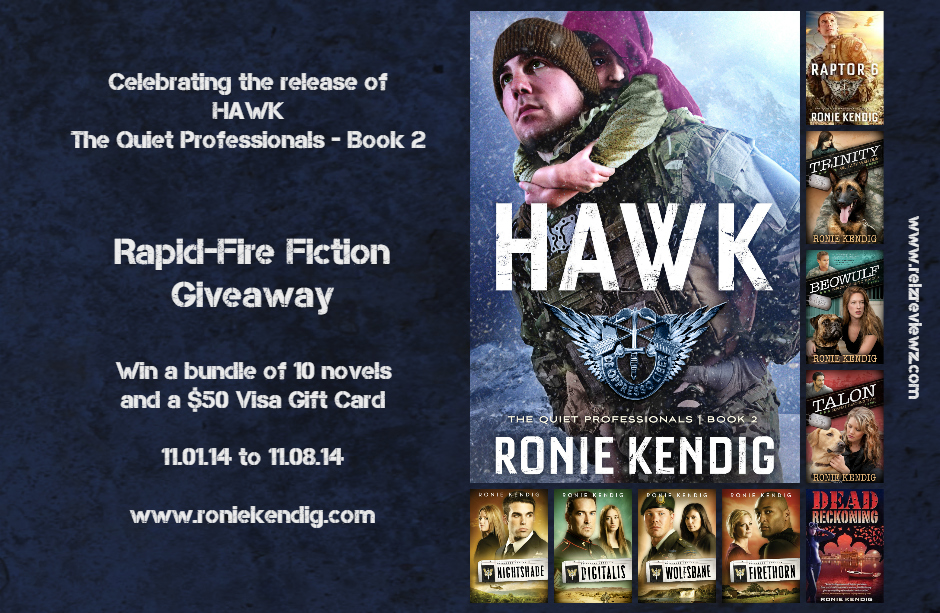 It's my privilege to celebrate the release of Hawk: The Quiet Professionals – Book 2 and to host the amazing giveaway Ronie Kendig is offering to her readers, old and new! Faithful readers of my blog well know my love and respect for Ronie's talent for storytelling and the woman herself but it's not just me that thinks so highly of her! Check out this impressive endorsements!
Balancing a story of high action and deep emotions isn't easy, but Ronie Kendig pulls it off with the casual grace of a truly talented storyteller. ~Robert Liparulo, author of Comes a Horseman, Germ, and the Dreamhouse Kings
TALON is Kendig at the top of her game! ~Tosca Lee, New York Times Best Selling Author of the Book of Mortals series with Ted Dekker
Ronie Kendig brings the heat in this suspenseful second installment of the Quiet Professionals series. The glimpse into the turmoil that Special Forces soldiers face is intriguing and humbling. Hawk is worth picking up — just be prepared to not set it down! – Romantic Times
Back to the giveaway! Ronie is giving away a complete set of her 10 Rapid-Fire Fiction novels, plus a $50 Visa Card. Entering is easy! Simply follow the instructions contained in the Rafflecopter widget below and remember you can gain extra entries by following the prompts. The giveaway is open until midnight on 8th November.
Now, for my thoughts on this fabulous story…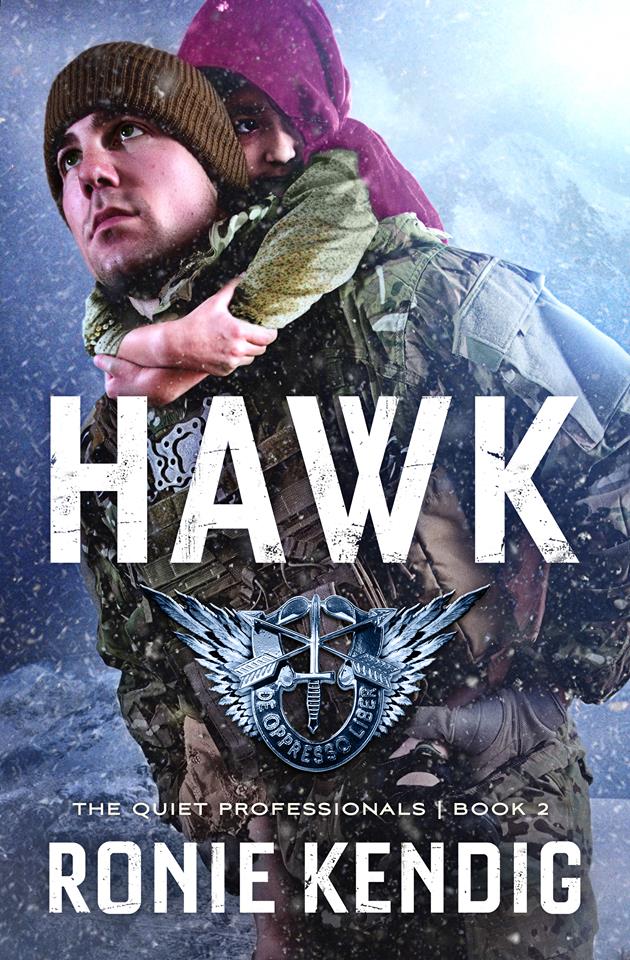 Synopsis:~
Raptor's communications expert, Staff Sergeant Brian "Hawk" Bledsoe is struggling with his inner demons, leaving him on the verge of an "other than honorable" discharge. Plagued with corrupted intel, Raptor team continues to track down the terrorist playing chess with their lives.
Afghan pilot Fekiria Haidary is devastated when a systems glitch on her aircraft forces a weapons launch on a safe target. And when the deadly bombing separates Brian from the team, he must make an impossible choice: save his brothers-in-arms, or save the woman and children depending on him to survive a brutal snowstorm.
My endorsement:~
There's nothing quite like a Ronie Kendig reading experience and Hawk, her second Quiet Professionals novel, is chock full of all the goodies Ronie treats her readers to, with her supremely talented pen! The insidious plot against Raptor team continues to grow as Hawk finds himself torn between honor, duty, and his own conscience as his poorly held self-control leads him to make a promise to a woman who is leading a double life, one that could see her killed. High level suspense and non stop action, always evident in Ronie's writing, complement the complex personalities of Hawk and Fekiria – both revealing flaws and vulnerabilities – against a backdrop of the Afghan mountains, as stunning as they are inhospitable. The layers to her characters and story always impress and the tender and emotive moments are not limited to Fekiria and Hawk. I love the scenes with Hawk and his grandpa, with Fekiria and Mitra, and always the interaction between the dedicated and diverse men of Raptor team. The rigours of war, the heart wrenching pain of soldiers dealing with the upheaval to their families at home, and the cultural and social restrictions on Muslim women are all explored in the tantalising and engaging novel. Get your hands on Hawk – whatever it takes!
With thanks to the author and Shiloh Run Press for my review copy
Relz Reviewz Extras Review of Raptor 6
All things Kendig @ Relz Reviewz
Visit Ronie's website and blog
Buy at Amazon: Hawk or Koorong