Chatting with the delightful Jaime Jo Wright today about her dual timeline novel, music that inspires her, and which character gave her the most grief while writing! Be sure to enter the Rafflecopter giveaway below for your chance to win a copy of The House on Foster Hill!
The Writer
Why do you tell stories?       
I tell stories because they consume me. I have to get them onto paper and I'm very blessed that I'm able to share them with others! Unlike my mathematical skills. No one needs to be traumatized by them.
Your favourite place to read   
This is weird. But pre-children, my favorite place to read was snuggled in a sleeping bag in the front seat of our truck, traveling cross-country to Montana to go fly-fishing and camping. Long, long road hours just me, the truck, my book, and oh yeah, my man!
Best meal of the day         
Coffeefast. It's my version of breakfast.
Most beloved childhood book     
It's an old book, written in the early 50's, I believe that my mom found in a bookstore of vintage books. It's called Goodbye, My Lady. It's a story of a boy, his dog, and … I need to go read it again now.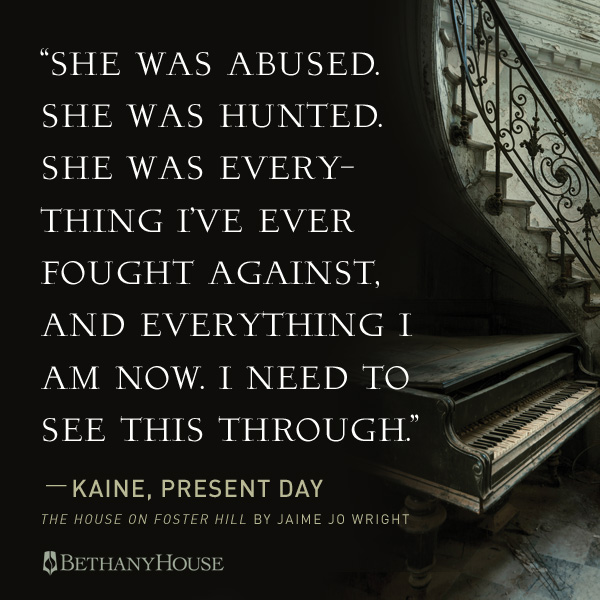 If your life was a TV show, what would it be?
Huh. I'm not entirely certain. Probably a cross between a sitcom and an outdoorsman show.
Whose music inspires you?
I really love Ed Sheeran. Each song tells a story and every story is different. I love musicians who are storytellers and can cross musical and story genres.
What ice-cream flavour would you be?
Mint chocolate chip – Sparky with a bit of warm familiarity
The most recent novel you read
12 Days at Bleakly Manor, by Michelle Griep. (SO GOOD!!!!)
What's your current book recommendation?
Oh heavens. In which genre? 😊 Ok. I'm pretty much buying the world "The Mark of the King" by Jocelyn Green for Christmas, so that'd probably be my top pick. (Insert: and The Lady and the Lionheart, by Joanne Bischof, AND Then There Was You, by Kara Isaac, AND – ok, I'll stop)
Name a book character you can't forget
Pip from Great Expectations. He's such a sad, waffling soul.
Dream travel destination
Rome, Italy (Already been there. Plan on moving there when I retire. Now, to convince Cap'n Hook)
The Book
Kaine Prescott is no stranger to death. When her husband died two years ago, her pleas for further investigation into his suspicious demise fell on deaf ears. In desperate need of a fresh start, Kaine purchases an old house sight unseen in her grandfather's Wisconsin hometown. But one look at the eerie, abandoned house immediately leaves her questioning her rash decision. And when the house's dark history comes back with a vengeance, Kaine is forced to face the terrifying realization she has nowhere left to hide.

A century earlier, the house on Foster Hill holds nothing but painful memories for Ivy Thorpe. When an unidentified woman is found dead on the property, Ivy is compelled to discover her identity. Ivy's search leads her into dangerous waters, resurrecting painful memories and forcing a reunion with the man who broke her heart. Can Ivy unravel the mystery and find a renewed hope before any other lives–including her own–are lost?
What was the working title?
The House on Foster Hill
Describe your book in 5 adjectives
Haunting. Provoking. Aching. Creepy. Hopeful.
Which character did you enjoy writing most?
Oh, that's so difficult to say. Probably, Kaine.
Which character gave you the most grief?
Hmmm. Ivy. Because she's so NOT like me. I had to regularly message my "real life Ivy" and be all, "how would you react in this situation?" and then I'd go, "really??? That's what you'd do? Oooookaaaay." 😊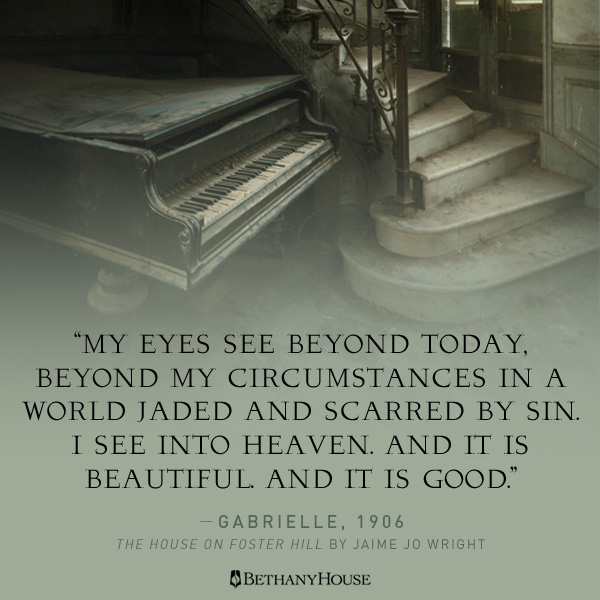 What emotions do you think your story will generate in readers?
I think outside of the rather obvious creepy, mysterious emotions due to the suspenseful genre, it will generate an element of disturbance and then an element of aching hope. Ache, because this world is not always kind, and hope because we know we have glorious hope in Christ.
What emotions did you experience while writing this story?
I struggled with how best to handle some fairly dark themes. I didn't want to make light of their reality, but I also wanted to be sure we didn't stay in the darkness. So my emotions were more of a vein to be sensitive and present the hope that is so foundational to strong faith.
How do you choose your characters' names?
Oh this is rather sad to end with. It shows how very not profound I am. I picked "Ivy" because it's my cat's name. My writing sister named Kaine, Grant and Joel cause I emailed her and said, "I need names". 😊
Thanks Jaime!
Relz Reviewz Extras
Visit Jaime's website
Buy at Amazon: The House on Foster Hill or Koorong