Chatting with the lovely Laura Frantz today about Kentucky, Charlie Lionheart, and why her latest character is called Tempe. Be sure to enter the giveaway of A Moonbow Night via the Rafflecopter form below.
The Writer
Please describe yourself in three words (ask your best friend or family if you are struggling!)
I just asked my 17 year old son and he replied, "Beautiful, nice, charming." But he is my son! I would say, "Kind. Intense. Joyful." I could name more than 3 negatives!
What's your favourite season, and why?
Kentucky in the spring is like a watercolour with all the blooming dogwood and redbud trees. A very soft beauty I love. The warmth of the spring sun is so welcome after a long winter.
What is the best part of your day?
Early morning because a new day brings hope and I can have coffee!
What do you miss most about your childhood?
My granny's huge summer dinners where there were always 8 to 10 vegetables on the table fresh from the garden, pork and chicken, cornbread, and lots of pie.
Which TV talk show host would you like to be interviewed by? Why?
We don't have TV so I'm completely clueless!
You are at a fruit market – what do you reach for first?
Love berries, especially wild blackberries. No market needed
What was the first Christian Fiction novel you read?
Janette Oke, many moons ago. Can't recall the title.
What is one author and/or book you always recommend?
Francine River's Mark of the Lion series.
What book character has stuck in your mind from a book you have read this year?
Charlie Lionheart from The Lady and the Lionheart. Need I say more? Nope, not a thing!
The Book
After fleeing Virginia, Temperance Tucker and her family established an inn along the Shawnee River. It's a welcome way station for settlers and frontiersmen traveling through the wild Cumberland region of Kentucke–men like Sion Morgan, a Virginia surveyor who arrives at the inn with his crew looking for an experienced guide. When his guide appears, Sion balks. He certainly didn't expect a woman. But it is not long before he must admit that Tempe's skill in the wilderness rivals his own. Still, the tenuous tie they are forming is put to the test as they encounter danger after danger and must rely on each other.

With her signature sweeping style and ability to bring the distant past to vivid life, Laura Frantz beckons readers to join her in a land of Indian ambushes, conflicting loyalties, and a tentative love that meanders like a cool mountain stream.
What was the working title?
A True-Hearted Woman and Moonbow Inn
Describe your book in 5 adjectives
Intense. Historical. Dark. Unvarnished. Romantic.
Which character took you by surprise?
Cornelius Lyon. I loathed him! And yet I saw so much of myself in him.
What was the latest you stayed up working on this story?
Midnight.
Which character's name was the hardest to choose? Why?
Tempe, my heroine. Her name had to be unique and true to the time period, not always easy in the 18-century with so many Anns and Janes and such. Tempe rings in with a little sass and spunk, true to her frontier temperament!
What's something that didn't make it into the final copy?
The first 3 chapters of backstory. While I loved it, I knew readers wouldn't!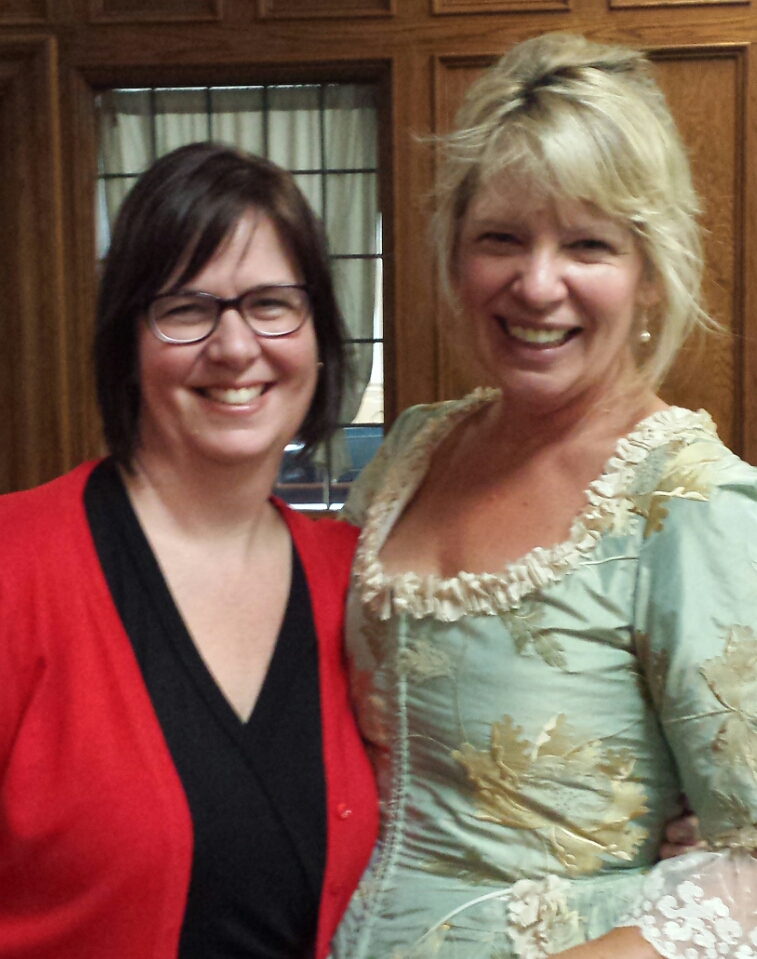 Thank you, dear Laura!
One of the ABSOLUTE highlights of my trip to the US in August, 2016 was to finally meet the lovely Laura. We connected over her first release, years ago, and it has been such a joy to watch her career blossom. No question, Laura is a sweetheart and her books are just as special. She's the real deal, my friends.
Relz Reviewz Extras
All Things Frantz @ Relz Reviewz
Visit Laura's website and blog
Buy at Amazon: A Moonbow Night or Koorong