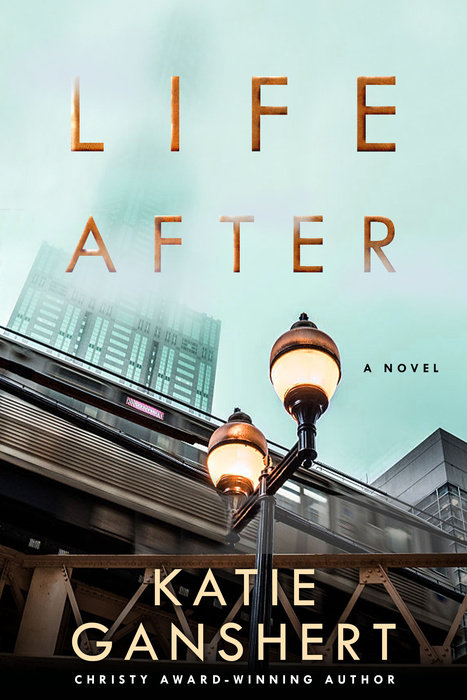 Synopsis:~
It could have been me.
Snow whirls around an elevated train platform in Chicago. A distracted woman boards the train, takes her seat, and moments later a fiery explosion rips through the frigid air, tearing the car apart in a horrific attack on the city's transit system. One life is spared. Twenty-two are lost.
 
A year later, Autumn Manning can't remember the day of the bombing and she is tormented by grief—by guilt. Twelve months of the question constantly echoing. Why? Why? Why? Searching for answers, she haunts the lives of the victims, unable to rest. 
 
Paul Elliott lost his wife in the train bombing and wants to let the dead rest in peace, undisturbed and unable to cause more pain for his loved ones. He wants normalcy for his twelve-year-old daughter and young son, to see them move beyond the heartbreak. But when the Elliotts and Autumn are unexpectedly forced together, he fears she'll bring more wreckage in her wake. 
 
In Life After, Katie Ganshert's most complex and unforgettable novel yet, the stirring prose and authentic characters pose questions of truth, goodness, and ultimate purpose in this emotionally resonant tale.
My take:~
Life After is one of those stories that makes me feel completely inadequate as a reviewer. How do I find the words to reflect the complex beauty of such a mesmerising story of the human heart? I fear I won't.
Brilliant prose is just the beginning of this gut-wrenching tale of lives shattered in an instant, and the exploration of survivor guilt, the ripple effect of tragedy upon family and friends, and the painful shame of secrets best kept hidden in a world where image matters more than substance. Katie Ganshert delves into the fragility of her characters' hearts and minds, revealing brokenness, anxiety, and heartache, damaged expectations and quiet shame. A transformative tale, filled with hope and the reward for tenacity, Autumn and Paul find strength where they believed weakness prevailed, each on their own journey, unknowingly at first reaching out for God's grace and mercy. Katie Ganshert's talent, simply breathtaking and I urge you to immerse yourself in the exceptional Life After without delay.
With thanks to the publisher for my review copy
Relz Reviewz Extras
All Things Ganshert @ Relz Reviewz
Visit Katie's website and blog
Buy at Amazon: Life After or Koorong