Husband, Dad, website designer
Writer of suspense
Elisha's Bones ~ Hunter's Moon ~ The Alarmists ~ Serpent of Moses
Bethany House
~~~~~~~~
What did you do on/for your 13th birthday?
I have no idea – it was 30 years ago!  The fact that I don't remember anything significant about it probably means that I had a quiet party with family and close friends.
What 3 adjectives would your friends/family use to describe your personality?
Flippant, witty, taciturn.
Where did your penchant for writing suspense begin?
I think I just sort of stumbled into writing suspense.  I'm kind of all over the map genre-wise, both in what I read and what I write.  When I wrote Elisha's Bones, my first novel released through Bethany House, I was just writing a story to entertain myself, and one I hoped would entertain other people.  It was actually my editor at BHP who told me I'd written what amounted to a suspense novel.  With that revelation, I tried to make sure that my future books contained all the necessary suspense elements.  But I still like to think that my books have a slightly different take on the genre.
Describe Blood and Bone in 5 adjectives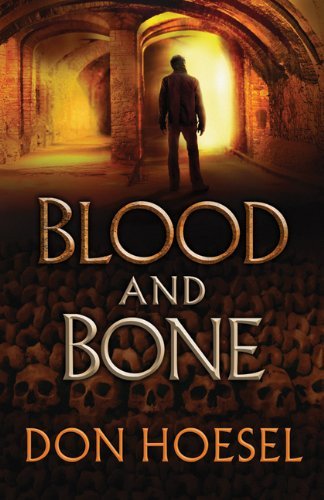 Fast-paced, action-packed, humorous, thought-provoking, final.
What creepy crawly or critter do you most fear?
Snakes.
If you could bring one character to life from your own books, who would it be and why?
Jack Hawthorne.  Because he's the one character I've written who appreciates a fine cigar as much as I do.
What's guaranteed to make you laugh?
Arrested Development
Please share a favourite Bible verse
Matthew 25: 34–36 (NIV) – "Then the King will say to those on his right, 'Come, you who are blessed by my Father; take your inheritance, the kingdom prepared for you since the creation of the world. 35For I was hungry and you gave me something to eat, I was thirsty and you gave me something to drink, I was a stranger and you invited me in, 36I needed clothes and you clothed me, I was sick and you looked after me, I was in prison and you came to visit me.'"
I've always liked these verses because they're a directive to put faith into action—to become engaged in our communities.
Thanks Don!
Relz Reviewz Extras
Interview with Don
Review of Elisha's Bones and Serpent of Moses,
Character spotlight on Jack & Esperenza
Visit Don's website
Buy Blood and Bone at Amazon or Koorong