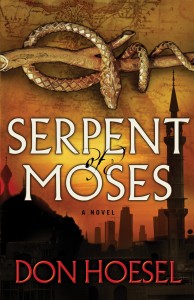 Synopsis:~
Just three years after the recovery of Elisha's bones, Dr. Jack Hawthorne has given up teaching and resumed the practice of archaeology, although his frequent absences have put a strain on his relationship with Esperanza. Things heat up when Esperanza receives a call from an antiquities dealer with troubling news about Jack, and her fears are confirmed. Jack has gone to Libya in search of another biblical artifact: the Nehushtan, the serpent staff of Moses.
After Jack arrives in Libya, he soon discovers he isn't the only one searching for the Nehushtan. Later, in attempting to steal it, he finds himself in the hands of a man who just might be his match. Jack and his friends must stay one step ahead of the Libyan government, an overambitious member of the Vatican hierarchy, and an Egyptian assassin–if they stand any chance of staying alive long enough to recover the staff.
My take:~
Jack is back!
Archaeologist and adventurer Dr. Jack Hawthorne first caused a stir in Don Hoesel's entertaining debut novel, Elisha's Bones, and he returns in Serpent of Moses. Up to his usual tricks of striding into danger no matter the consequences, ignoring his commitments in the pursuit of a Biblical relic and royally ticking off his high-spirited girlfriend, Esperanza Habilla. This time Jack is hot in pursuit of the serpent staff of Moses but he is not the only one willing to sacrifice plenty to possess it and he finds himself caught between a hired assassin, an Englishman bearing a grudge and various Middle Eastern governments desperate to own the staff and willing to use any means to achieve that end.  Once again I was enthralled by the fun and ferocity of Don's writing, the return of great characters like Duckey and Romero and the exposure of Jack's vulnerabilities while loving his never say die attitude. It isn't essential to have read Elisha Bones to understand this book but it will heighten the appreciation of the characters and their particular quirks.  A rollicking good tale, filled with desperation, adventure, political maneuverings and a hint of romance.  Don Hoesel's stories are a great addition to the Christian market, a refreshing change to the usual fare! I'm looking forward to more Hawthorne adventures soon.
With thanks to Bethany for my review copy
Relz Reviewz Extras
Interview with Don
Review of Elisha's Bones
Character spotlight on Jack & Esperenza
Visit Don's website
Buy Serpent of Moses at Amazon or Koorong