Husband, father, journalist, scuba diver
Thriller writer
Comes A Horseman, Germ, Deadlock, & more
~~~~~~~~
What did you do on/for your 13th birthday?
Wow, that was a long time ago, and this will tell you just how long: I got a newly release Eagles Greatest Hits cassette and a Cheech and Chong album. I was living in Utah and had a party with my friends. I remember a girl I liked, named Amy, gave me a jar of mint-flavored M&Ms that tasted like soap, but it was my favourite gift because it was from her.
What creepy crawly or critter do you most fear?
Black widow spiders. When I was about fifteen, one bit me. I felt pretty sick, but ended up being all right. Still, they creep me out. I read a book in which about two dozen black widows were found under a baby's mattress. I couldn't finish the book. Those spindly legs! That shiny, bulbous abdomen! Agh!
What 3 adjectives would your friends/family use to describe your personality?
Curious, compassionate, friendly—I hope.
What's guaranteed to make you laugh?
A wipe-out: someone jumping over a mud puddle and landing face-down in it, a biker tumbling down a hill. I know, I know, it's terrible, and I'll stop laughing quickly if someone gets hurt, but wipe-outs get me every time.
Where did your penchant for writing supernatural thrillers begin?
Reading Richard Matheson, Stephen King, Dean Koontz, Dracula as a kid. Sounds like Dracula was an author, too, huh? Imagine those stories!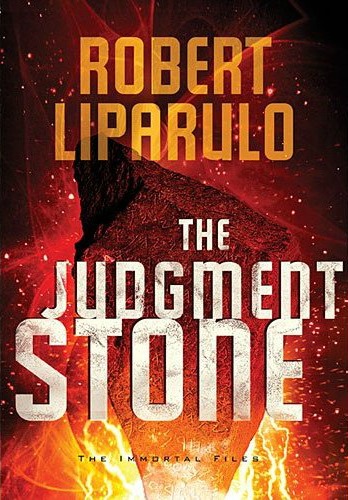 Describe The Judgment Stone in 5 adjectives
Thrilling, adventurous, heartbreaking, thought-provoking, inspiring.
Share a favourite paragraph from The Judgment Stone
There are a few I like, including the first one—but that one is more about action than about emotion, and I think the story, at heart, is emotional. So, I'll say this one, which happens when Nevaeh, an immortal, reunited with her centenarian son, whom she abandoned when he was a child; crying, he embraces her and calls her Mamãe, Portuguese for mommy:
"Mommy, not "mother," as she'd expected, if he called her anything at all. Mommy, and it broke her heart. It told her he remembered her, had wanted her, needed her. Time had not soured him on her, age and independence had not made him bitter by her absence. She squeezed him, as firmly as she dared, as she had done when he was a baby. His clutching arms loosened and he nearly collapsed. She held him, righted his chair, and eased him into it. She pulled out the one next to his, angled it toward him, and sat."
If you could bring one character to life from your own books, who would it be and why?
Only one? Bummer. It would be Owen from The 13th Tribe and The Judgment Stone. I don't want to give anything away, but readers of these stories will understand. Owen's insight into and knowledge of God would be so quenching. The questions I would ask him! Plus, he just seems like a totally cool guy, someone I'd like to hang with. Writing him is a pleasure; I like spending time in his head.
Please share a favourite Bible verse
My favorite verse is 2 Chronicles 31:21: "In everything that he undertook in the service of God's temple and in obedience to the law and the commands, he sought his God and worked wholeheartedly. And so he prospered." To me, this verse unites human endeavor with God's sovereignty and providence. Seek God and work hard. Often, we forget one side of that equation.
Thanks Bob!
Relz Reviewz Extras
BLGs' Book Club interview ~ Part 1 and Part 2
Reviews of Deadlock and Germ
Character Spotlight on John "Hutch" Hutchison
Interview with Bob
Visit Bob's website
Buy The Judgment Stone at Amazon or Koorong