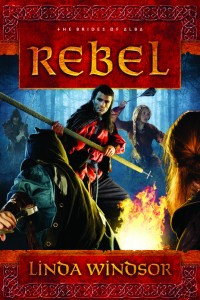 Synopsis:~
With Merlin dead, the succession undecided, and the Celtic church on the defensive from Rome, intrigue sweeps the court of the High King Arthur. But it's battlefield news that consumes Queen Gwenhyfar's young scribe, Kella O'Toole: her fiancé is dead and her father gone missing. Determined to find him at all costs, Kella defies the queen's orders and sets out for Pictish territory. Her foster brother Alyn, a disillusioned priest who questions his calling, agrees to help her. The journey itself is perilous. But it's their secrets that land Kella and Alyn in a viper's nest of treachery that threatens both their lives and the future of Albion.
Can they summon the love and faith they need to find their way not only out of danger, but into happiness? Brilliantly researched, vividly imagined, and movingly written—a memorable climax to the Brides of Alba series.
My take:~
Linda Windsor always captivates and enthralls when she writes medieval fiction and her final instalment in her Brides of Alba series continues the trend.  Balancing historical detail, spiritual battles and a spirited romance, Rebel is satisfying from beginning to end.  In Alyn, Linda plumbs the depths of a man of great faith yet uncertain of his path in life who is unsettled by the strength of his attraction to the grown up Kella.  His awakening to the call of God on his life underpins the rest of the story.  Kella is just as intriguing, an educated and clever woman who falls for the charm of a man she believes loves her.  Some readers may find the detailed historical aspects heavy going but as someone who loves history it was a pleasure to read.  I'm hoping Linda Windsor continues writing in this genre as her talent for it is exceptional.
With thanks to Wynn~Wynn Media and David C Cook for my review copy via NetGalley
Relz Reviewz Extras
Reviews of Healer and Thief
Character spotlight on Caden & Sorcha
Character spotlight on Ronan & Brenna
Visit Linda's website
Buy Linda's books at Amazon